The Baking Challenge started with a recipe posted by a good friend. She was unsure of how to decipher a recipe in a thrifted church cookbook, and I took it as a challenge to try it out. To see all The Baking Challenge posts, click here. And please join in and try out any that seem enticing!
Also, if you have any challenges for me please comment below or send me an e-mail. I'd love to try something for you!
-----------------------------------------------------------------------------------
Two weeks ago I stated my next baking challenge was going to be a cake. We celebrated Reggie's sister's birthday on the a week ago Friday and Wendel and I managed to make a yummy cake for the occasion. I found the recipe in one of my Canadian Living magazines, and copied the online version for you to see:
Click for a larger version - Source
I altered the recipe just a little, while I altered the decorating instructions partly because of time restrictions and partly because I was worried cutting the layers in half would end in a bit of a disaster. I really liked the recipe though, the cake was a little heavy which I love and tasted great and the butter cream frosting was delicious! I have some left, because I didn't follow the instructions and ice in-between layers - cupcakes anyone?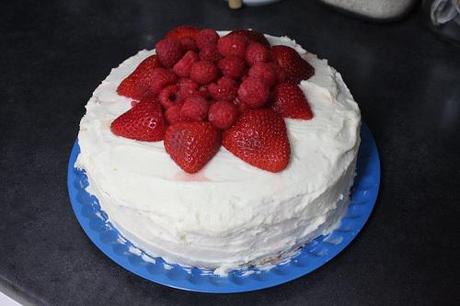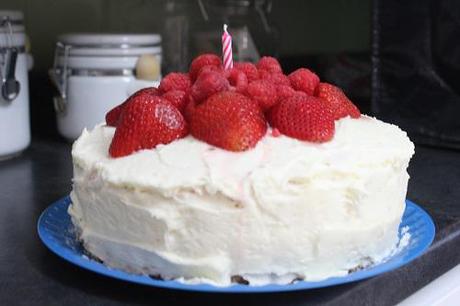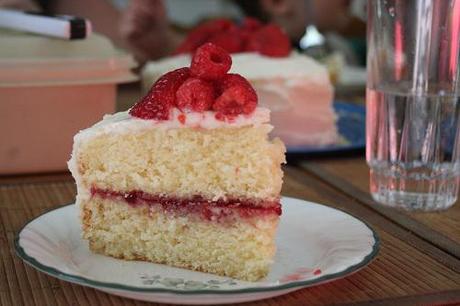 I decided to add some strawberries to the decor on top of the cake, my niece and nephew both really like berries so I thought that would be a big hit with them! Everyone really seemed to like it, and it helped my cake confidence so I am happy with the outcome! I think if I tried it again I would attempt the 4-layer version, because it just looks so good!
Since it is summer, and we had a bit of a heat wave last week to bring summer in, my next baking challenge will be to make ice cream. I've made it before, it's not a big deal, and Reggie and I got an ice cream maker attachment for our wedding, but I've only ever made a couple kinds. So this time around I'm going to try something other than vanilla and maybe try making something with the ice cream - ice cream sandwiches anyone?
Have you baked anything lately? Have you tried any of these challenges? Please share below!
xox