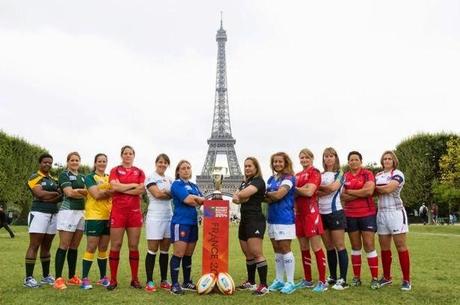 We're fast approaching the final of the Women's Rugby World Cup, and it has been a phenomenal competition. It has been a hard fought contest, with reigning champs New Zealand knocked out in the group stages. France have been playing some fantastic rugby themselves, their matches have been aired on terrestrial TV to an audience of two million.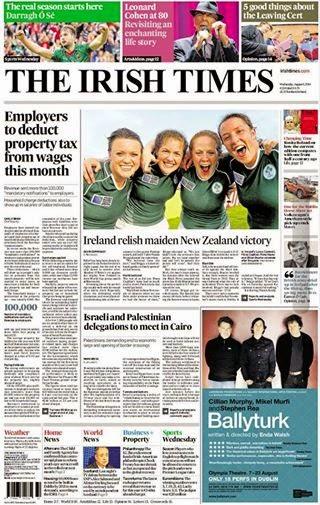 But the real stars have been the Irish. Although being knocked out in the Semi Finals by England, they have triumphed with historic wins against both Kazakhstan and the Kiwi's. And rightly so, the Girls in Green have made front page news in the Irish papers, attracting a serious amount of notable attention.
Yet there's always one draconian journalist who hasn't quite been able to keep up. This time it's the ditzy Niamh Horan who was assigned to write a piece about women's rugby at grassroots level. In order to write the piece, she and a photographer went down to Railway Union RFC to join in with the girls at training. You can read the resulting piece, entitled 'Niamh Horan on Women in Rugby: 'I never play a game without my tan'' here.
This article had great potential to promote the women's game; persuading new girls to give it a try and helping to counter some narrow-minded attitudes. At least it could have done, if the article was taken seriously.
Believe it or not, women who play rugby are just your normal women. Some like to wear make-up, fake tan and hair extensions, some don't. Some are curvy, some are slim. Some are gay and some are straight. As with anything in life, you don't have to fit into one of these categories in order to be able to do something.
However, the focus of this article was on the superficial gender stereotypes that women athletes constantly battle in their fight to be taken seriously.
The article is inappropriately sexualised throughout, with the talk of touching women's thighs and threesomes, it reads like an erotic novel. This tone would never be used in an article written about men playing sport, so why should it be used when referring to women playing rugby?
The content of the report was not focused on rugby, but the clichéd topics of beauty and impressing the boys. Surprise, surprise, one of the lines that came out of this fantastic piece of journalism was 'Does my bum look big in this?' when Horan pulls on her rugby shirt for the first time.
It's a massive shame because there's so much that can be said about the Railway Union's women's rugby teams. After a small amount of research (just checking out the club's website), I have found that this club is a real advocate of women's rugby. They field 3 senior women's teams, have two girls' age groups at youth level and a women's sevens academy. As a player myself for 13 years, I have never come across such a large club for women to join. There are whole counties in the UK can not offer that many teams to join. What Railway Union RFC is doing is seriously impressive.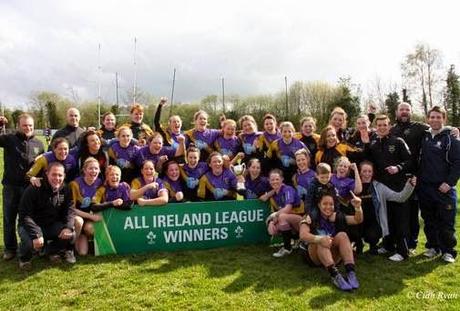 The Railway Union RFC are taking the girls seriously, and have high hopes for their players. Their 1st team compete in the All Ireland League, the highest league possible, equivalent to England's Premiership. These women are the best of the best, and often scouted at this level for international rugby. Not only this, but the club have two more senior teams below that promote enjoyment and development in the game.
The Railway Union are an impressive club who are real advocates of women's rugby and that should be something that is celebrated. Instead we have to make do with a sexist, badly researched piece that somehow got published.
Some people have supported the article saying that the artificial focus on make-up and men was light-hearted banter. And I'm not saying that we shouldn't have a bit of light-hearted banter when talking about women's sports. But the problem is that is all we get - as if women playing rugby is one big joke.
The Railway Union RFC take women's rugby seriously and so should the journos. Having a bit of banter in an article is fine, as long as it is backed up with some meaty substance that promotes women's sports.
Women's rugby has come a long way, especially since I started playing over 10 years ago. This World Cup has done a lot to prove that. In the UK, the girls have had top billing on Sky Sports 1, and in France the girls have made it onto terrestrial TV. I've noticed we have started to get more column inches, but pieces like these are still holding us back.
The Women's Rugby World Cup final is on Sunday 17th August between England and Canada, and can be watched in the UK on Sky Sports 4, KO at 17:45.
Come on England!!