You may well remember my blog post about our goal for 
starting out in Buy to Let and our financial plans
 that I shared back in September 2020. I talked about our reasons for wanting to venture into buy to let for the first time, with the main reason being that it seemed like one of the best ways to make a return on our savings and bring in a bit more monthly income, which is something that we were especially keen on as we both work for ourselves and so earnings can be very up and down, especially so after a year like we've just had. 
In April, after years of saving and discussing if it was a good idea or not, we completed on our first house intended for buy to let. It was a big day, a day we'd been trying to get to for a long time for several reasons and it was so exciting but also rather scary at the same time once we realised that we owned the responsibility of another house that we had lots to get done.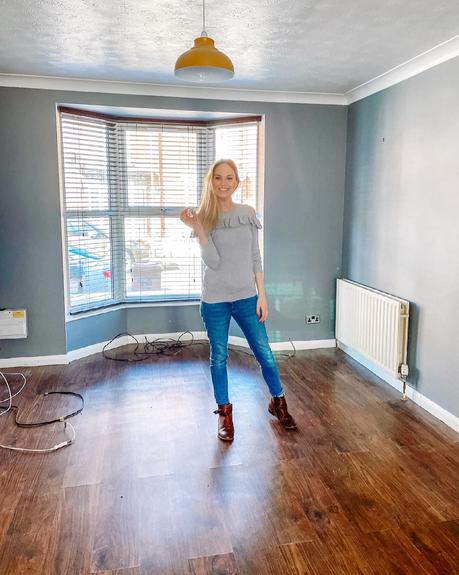 We worked really hard to get the property ready to rent out. Fortunately we had found a bit of a gem and the kitchen and bathroom required very little work asides from a paint and a clean. The bedrooms needed new carpet and a paint and then there was all of the other little jobs that can be overlooked but that take up quite a bit of time, especially if like us, you're doing it with two young children in tow. 
But after just a few visits, around 5-6, we had the property ready to rent out and today I want to share with you some steps that we took that helped us to instantly attract 14 enquiries after just a few hours of listing it online, and 6 viewings that we did the next day with all of the viewers interested in renting out our property. 
How to Rent out a property yourself and how we found tenants in just 24 hours! 
Take good photos and include a video walk-around of the property
I know it sounds obvious, but it surprised me how many listings I'd seen on Rightmove where the photos were dark, blurry or hardly showed any of the room at all. It's important to make a good first impression and good photos and videos will attract more viewings. 
Stand right back in the corner of the room to show off as much of the room space as possible and don't be afraid to slightly brighten your photos too, to show them off in the best light. I use Lightroom to edit my photos (you can download an app to do it straight from your phone). 
I took a video of our property on my iPhone and edited it with an app called Splice so that it flowed and I overplayed a little bit of music on top of it too. It's important to make sure you shoot everything on landscape, including the photos. Including a video gives your potential tenants a better overview of the property and can help avoid wasted viewings. 
Create a good and full online listing 
We used a website called OpenRent to help us throughout the entire process of finding tenants for our property and I cannot recommend them enough if you are going to be renting out the property yourself and not using an estate agent. They offer so many services which make the entire process so much easier from start to finish. We chose to buy their Ultimate Advertising package for £49.99 and this included creating the initial listing which went onto OpenRent, Zoopla and Rightmove, it also included the tenant agreement and contract as well as a handy messaging service on OpenRent intiself for people to contact us through. 
In your listing asides from the photos and video, rental price and information on the deposit required, you should include details about the property's amenities as well as local amenities such as local shops, schools etc. It's also a good idea to include a floorpan you can draw these up yourself or use a past floorpan of the property if you can find one. I also think it's a good idea to include whether or not you would be happy to consider pets. 

Holding viewings and selecting the right tenant
Unless you live close and it's convenient try to book the viewings on the same day with a half an hour slot in between them so that you can make it more convenient for yourself. If you have a lot of interest in your property and several people interested than it's a good idea to consider things like..
How many tenants will be renting (two incomes is generally better than one, especially at the moment when job security is more risky)
The potential tenants job situation (Are they employed? How long have they been employed for? Are they in the middle of moving jobs?), they future plans (How long do they roughly intend to stay for?)
Their current housing situation (Are they ready to move in now or do they need to give notice?)
The ability to do credit, past employment, right to rent and previous landlord reference checks on them. (This can be a little more difficult if say someone has moved from country to country repeatedly). 
Doing reference checks on your tenants 
We used
OpenRent.co.uk
to do reference checks on our chosen tenants. We paid £20 for their
Comprehensive references which took 3-5 working days and included...
Linked Address, Identity & Fraud Information
CCJs, Decrees, and other court informatiom
Right to Rent Check Advice
Previous Landlord Reference
Income & Employment Check
Rent Guarantee Insurance Eligible 
If you wish to you can do a speedy reference check but we decided against that as we wanted a full check especially so as this is our first time renting out a property. 
Contracts, Monthly rent collection and collecting a deposit
If you're prospective tenants reference checks come back all fine then the next step is to get an agreement/contract signed. OpenRent did this for us as part of our package and it was incredibly smooth. They also collected our first months rent and will be collecting future months rent for us also (we've paid £10 a month for this service for the time being as we feel it will make things easier and be less hassle). OpenRent also collected and safely secured the deposit for the property so we don't have to worry about that. I recommend using OpenRent for these services especially if you are new to being a landlord as our experience has been very positive and we feel it has made the process feel easier than we'd anticipated. 
Moving in day: Your legal requirements as a landlord. Creating a 'welcome' Letter and creating an inventory 
As a landlord you have a few legal requirements and these are to: 
keep your rented properties safe and free from health hazards

make sure all

gas

and

electrical equipment

is safely installed and maintained
provide an

Energy Performance Certificate

for the property

protect your tenant's deposit

in a government-approved scheme
check your tenant has the

right to rent your property

if it's in England
give your tenant a copy of the

How to rent

checklist when they start renting from you (you can email it to them if they agree to an email copy)
What

 to 

include

 in your 

welcome

 letter?
I also think it's a good idea to create a bit of a 'Welcome' letter for your tenants to welcome them to the property on moving in day as well as ensuring you've got keys cut for both tenants if you have 
more
 than one person renting. In our welcome letter we advised them off our preferences for them needed to contact us
 (via text or call in an emergency), we also wrote about where things are in the house, as well as what companies water, electric and gas etc the property was set up with. We also added in some information about our preferences for painting and putting things on the walls as well as details on how things like heating works.
 You can 
include
 as 
much
 or as 
little
 as you like and you're not legally required to provide a welcome letter but I think 
it's
 a nice gesture. 
Creating an inventory
The other 
thing
 that we did was to create our own 
inventory
 which basically just listed the 
items
 that were in the property such as the washing machine, shower, fridge/freezer, blinds etc and the condition they were in. We went 
round
 the 
property
 with the tenants and both signed 
the inventory t
o say we agreed what was there and the condition the items were in. 
We are only a few weeks in to renting our our property, but we're hoping that things go well and we don't have any major issues with rent coming in or problems occurring in the house. I hope this post has been helpful if you are considering doing similar yourself or are currently in the process. 
I've shared our Buy to Let journey over on my youtube channel if you'd like to come and have a watch! The links for my previous videos are in the description box of the below video on YouTube itself. 
Thank you for reading.   Alex xo