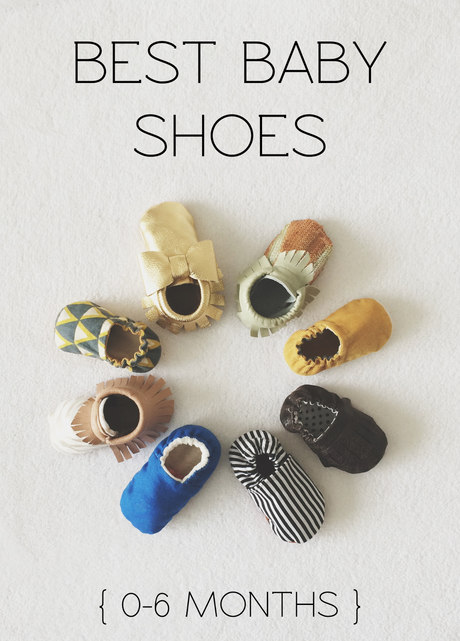 We've tried out a lot of shoes over the past 6 months. Although some shoes are so cute, they turned out to be impractical. Even worse was when we spent money on something that ended up having poor quality or fell apart. I wanted to do a post sharing our favorite shoes from over the past 6 months and why I value each one of them. These shops have no idea I am featuring them. All of my opinions are honest and are a result of our experience with each brand personally.
The key things that are important in a shoe for a baby who is 0-6 months are:
+ Ability to stay on the foot
+ Comfort
+ Warmth
While I have other shoes that I adore, some of them are better suited for children 6+ months. Your 0-6 month baby has no need for "hard soles". They aren't going to be walking around, so the things I mentioned above are what I think are truly important.


I found Little Thread Wagon before Rilynn was born. We owned a pair of their newborn shoes and I loved them so much that I created these with the shop owner, Ruthie. These shoes are soft and comfortable. They have a great fit and were not easily kicked off. The best thing about these shoes? They are reversible. That means you get two shoes for the price of one. I picked the solid yellow so that it could go with a lot of outfits and the geo print as a fun second option. I highly recommend this shop and I know that Ruthie would work with you to create shoes that match your personal style.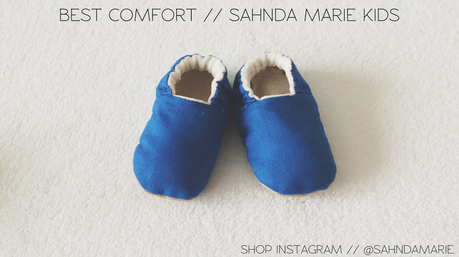 These are Ryan's favorite shoes. He doesn't understand my love of clothes or accessories for Rilynn - but what he does appreciate is practicality. These shoes got more use in the first three months of Rilynn's life than any other pair we own. These are buttery soft inside and would keep Rilynn's feet warm in the cold winter months. They are like squishy little slippers. I love the electric blue! Sahnda Marie Kids creates all types of soft shoes, but I really recommend this style for newborns and young infants. These stay on much better than socks, so they allowed us to make sure Rilynn's feet were always covered.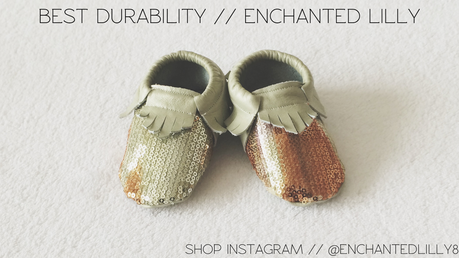 These gorgeous shoes were created by Enchanted Lilly for a Valentine's Day series I did. The mint leather and sequins are so beautiful. The greatest thing about these shoes is that even though they are lovely, they also withstand everything. Rilynn has worn these a lot over the past two months. They've gotten rubbed on by leggings, kicked against carseats, yanked by sharp baby fingernails and they still look brand new. I really am surprised that the sequins haven't fallen off. These are quality moccasins and the fit is wonderful. Rilynn can't get these shoes off.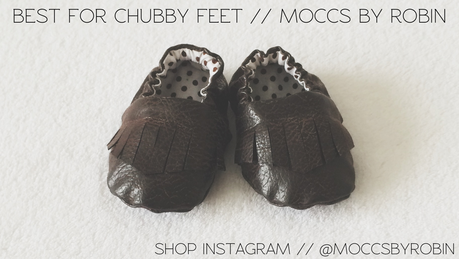 These little shoes from Moccs By Robin are terrific for chubby feet! They fit Rilynn's feet like little gloves, but are not so tight that they leave imprints on her ankles. They have fabric lining inside, so her feet never sweat in them and she doesn't need socks (even though she still wears them). They are very light and would make excellent shoes for warm weather as well. They have never fallen off of Rilynn's feet. They have a ton of different styles in their shop!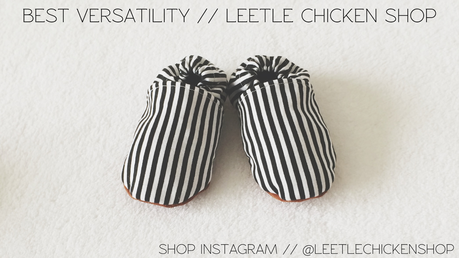 I've loved these shoes from the first day I laid eyes on them. There are so many beautiful designs in Leetle Chicken Shop. This black and white stripe goes with so many of Rilynn's outfits! They are comfortable, very high quality and have never fallen off of her feet. The shop owner, Sara, is a mom as well and is so personable and sweet. I feel these shoes are a great value for the amount of use we have gotten out of them and for how well they are made! They are also unisex (: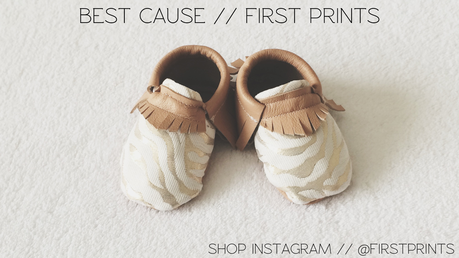 These shoes came from First Prints. This company is so special because for every 10th pair of shoes they sell, they feed a child in Africa for a year! These shoes fit perfectly, stay on her feet, go with everything and have great quality. Besides loving the message and cause behind this shop, I genuinely love their shoes! A fantastic option for high quality shoes from a wonderful shop.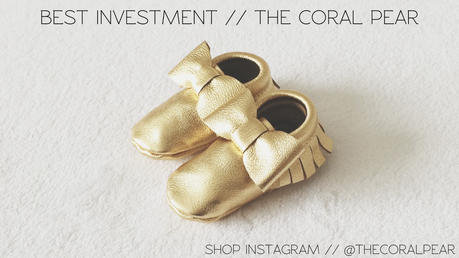 Last, but certainly not least, The Coral Pear. These are my most favorite pair of Rilynn's shoes. They are made from thick, soft leather and the quality is unlike anything else we own. This company offers shoes in all different styles. Rilynn has been able to fit in these for two months and will hopefully fit in them for 2-3 more. These shoes are worth every penny. If you have to choose an age to purchase them in your child's first 6 months, I would suggest around 4 months. It was at this time that I noticed Rilynn's feet slow in growth, so it allowed us to get a lot of use out of these. They fit around her ankles in a way that keeps them on, despite how much she kicks or pulls on them. They have never left marks on her feet. I cannot say enough good things about these shoes!
I hope you have found this post helpful and informative! I would love for you to share any shoe shops that you recommend from your own personal experience as well (: