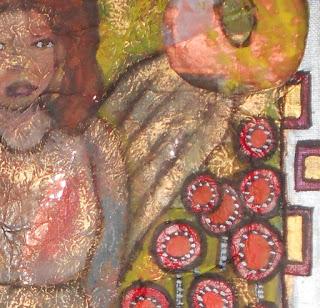 A piece of Me still remains - Mixed Media Art - Amanda Trought
I have been invited to take part in the Exhibition called Beyond Words - The Healing Power of Art, running from the 4th June to 27th June, taking place at The Darnley Gallery, London.
It is great to be included in the exhibition.  My work for me has always been about unraveling and sharing stories, and I feel that there is always an element in a piece of art that can be related to.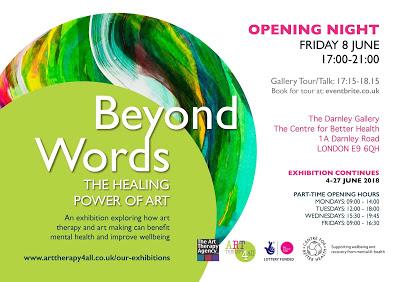 The Arts have been used to communicate and express experiences in our society past and present, it keeps our cultures, and traditions alive.  It can take many forms through craft disciplines such as quilting, pottery, weaving, music, dance, and so much more with the stories at the heart.  Our stories and skills are handed down the generations, and with each generation we can look back, learn and add our experience. When we recognized the value of the use of story telling and symbolism in our art we will also see how using it as a form of expression around our health and well-being is valuable.There is nothing more fulfilling than learning a skill, being taught by an elder/master craftsman and creating from what you learnt, and sharing that piece of work you have created with your own hands.I have been using art and creativity as a way to express different aspects of my life and perspective. I remember the stories heard from our elders as they gathered around the kitchen table, kids were seen and not heard and often the adults would forget were were lurking in the background until we piped up with a question, and they would order us out.  This too comes out in the creations.  Learning to capture moments of our lives in art and creativity tells part of our life experience that you might not see if you spoke to me.  When I think of my experience as a carer I learnt to look at my role in a very ordered way and the work I have in this exhibition looks at how I learnt to compartmentalize every thing I did when I looked after my mom who is living with Dementia, and the feeling invisible around all the different roles that are taken on.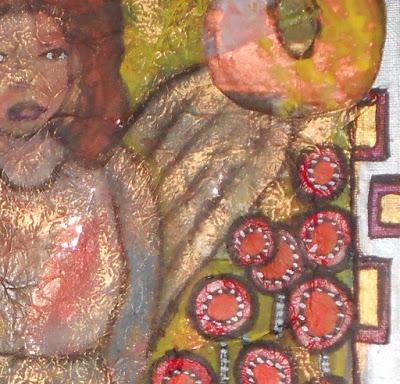 A Piece of Me still Remains - Amanda Trought Mixed Media Artist
The different images represent the different roles that I had to take on to make it work, and the numbers represent the passing of time.  I was never able to express that it was what I was doing, but as I created the painting it was what was coming out and found its way to the canvas.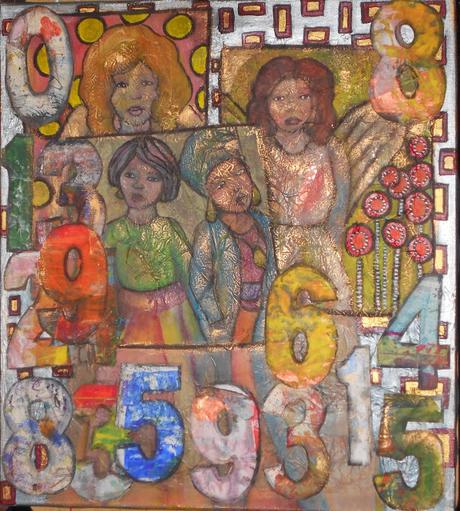 A Piece of Me still Remains - Amanda Trought
I hope you will be able to make it to the exhibition, there is a wonderful range of art work on display.  The official opening night is 
on Friday 8th June
***********************************************
Arts in Health Network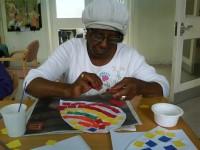 Join the free Arts in Health Network, find out about events happening all around the world, share your Arts in Health Network projects.
***********************************************
London Creativity and Wellbeing Week
If you want to take in some other events then check out the Creativity and Wellbeing Week, an initiative of the London Arts in Health Forum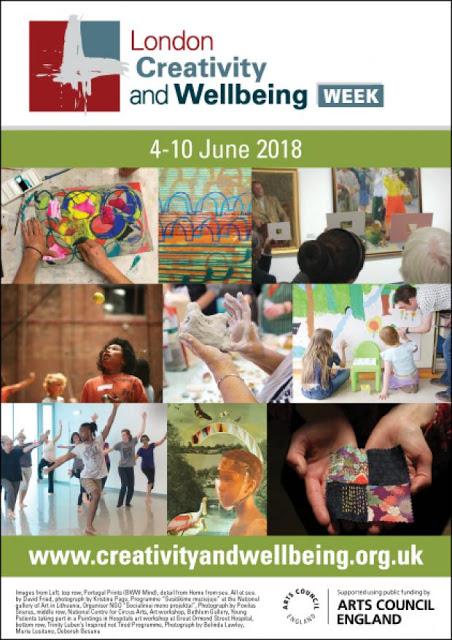 For a full list of events happening both in and outside of London click HERE
There is a great variety of events that you can go along to.  Who knows it might inspire you to do something totally new and nurture your creative voice!
Stay blessed and be a blessing