by 
Bharathi
hello all girlies.. here comes the new post on the sunscreen. Sunscreens are a must have in this hot summer. Tell me about it. I had never used sunscreens after a bad experience from lakme sun expert 3 years back. But I couldn't resist myself from buying this sunscreen because its herbal. I am a fan of biotique as most of the products turned to be good.
Sandal wood power is very efficient in decreasing the temperature of the body. Its pack on fore head is very good in summer to remove excess of heat and it does helps in tan removal also. These are facts that influenced me on buying this sunscreen. Lets move on to the review.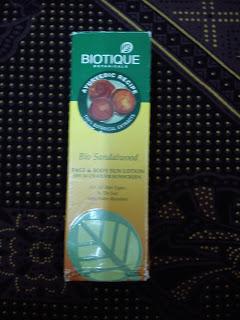 Price:
Rs.209/-
Quantity : 120 ml
Shelf life: 3 years
Ingredients list:
Safed Chandan (Santalum album), Ashwagandha (Withania somnifera), Nag kesar(Mesua ferrea), Ankurit Gehun (Triticum vulgare), Madhu (Honey), Arjun (Terminalia arjuna), Rakt Chandan (Pterocarpus santalinus), Lodhra (Symplocos racemosa), Mom (Bees wax), Sunflower oil, Himalayan Water Q.S.
Description:
This nutrient-rich lotion is blended with pure sandalwood, saffron, wheat germ, honey and bark of the arjun tree to keep skin soft, fair and moisturized. Protects skin with broad spectrum SPF 50 UVA/UVB sunscreen. Very water resistant, retains SPF after 80 minutes in the water.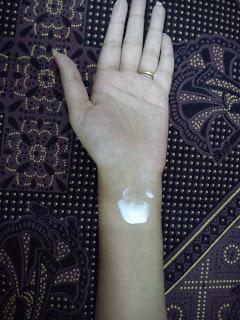 after blending the cream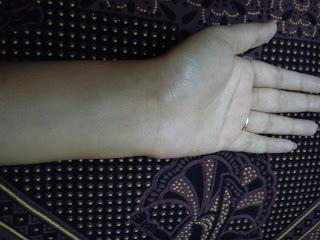 You people might have seen my review on effective tan removal cream if not can check here
After removing almost all my tan on arms I had gone out for an outing and came back with lots of tan. Then I came to a conclusion that 'prevention is better than cure'. Hence I thought to buy a protective sunscreen. However I had used jovees sunscreen but didn't suit for arms and legs.
The consistency of the product is a bit thick . Its not like body lotion's consistency.
One has to rub a bit on skin to blend the product. It has a heavenly divine fragrance . I will get reddish patches if I get exposed out in sun. I applied it before going to college and when I came back I didn't get any tan ,not even red patch on skin ,no burning sensation.
According to me its a very good product to be used on arms . But for face it may be oily and I sweat like anything if applied on face. But applying very lightly will not make us sweat . Dry skinned ones can go with it. Still I use it on my face for daily use in summer. But I never gave me zits and didn't even broke me.
Summing up the pros and cons:
pros
it gives protection from sun.

very water resistant . Swimmers can give it a try

no zits,no break out

SPF 50 UVA/UVB protection

no white cast on skin

quite affordable for the given quantity

packing could have been nice.
cons:
makes skin oily

T region will sweat heavily.
Its a must have sunscreen for all girls who needs to travel daily in sun. so girls why giving second thought,go get it and just have it in your bag and reapply every 2-3 hours.