My boys adore Blaze and the Monster Machines ever since it burst on to Nick Jr last year. Zachary has two favorite t-shirts, one of which is his Blaze one and the other his Paw Patrol. I love the science and engineering element to the show and the fact that they are learning lots while watching it. Therefore they were more than happy to help me review the Blaze and the Monster Machines: Blaze of Glory DVD which we were recently sent.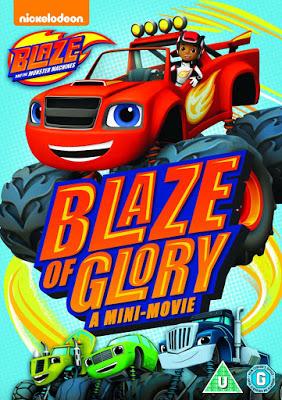 Blaze and the Monster Machines: Blaze of Glory DVD
Get your engines running and blaze into action in Blaze and AJ's premiere mini movie event, BLAZE AND THE MONSTER MACHINES: BLAZE OF GLORY is available just in time for the Easter school holidays on 14th March 2016! Blaze is Axle City's greatest hero, and champion of the racetrack! Whenever there's trouble, he is the truck everyone turns to for help as he can do things no other truck can!
With Blazing Speed, special turbo powers and extraordinary knowledge, burst onto the scene with the fastest monster machine in town, and his driver AJ as they meet new friends, overcome Crusher's dirty tricks, and use speedy stunts and science to save the day!
Blaze knows everything about science, technology, engineering and maths. With his human driver and best pal AJ, when Starla the cowgirl truck loses a piston, the duo need your help to use force and speed to get to it before Crusher gets his greedy tires on it!
This pre-school interactive adventure returns as the audience at home must help Blaze on his quest, by exploring the physics of how things move, tackling problems and discovering the component parts needed to make every day technologies work.
Ready? Let's BLAAAAAZE! Join Blaze and AJ as they Blaze into glory in the Monster Dome's Championship Race, and learn some fun facts along the way!
Cultivate your little one's mind this half term, and join the adventure with this must have Easter gift, when BLAZE AND THE MONSTER MACHINES: BLAZE OF GLORY accelerates onto DVD on 14th March 2016.
Activity Sheets
To keep your little Blaze fans entertained over the Easter holidays the good news is that I have some fantastic
Blaze Activity Sheets
available to
download
 for free.
*Disclaimer: I was sent a copy of Blaze and the Monster Machines: Blaze of Glory DVD in exchange for a review.  All views and opinions are my own and unbiased.