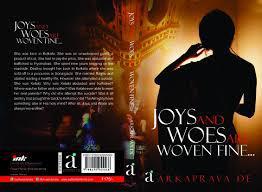 Title- Joys and joes are woven fine
Author- Arkaparva De
Pages- 162
Publisher- Author's Ink Publishers
Genre- Fiction
---
RATINGS-
Cover- 2/5
Blurb- 3/5
Writing Style- 4/5
Overall- 3.7/5
---
BLURB-
She was born in Kolkata. She was an unwelcomed guest, a product of lust. She had to pay the price. She was abducted and trafficked to Hyderabad. She spent nine years begging on the roadside. Destiny brought her back to Kolkata where she was sold off to a procuress in Sonargachi. She married Raghu and started leading a healthy life. However,  she attempted a suicide. She was Ketaki. Why was Ketaki abducted and trafficked? Where was her father and mother? Was Ketaki ever able to meet her real parents? Why did she attempt the suicide? Was it all destiny that brought her back to Kolkata or did The Almighty have something else in His holy mind? After all, Joys and Woes are always woven fine!!
---
REVIEW-
The story starts with Jasmine who falls in love with a boy,  gets pregnant and delivers a  baby girl which is sent to a child care home in Kolkata. Te main suspense starts after the child is being sent to the child care home.
Moving forward, the story deals with how a little girl is being kidnapped and is being sold to a gang in Hyderabad where they used the little children to beg on roads and later they are being sold to some kothas and is being pushed into the ugly field of prostitution.
The author has chosen "prostitution" as a topic on which many do not want to speak, leave aside writing a novel on it. I appreciate author's efforts for writing on such a sensitive topic.
Moreover, story shows the ugly side of Kolkata where every year goddess Durga is worshiped yet the business of prostitution is still flourishing.
The author has narrated each and every detail in a simple yet intriguing language which keeps the reader hooked till the last page.
NEGATIVES-
Although the book was engrossing, but I felt that cover should have been more intriguing.
secondly, the story from beginning till the end has shown Ketaki struggling with destiny. I wish if the author could have shown some positive side ( joys)  of Ketaki where she fell in love with the regular customer of bar then it would have been an icing on the cake.
Rest, it is a perfect book to read which will keep readers hooked till the end.
NOTE FOR READERS'- To all those who are looking for some sensual, raw and intense read can definitely pick up this book.
Filed under: Book Reviews Tagged: BOOKREVIEW, cityofjoy, goodread, intense, kolkata, raw, uglyside