Before you right this post off, let me know explain. Don't judge a book by it's cover or title. I know as women when we hear the word submissive we get all out of shape. Trust me you will want to read this book.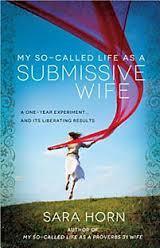 Wives, submit to your own husbands, as to the Lord. For the husband is the head of the wife even as Christ is the head of the church, his body, and is himself its Savior. Now as the church submits to Christ, so also wives should submit in everything to their husbands. 
Eph 5:22-24
My So-Called Life as A Submissive Wife is written by Sara Horn. She also wrote My So-Called Life as A Proverbs 31 wife. I love the way that Sara writes because anyone can relate to her. She writes both the ups and downs, so you can learn so many lessons. In this book she talks about her goals as a Submissive wife is to not carry everything on her shoulders. I know as a wife I tend to do that as well. I try to be everything in the house and for my husband. She wants to be able to freely give it up to God and live the life that He has called for us and not the life we think God wants for us. 
I am so much like Sara that I could relate to her through the whole book. For instance, her husband was having shoulder surgery and they needed to rearrange the whole house and move furniture. The hubs said that he would have his brother come over and move it around. She couldn't wait and so she started to move it herself. She ended up getting stuck in the room. I like to move furniture around and redecorate our house. I told Gary about it, and he told me wait until he gets home. I didn't listen and rearranged it myself. I could and should have waited for him to get home. He wanted to be involved, and it would be a lot lighter. 
This is just one example and I could go on and on. I absolutely LOVED this book, and i highly recommend it to anyone. Another way to connect with the book is her LoveHisWay cards.