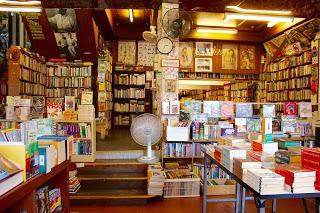 Today apparently it's Bookshop Day (so Twitter tells me, anyway), which gives me a perfect opportunity to blog about one of my favorite things - books!
I've always loved reading. Being a geek, as a kid I would not only read the huge pile of Peanuts cartoon books my parents had in the house, but then went on to count how many times various characters appeared in the books and then create graphs based on the data (spoiler - Snoopy wins. By far.)
Robin Hood's Bay, which is one of my families' favorite places to visit (
do check out the video from the holiday I and my dad had there
), used to have a brilliant bookshop called the Chapel bookshop - large, with various rooms, nooks and crannies, you could easily spend hours there hunting through dusty piles of books that quite possibly hadn't been read by anyone for years. The downside of Amazon (and I am a big user of Amazon, it is great for getting stuff you need) is that it tells you what is most popular, the bestsellers, and the things that you typically like, but doesn't necessarily show you things that you wouldn't normally consider.
Several times I've seriously considered buying a Kindle, because logically it makes perfect sense. Rather than having, as we do currently, a couple of walls in the house full of books, I can store them all on one easy to carry e-reader that I can take and use anywhere. But there's just something about the physical presence of a book, the weight of it in your hand, flipping pages, sticking a bookmark (or in my case a scrap of paper) in to track your position. Plus the cost difference between an e-book and a paper book isn't big enough for me to justify buying a Kindle.
And, of course, there's so many books that you can't get on a Kindle. For example, I happen to own a hardback copy of "
Hello Sailor
" by former Python Eric Idle, a quite rude and slightly bizarre story which doesn't make a great deal of sense but is funny nevertheless. From the 1970s, there's almost no chance of that appearing as an e-book any time soon.
Take a look at a sample of my books: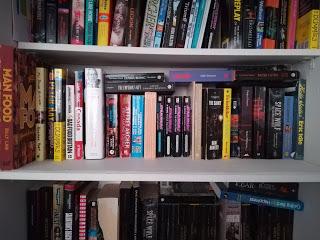 Hello Sailor is at the end on the right. Told you I had it.
There's a lot of science fiction and what you might consider to be typically geeky books there, but I've found, particularly as I work on writing my own books, the value and enjoyment of reading different genres. A good example of this is Adele Archer's International Relations trilogy, the first of which to be quite honest I only bought because I'm a big fan of Adele's blog.  I found myself engrossed in the story, and was surprised at how my emotions were affected by the story - getting angry at one of the lead characters part way through at their actions!
Right now I'm reading "Laura's Handmade Life", a novel which I probably wouldn't have ever considered reading before experiencing Adele's work, and all I can say is, to me, it makes sense to try new things, whether it be some crazy and exciting new hobby, or simply reading a book that you wouldn't normally try.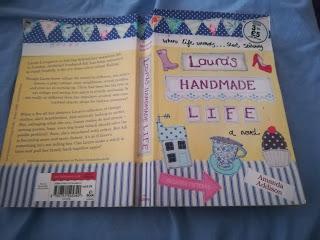 So, it's Bookshop Day. This seems like a good reason for you to pop out and support your local book store.  Off you go then :)