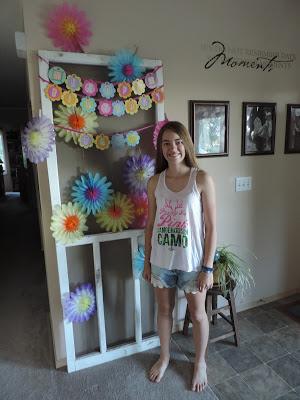 She was so excited for this day, and was up at 5:40 in the morning. Not since her first birthday has there been a birthday with such lovely weather for her. The day was absolutely perfect, from start to finish, including the fact that it was on a Saturday and history was made when the Triple Crown was won by American Pharoah. It was a birthday she will never forget!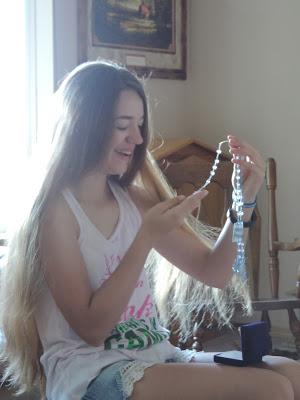 She wanted a bible, and of course my mom got her a really cool Teen Catholic one (she's been reading it every night). Grandma also got her this beautiful new rosary, along with a few other goodies, of course, but the bible and rosary were huge hits. I am so grateful she loves our religion!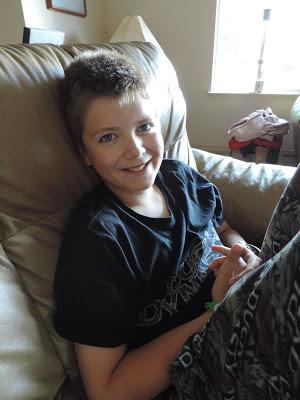 The cutest "little" brother in the world - he didn't have school the day before her birthday, and so he worked extra hard on wrapping her gift and making her card. It turned out really well and she loved it!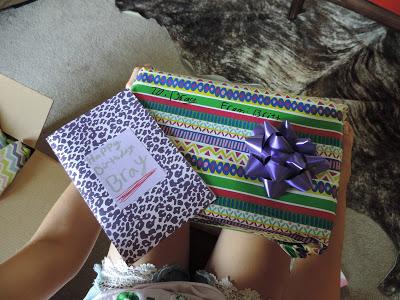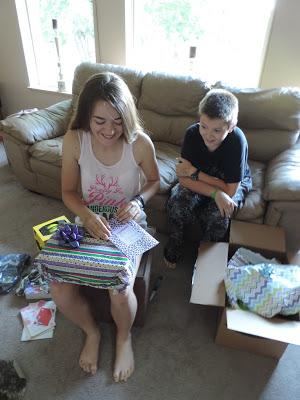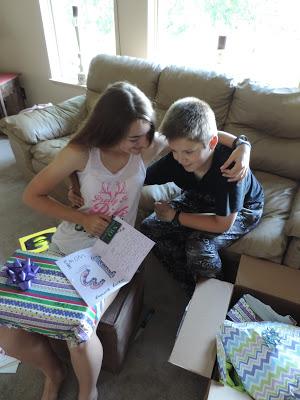 Thankfully, she was appropriately touched at how hard he worked on her card. Special moment...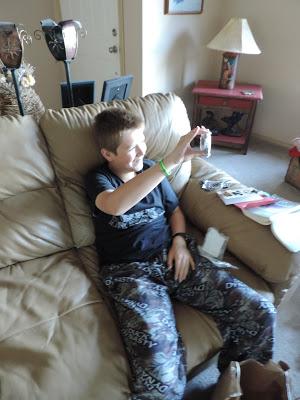 Britt thought we had forgotten to get him something for his Fifth Grade Promotion, but of course we didn't. However, because it was WWE merchandise, he had to wait for Brailey's birthday to open it. She also had WWE goods, and I knew if she saw his, she would know she was getting the same stuff. So it was a nice surprise for Britt on her birthday, as well - he was thrilled!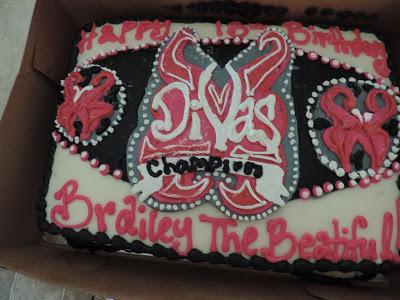 Her cake. It was inspired by her former volleyball coach. Brailey and his daughter played club volleyball together the past two years, and at the last tournament, she was telling him all about her favorite wrestlers and how she wants to be a WWE Diva when she grows up, and how she didn't have a name picked out yet, but that Britt's was Bruiser Britt Murray. Later in the day, he said, "I've got it! The perfect wrestling name - Brailey the Beautiful!" She was flattered, of course, and I thought it was perfect for her cake, which was, if you can't tell, the WWE Divas Champion Belt. She LOVED this cake! It had to be red velvet with cream cheese frosting - it was delish! (No, I didn't make it.)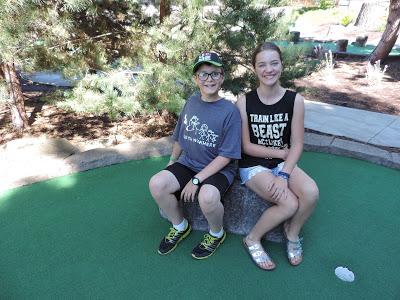 For her birthday, because it was her 13th and also because she and her friends had established a celebratory tradition, we went miniature golfing at Camp Putt. This small celebration was the first party she's had since she was in Kindergarten (we chose to do small family celebrations instead), but it was perfect! She has three friends she is really tight with, and they have celebrated each other's birthday with just the four of them all year long. They each chose something fun and special to do, such as ice skating and makeovers at the Beauty College. Brailey chose Camp Putt, and they had a blast!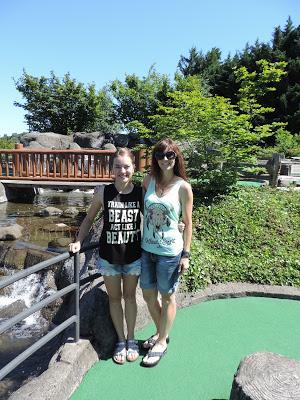 Before her friends got there, we scoped out the courses and picked the one we wanted to play. And snapped a few pictures along the way.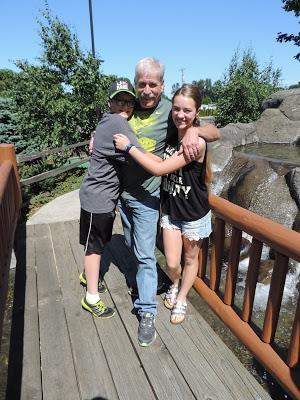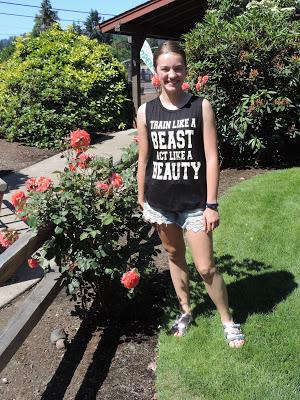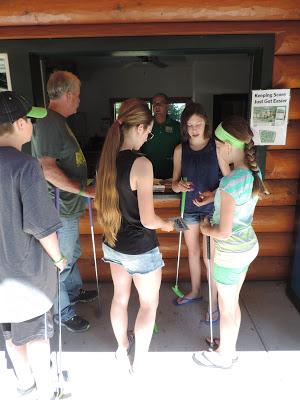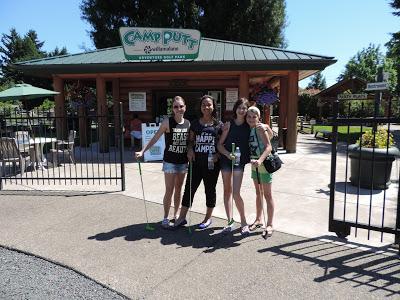 The Four Amigas!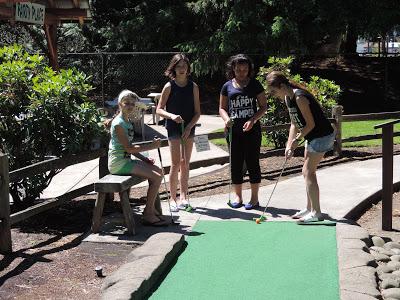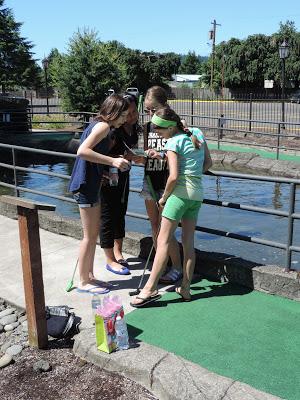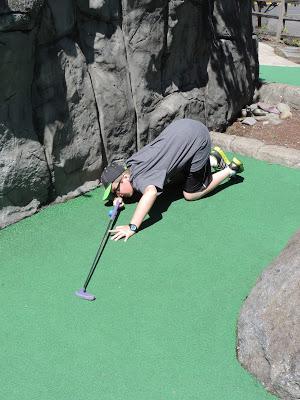 The girls played together, and then Britt, Brady and I played together. Britt and Brady take their golfing quite seriously. But guess who had a hole in one? ME! And guess who won the five bucks Brady put up for the winner between all of us, girls included? ME! Beginner's luck, I think... Miniature golf is a blast! We all had a wonderful time, and we picked the absolute best time to do it - we beat the crowd!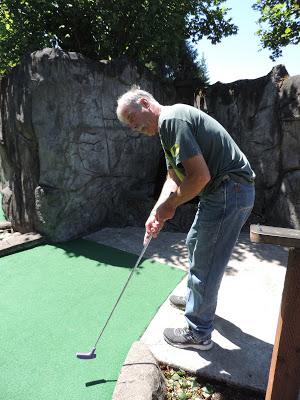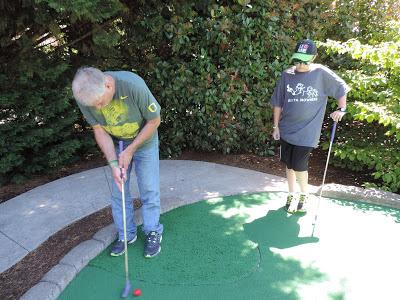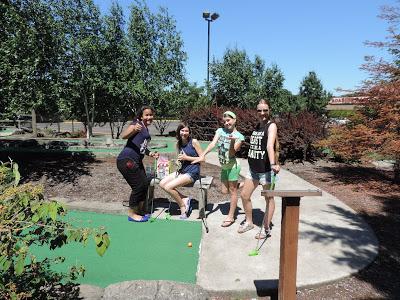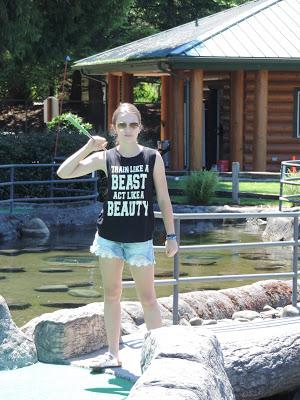 After golf, we headed to the pizza parlor for pizza and games and presents. Her friends were so thoughtful in their gifts! We are grateful she has this great group of girls to call her besties.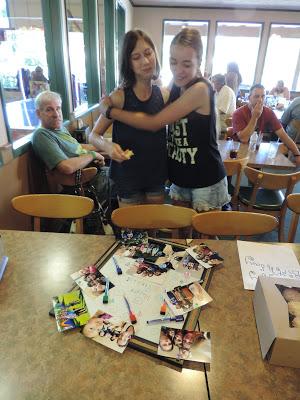 She was very touched by their gifts. Truly! Her friends know her well.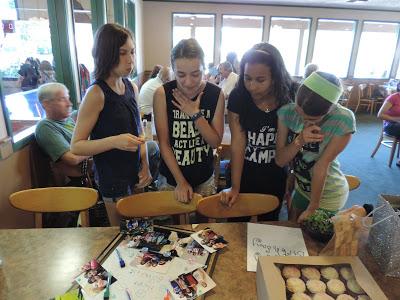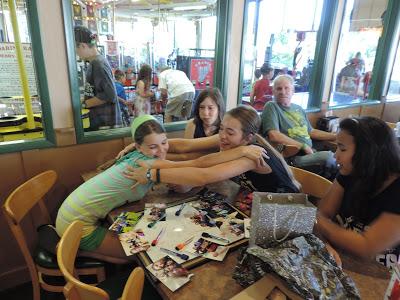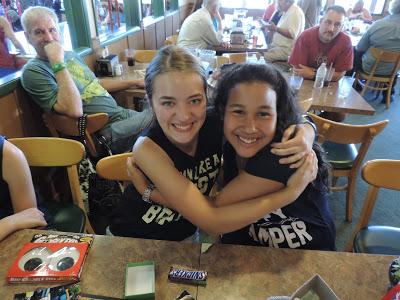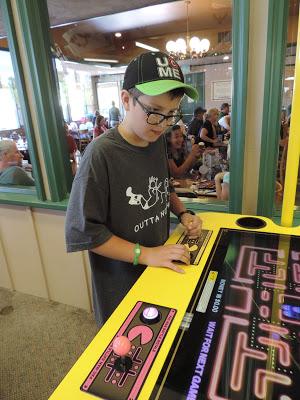 Britt had as much fun as anyone! Here, he is playing Pac Man.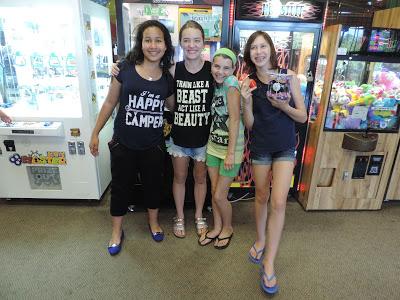 The game behind them was a big hit, and they played it many times, and almost won the grand prize, which was a Samsung Tablet! They were mere points away. Ellie came away with a magic 8 ball that was a nice prize, which she loved. She, Brailey and Britt asked it questions all the way to her house on the ride home.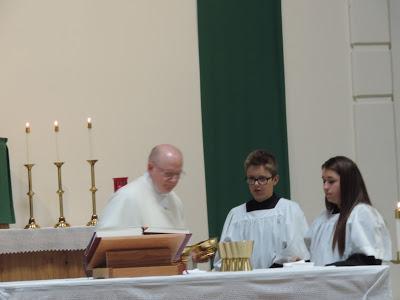 That evening, Britt was up to serve. It was his second time, and he did a fabulous job. He looks like a veteran, now. After visiting with Father David, it turns out we know the same people from Harney County, and his best friend was my neighbor as a kid!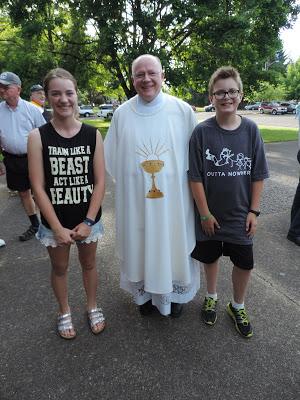 And last but not least, the cake... She was so happy with this cake, grateful for her special day, loved all her gifts, enjoyed the party, was thrilled about the Triple Crown, and went to bed a satisfied teenager. She is such a good kid, she deserved every bit of happiness that came her way. We are so blessed by her and can't wait to see what the next 13 years bring for our Brailey the Beautiful, inside and out!