What an amazing weekend we had... We've been looking forward to Britt's First Communion for months, and it definitely lived up to our expectations. Grandma and Papa came over on Friday, and then Grandma spent all Saturday morning making dip and fixing the fruit tray and helping with the flowers and decorations while Papa held our horses for the horse shoer - we never have a dull moment around here. Truly! We were all worried about the weather, because it poured down rain on Friday and Saturday morning and even during mass, but come celebration time, it was the most perfect weather we could ask for - not too hot, not too cold and not a single raindrop. It was ideal for roasting hot dogs and enjoying the comfort of a fire! Britt received the most wonderful gifts, and he was so happy to finally recieve his First Holy Communion. He was nervous and excited and happy all at once. We all feel so blessed with the friends we have in our lives  - without them, it wouldn't have been nearly as special. We are so lucky to be loved by such good people, and we send our love right back at our beloved friends and Grandma and Papa!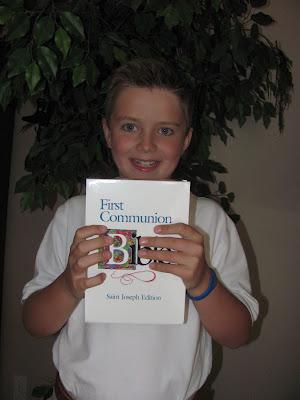 One of the gifts from Grandma and Papa was this wonderful bible...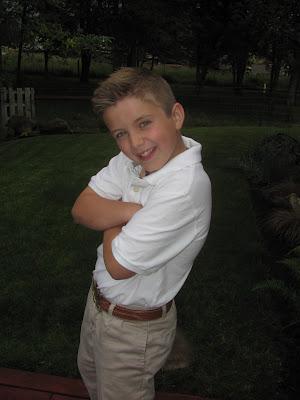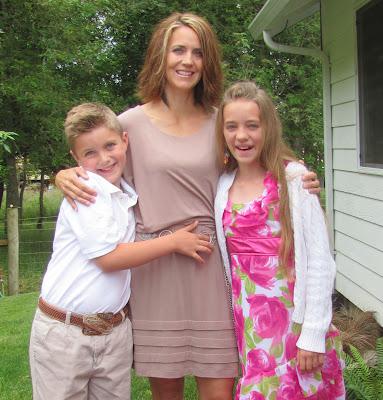 Before leaving the house for mass.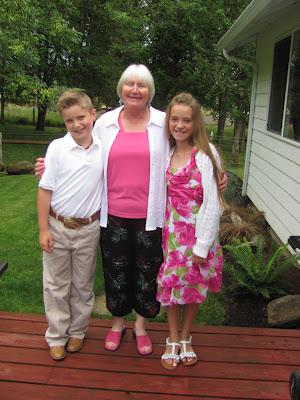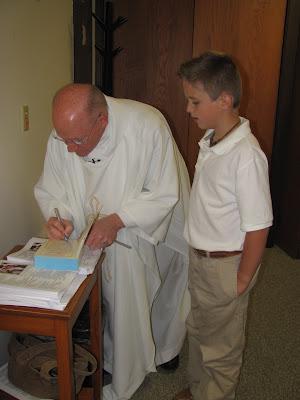 After mass, Father David signed Britt's new First Communion Bible and gave Britt his First Communion certificate. Father told Britt, "You know, this is actually some really good reading... There are some fun stories in here!" We love Father David...!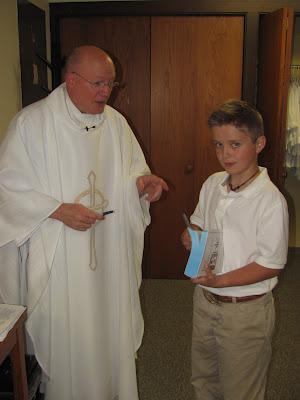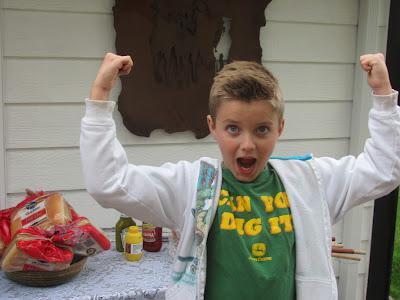 PARTY TIME!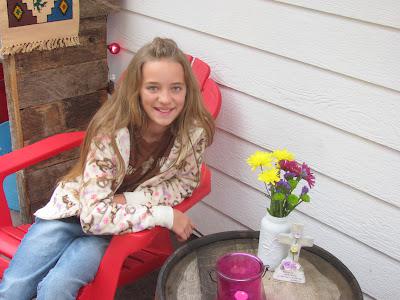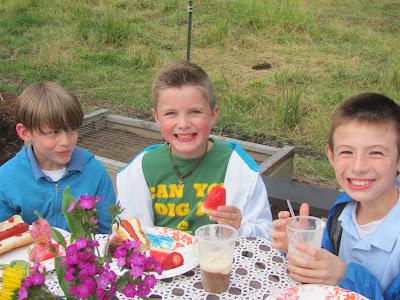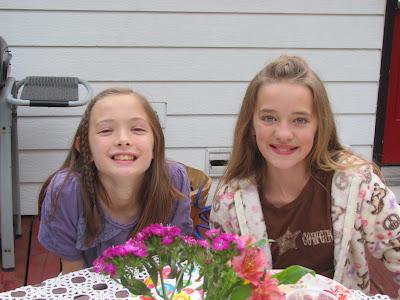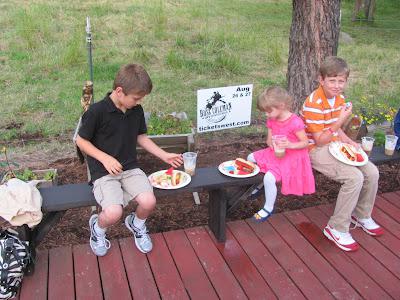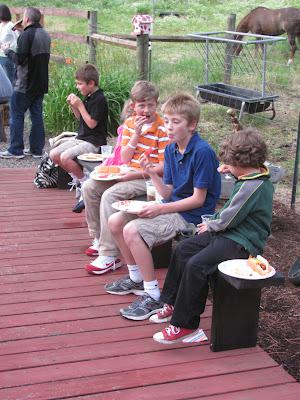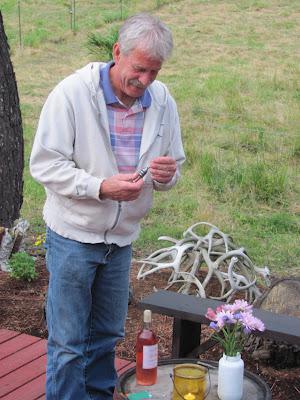 I forgot that I don't have a wine opener... I used to have one, but I don't drink wine, and so I think I gave it away, thinking I would never need it. So Brady had to finagle the cork out of this bottle.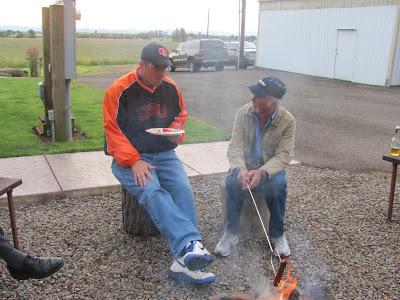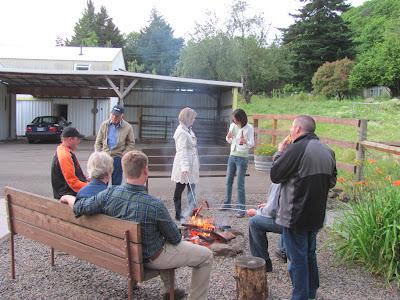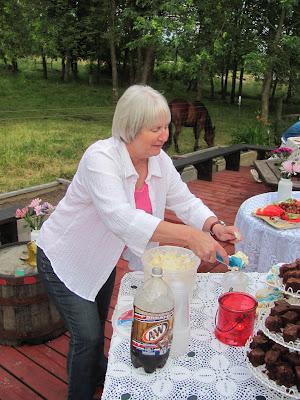 The Root Beer Float Lady, my mom - aka Grandma!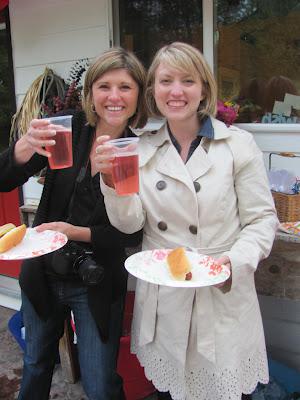 He got the cork out! These are the glasses of wine Brady poured for two of my favorite ladies, Renee and Kristin - aren't they beautiful? Now that was some wine!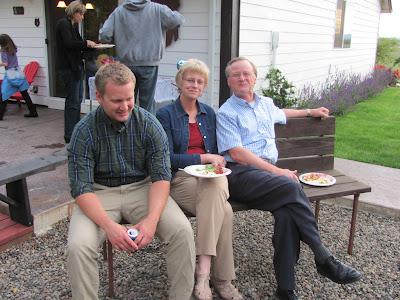 Brady's Godfather, Andy (who brought me a beautiful bouquet of floweres!) and his wife Anne and son Sam.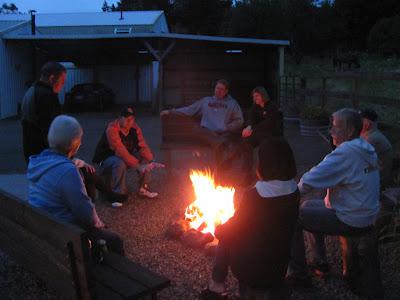 Enjoying the fire...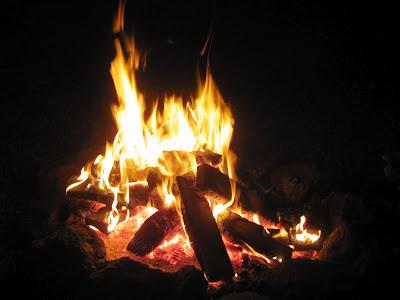 Brailey's Godmother Nikki and my her son Nolan (my Godson) came down for mass, and they would have partied with us, but her husband Bobbie injured himself in a game of golf, so she had to hurry back home Albany to take care of him. We were thrilled to see them at mass, though, and really appreciate their presence during Britt's special time. We love all our friends and family who came, and we send our most heartfelt  thanks to all of you! If not for you, it wouldn't have been nearly as special. Thank you, and may God bless every one of  you!