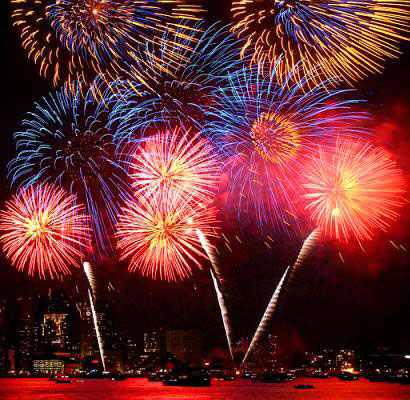 Google Image
As the 4th of July rapidly approaches, I sit here and reminisce about our country's Independence Day and the memories I have from when I was a child.
From the age of 8 years old, until I was almost 19; I lived in a very small town in the upper part of Michigan, not to be confused with the Upper Peninsula. I don't remember doing a lot of things on the national holiday at my father's house in that small town. Most years, crowds of people would flock to the Ausable River where they could see the little city's puny fireworks show. As a child any and all fireworks shows look amazing and produce the signature ooh's and ahh's.
It wasn't until I was in my 20's and living in Las Vegas did I realize the true beauty of huge firework displays. Whereas most of the entire city flocked to 'The Strip' and 'Fremont Street', I had small children and it was too much of a hassle to battle overly drunken crowds of that magnitude. Fortunately, for my kids and I, there were plenty of places off the beaten path where we could catch those giant, colorful, gloriously booming stimuli in the night sky.
Still, watching those magnificent displays of our nation's pride and joy couldn't be trumped by one specific childhood memory I have of long ago.
It was summer, a hot and sticky, worst drought ever, Michigan heat wave. My younger sister Jessica and I were at our mom's house in Mt. Morris for our summer vacation. Mom was always on the go, so for the most part we spent much of our vacation days at one of her friends' houses. This particular 4th of July was no different.
She took us over to one of her good friends, Fred's house. This had to have been maybe my second time at his house. There were many adults and some kids, three being my 2 siblings and I. Of course, the kids were anxious and restless from anticipation. I mean… Really, what kid doesn't love lively fiery objects that go boom? But, the damn drought had rained on our parade, washing away all of our little hopes and dreams.
A  severe drought that summer had everyone in the city under advisement to not set off fireworks of any kind. The odds of starting a major uncontrollable fire were far too high of a risk warned the city officials.
However, Fred being the greatest and most genial of all the adults, tells us that if he were to strategically place one measly  firework on the picnic table it would be perfectly safe. All of the children delightfully screamed, myself included. Because even though it was technically illegal, it is what the 4th of July is all about, right?  We were free men and women. We were free of the English tyrants. We were independent, free to do as we damn well pleased… FREE TO BREAK THE F**KING RULES MAN!!! *Said in my best Janis Joplin voice* WOOOOOOOOO!!!! Way to go, stick it to the man, Fred.
First Fred placed a little green army tank on the picnic table and lit it. Eyes glued to the table, we waited for it to do something patriotic. Without disappointment, it soon started racing down that table, leaving fiery tread marks behind it. The table had been just as dry as the grass.
Still, that little incident didn't deter Fred the Magnificent. He grabbed another miniature firework, placed it in the middle of the picnic table, and lit it.
We all stood there staring at it. Then suddenly it started spinning; faster and faster and faster and then…it shot up into the sky.
Blinded by the mid-day sun we lost sight of  it for a moment but, soon it reappeared in all its fantastical glory.
It had landed on a patch of grass in the backyard catching it on fire. Someone scurried to go get the water hose to put it out. The little hellish firework jumped up again. By this time adults and children were screaming but not from delight. In the meantime, the little firework that could, had landed and caught a second spot of the yard on fire.
By the time the hose was retrieved and the flames doused, there were 3 burnt crop circles in Fred's back yard. Now, I'm sure that Fred and the rest of the adults weren't happy with that Independence Day fiasco. But for me… BEST 4TH OF JULY MEMORY EVER!!!