This year saw the first Canterbury Folk Festival in full swing in the Dane John Gardens over the last weekend in June.  A full weekend filled with sunshine and folk music, in the beautiful parkland setting of the Gardens overlooked by the bandstand where all the acts would be playing from.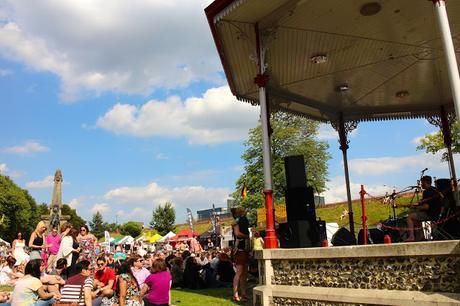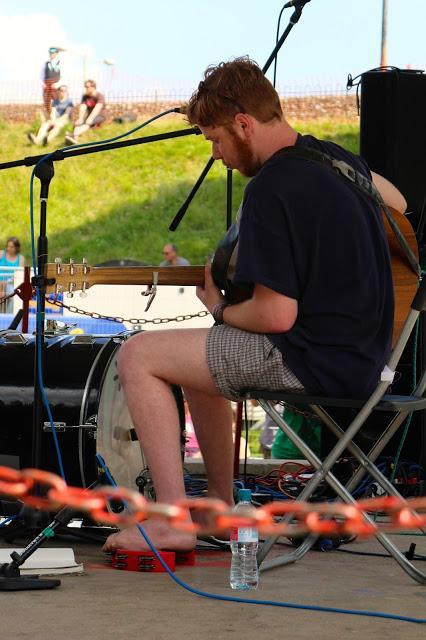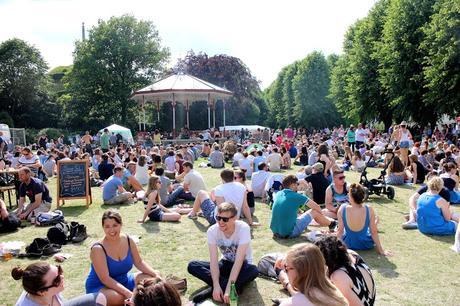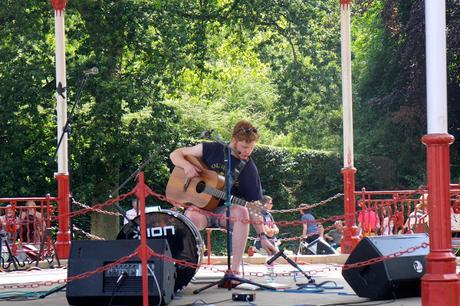 All you need for a good folk festival, apart from good music of course, are craft beer and local ales, with fruity finishes and deep malty flavours.  I had the Rocking Robin Robin Redbest ale (the same one that Sally is enjoying below) which was seriously yummy, a light bronze easy drinking bitter made with Kentish hops.  I must admit, for a determined non-ale drinker, I am finding more and more that are quite quaffable!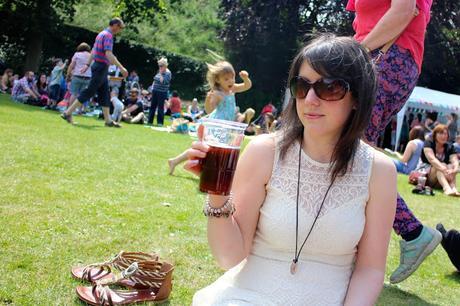 To keep everything balanced, you also need delicious food from independent food stands, including Wimbledon ready strawberries in pots with lashings of fresh cream, carried around on trays by ladies from Simply Strawberries, duck wraps and duck fat chips, piles of fresh olives and huge containers of pad Thai noodles from A Taste of Thailand.  I had the plantain crisps and chilli balls from Vinngoute, which lived up to the translation of its name.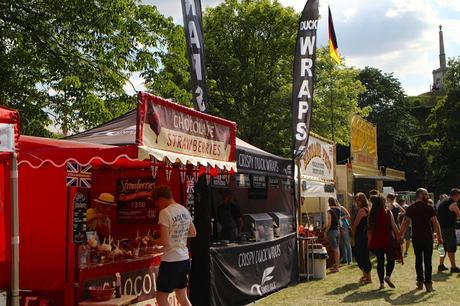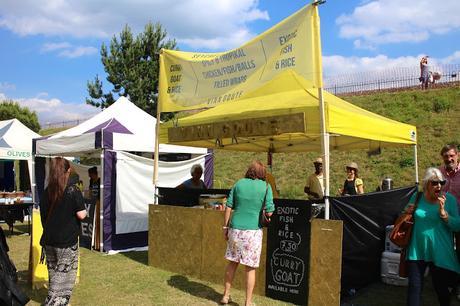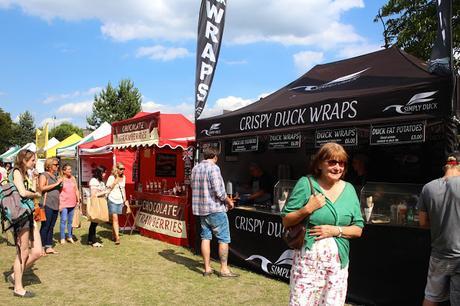 Music, food and ale is also best shared with a bunch of friends as chilled and relaxed as you are (Ben even more so as Green Diesel would not be playing until the Sunday afternoon, so he was completely off duty). Shay, Ben, Nick, Sally, Ellie, John and I had already arranged to meet by the Bandstand in the early afternoon but we ran into other familiar faces throughout the day who would pull up a pint and join us.  Canterbury is really very small and at an event like this you are pretty much guaranteed to bump into a number of people you know.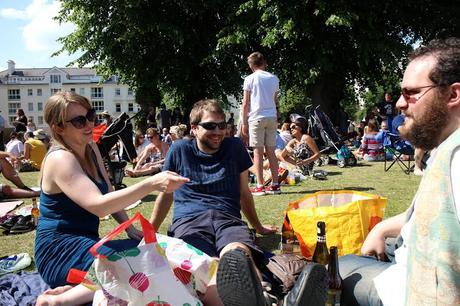 Finally, to really make you folk festival experience complete, you need a dog.  The ultimate hipster accessory that every good folk aficionado should not be without.  I should have tied a red scarf around his neck.  Opportunity missed.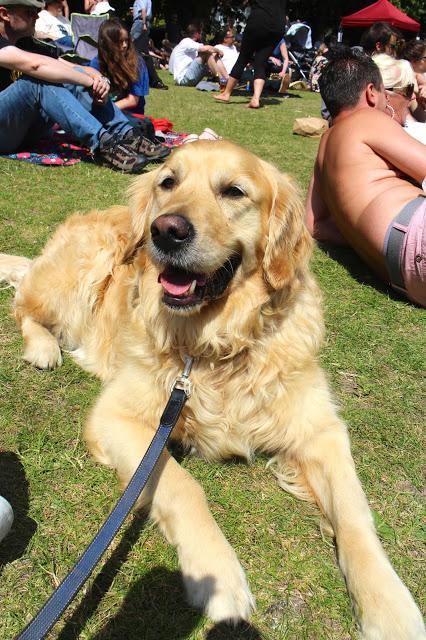 James was in Malta with Steve on a lads holiday, and Sasha was visiting her sister so I was dog-sitting Jackson for the weekend.  With James and Sasha's permission, I packed up his water bowl, a liter of fresh water and a bag of dog biscuits and brought him along for the afternoon.  I quickly discovered that if you have a dog at a festival, especially one as large and good natured as Jax is, you very, very quickly make friends with a lot of people who will just come up and cuddle him.  He was like a magnet for small children and mid-30's gruff men who insisted on calling him 'good boy'.  He looked rather bewildered by all the attention, but took it with good grace.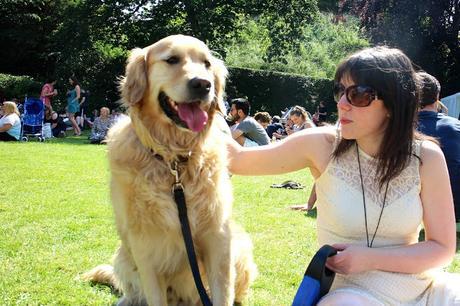 This was the first time Canterbury had hosted a folk festival - Broadstairs and Faversham are the traditional homes of folk around here, but its popularity is growing, evidenced by the 5000 people who descended on the Bandstand for the weekend.  From 11am to 6pm each day we had the delights of folk in all its format, from rock to acoustic to blues (Thomas Ashby, second photo above) bluegrass (Gentleman of the Few) and reggae, courtesy of Jimmy and the Riddles.  There were a plethora of delights for your ears to feast upon, all repeated again on the Sunday with more bands playing, including old favourites Green Diesel.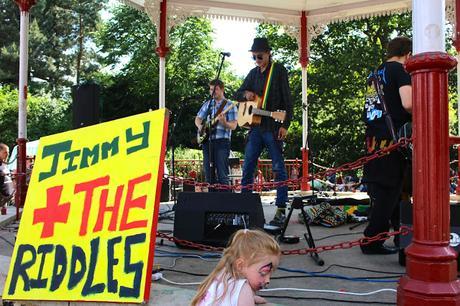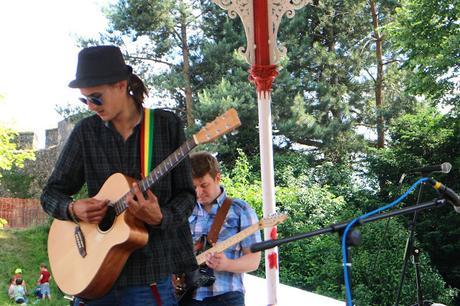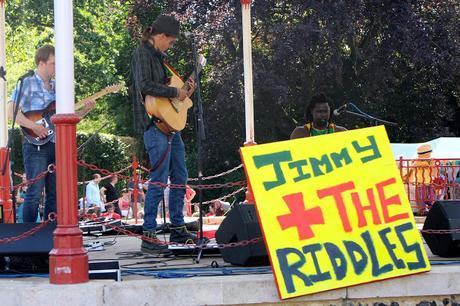 There were also Morris Dancers (of course, its a folk festival in England, you can't get more traditional folk than Morris Dancers), balloon twisting clowns (one little girl had a balloon version of Ariel from The Little Mermaid, it was quite something), Mr Softee ice-cream and of course craft stands.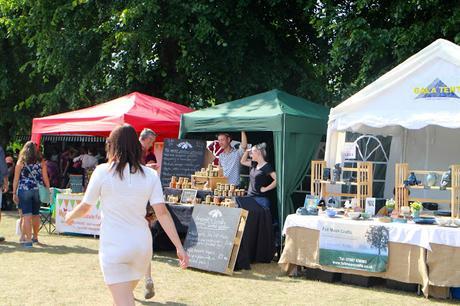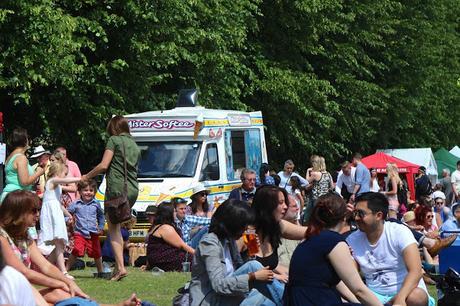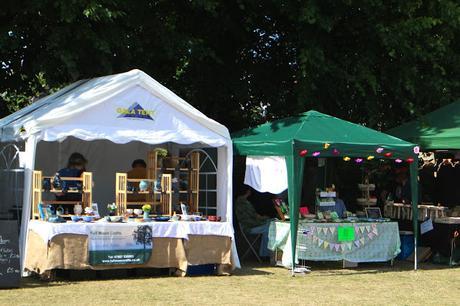 Kids dressed in Tinkerbell outfits were twirled in dizzying circles by their parents whilst teenagers hoola-hooped and flung diabolo's high in the air in time to the percussion beats and older couple dangled their feet in the cooling waters of the fountain.
We sat and chatted in the sunshine, occasionally taking it in turns to walk Jax in the shadier areas of the park under the trees where the scent of South American BBQ was drifting through the air from the newly occupied Kiosk.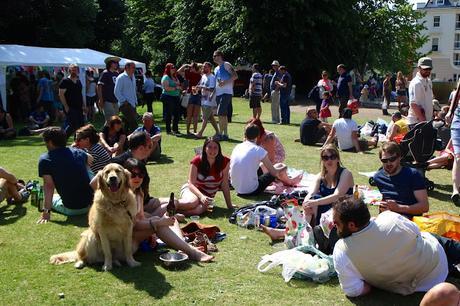 Eventually I had to pack up and get the dog home as his dribbling was getting a little out of control and he kept eyeing up people's food, but the others carried on their festivities long into the night (I know as I kept getting text messages asking if I was walking back into town to meet them.  The texts got noticeably drunker and more demanding every hour), but by that stage I was tired and my feet hurt, so I was rather lame and just curled up on the sofa with a film.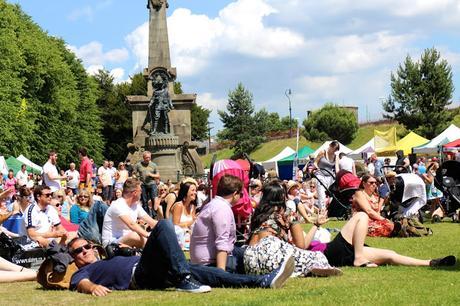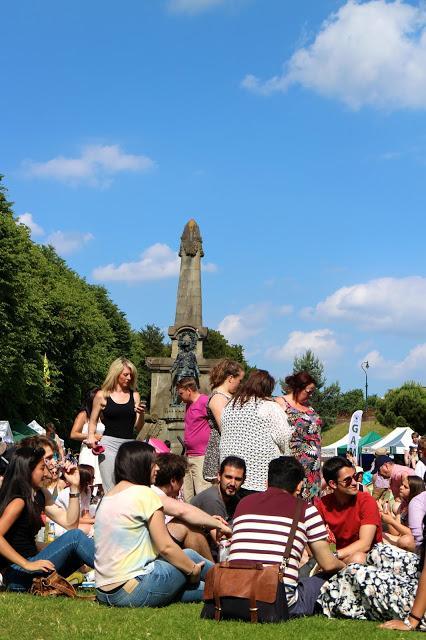 Here's hoping this is just the first of many years of folk in the gardens.