I went to the West Yorkshire Playhouse today (Leeds) to watch the play 'Cat On A Hot Tin Roof' by Tennessee Williams. I was always a fan of the film starring Elizabeth Taylor and Paul Newman.
I really enjoyed the play for many reasons. The Southern American accent was executed brilliantly by the protagonists. Brick, Maggie, Big Daddy and Big Mamma are fantastic characters to play and the actors did a great job.
The sexually frustrated Maggie was exciting to watch. She oozes the need to be taken by Brick. I wont go into the details of the plot as you could research that at anytime. The production surprised me in terms of its staging. It was a thrust stage setting that worked really well. The audience became the fourth wall, although there were moments throughout the production, the characters would look directly to the audience. This allowed the audience to engage with the characters.
The set was very naturalistic, using appropriate furnishings of that time period. The use of suspended cotton from the ceiling was great for subtext. The gobos used for the lighting when Brick ventured out onto the veranda worked great to suggest to the audience how he was feeling 'trapped'. The use of lighting I felt was not as naturalistic as it could have been but the cues for marking the moment worked well, as did the sound effects.
The relationships between the characters were obviously an important part of the rehearsal process, as you really felt the tension and the climax to the play combined good use of characterisation, lighting and a fantastic dramatic pause at the end.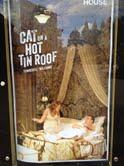 WY Playhouse
Really enjoyed it and it reminded me that I really do need to go to the theater more often!