This post is part of the CHENNAI BLOGGER CLUB'S CBC VIBGYOR BLOG TAG 2 where some of us will write a post on the colours of VIBGYOR each day starting 1st of May to the 7th of May, 2020.
The color theme for today's post is VIOLET.
Violet, the first occurring color of the visible spectrum, strikes a chord with varied memories and emotions.
…the initial introduction to the color spectrum, to a muddle headed guy, who wonders, what does it even mean, and looks up to the heavens, to view and actually observe the barely visible rainbow and go ahead in life, to understand that violet is one among the vivid colours, visible and non visible, like the emotions, events and exaggerations that we get to experience in life.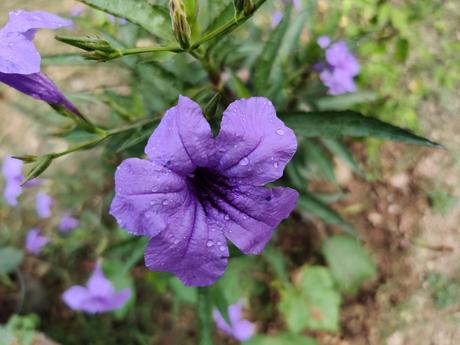 …the short walk to school, on a chill winter morning, along the green avenues of Bangalore, noticing the blooms of 'December flower'. The bright, delicate, violet coloured flower, popularly known as December flower, probably a variant of the 'violet' flower, doesn't emanate any fragrance, but eludes a mystic beauty.
…the keenness of reading the abridged version of Ramayanam, which well, was meant for kids, and that described Ravana walking majestically, with a royal violet umbrella held over his ten heads. How big, how heavy, how grand the violet umbrella would've been?! But that, the ten heads represented his vast knowledge and wisdom, which ultimately was overshadowed by the huge, egotistic, arrogant violet umbrella!
The thoughts about violet can be written on and on, as the case with any colour, for they form an integrated part of our life, of which we observe some, and ignore many.
God Bless.