One of my favorite rooms in our house so far (and I say so far because we have VERY exciting plans for this year that will involve an extension and a new kitchen and garden makeover), is Logan's bedroom. And it's funny because Logan's room in the smallest room in our house, it's tight in there and we've had to be clever with it to make the space work for us (see how we made the most of the smallest room in our home here). But I've always loved it - the blue star theming is my favorite and the fact we've been able to make it work and feel cosy for him despite the small space is amazing.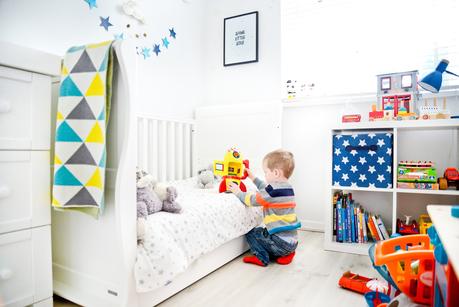 Part of our plans for our house, if all goes well, is that we'll be extending Logan's room and potentially doubling the size of it to give him more space as he grows. So until then, it's been about making a few little changes and updates to transition his room from a nursery for a baby to a room that works just as well for him as a toddler. And so I thought I'd share a few ways we've done it (on a budget of course as there's no point spending lots of money on a room that will be changing and will need re-decorating potentially this year).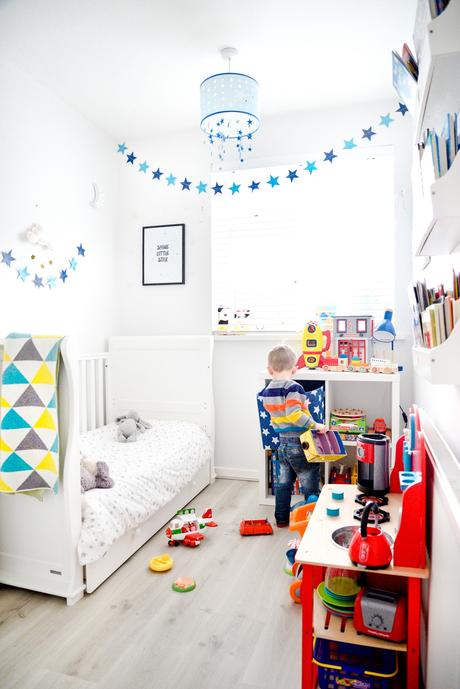 The first thing that we did was to take the cot side off of Logan's cot bed. Eventually, we will get him a single bed like we have for Ethan, but that won't be until he's a bit older and definitely not before we have the work done to his room. I love his toddler bed and the sleigh sides it has on it, plus the under bed drawer is really handy for storage!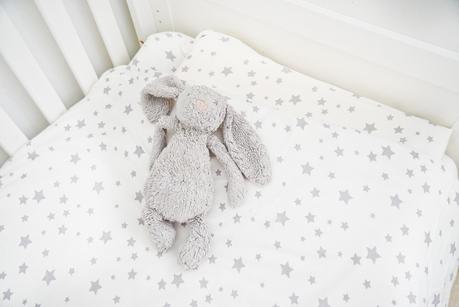 Logan no longer sleeps in a sleeping bag like he did when he was a baby and so we've got him a lovely (and super soft) toddler cot bedding set from sleepypeople.com which matches his room theme perfectly. I found that they have a great baby range on their website where they sell bedding to fit cots, cot beds, moses baskets and cribs. As well as towels, sleeping bags and more. They've kindly offered to share a discount code for my readers who wish to order from their site - simply use 

SLEEPY30 to get 30% off.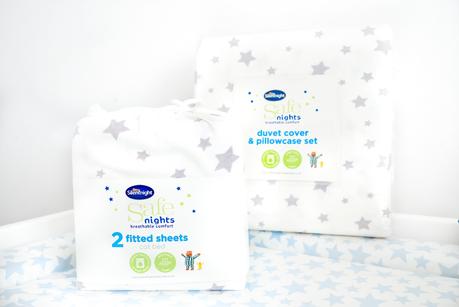 The next thing we did was to replace the armchair that we had in Logan's room. We had it in there to give us somewhere to sit whilst we gave him his bedtime milk and whilst we read him stories at night whilst he was a baby. But as soon as he was old enough for us to remove the cot side we started to read his stories on his bed. And so we no longer needed the chair.
We replaced it with a KALLAX unit from IKEA, they're so inexpensive and are great for storage. Initially, I was going to get four fabric cubes for them, but we are currently using just one for his Peppa Pig toys and then using the others to store puzzles and books and bigger toys and it works great.
On top, we've placed some more of his bigger toys and also a new lamp that we ordered from made.com so that he can read or do puzzles at bedtime if he wants to as he never initially likes to stay in bed.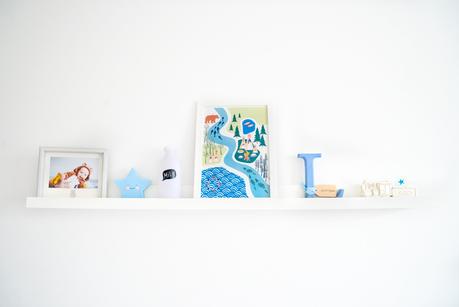 His shelf, or ledge from IKEA, is still the same as I'm really happy with how it looks and felt like it didn't need changing.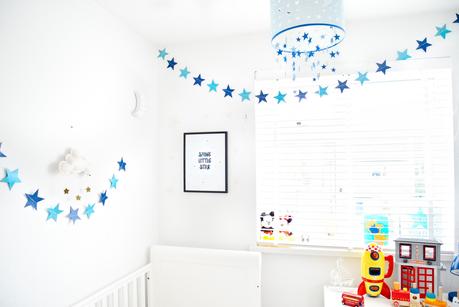 And we've kept the star theme for now as it still works and I like it so much. The print above his cot bed is from Desenio and we love it!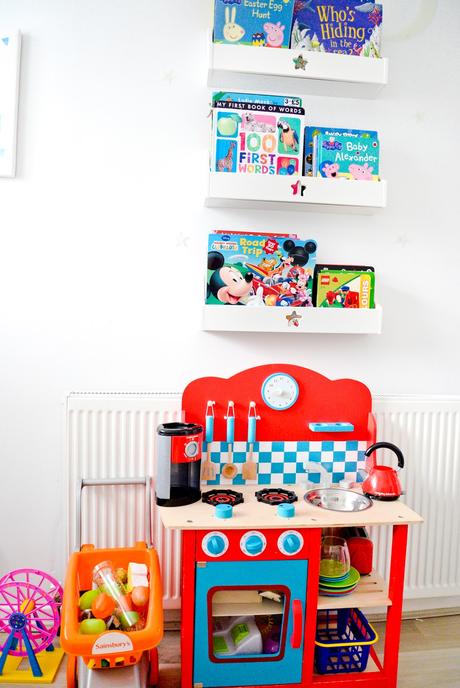 He has a toy kitchen on the other side of his room opposite his bed, he loves playing with it and it fits nicely underneath his book shelves which are from JoJo Maman Bebe.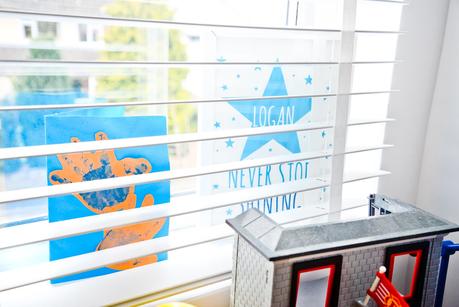 On his window are some Disney cuddly toys as well as a handmade card with Logan's hand prints on and a framed print that I made for him.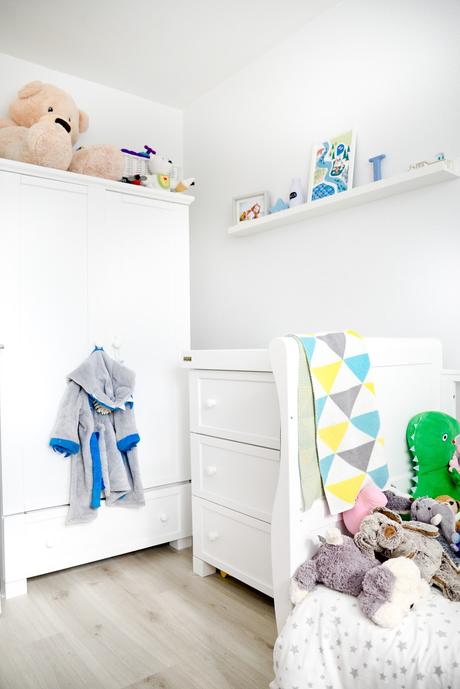 His wardrobe and chest of drawers fit nicely by the side of his bed and behind the door and give us a nice amount of storage for clothes and other things.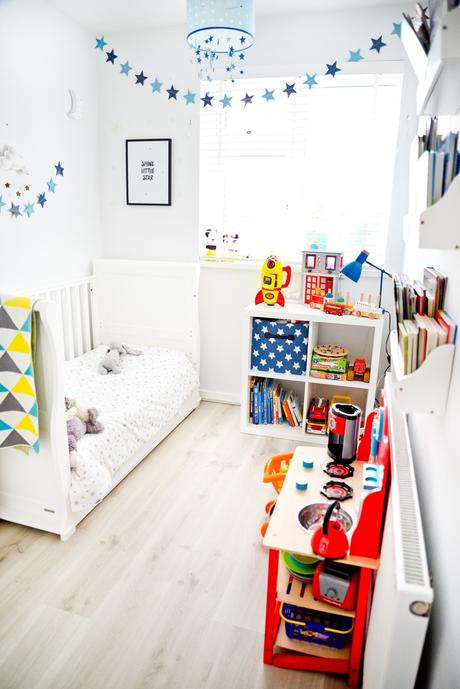 And that's what we've done with Logan's room. It's still very similar, but we've added little changes that we're hapy with and that work for him now that he's no longer a baby. I love that he can access his books and puzzles himelf and that we've now got somewhere for him to have a lamp in his room.By removing the big armchair he gained extra floor space and I think the entire room works perfect for now. 
Thank you for reading, Alex. xo
Don't forget you can get 30% off at Sleepypeople.com using SLEEPY30. :)