It's not secret.. you'll know from all my instagram photos, facebook profile, the business that I'm starting and just life in general that I really love dogs. I love animals in general, but I feel like dogs are like my funny bone. A vital piece of who I am.
Let me tell you a story about how much I love dogs.
This weekend we were headed back from a play and to a Halloween party. We dressed up for the play, so I was in my shmancy fancy clothes. A never worn before cream dress (photo below), that I adore paired with sassy gray tights and a banana republic cardigan, which is likely the only cardigan that I own not  purchased from TJ Maxx.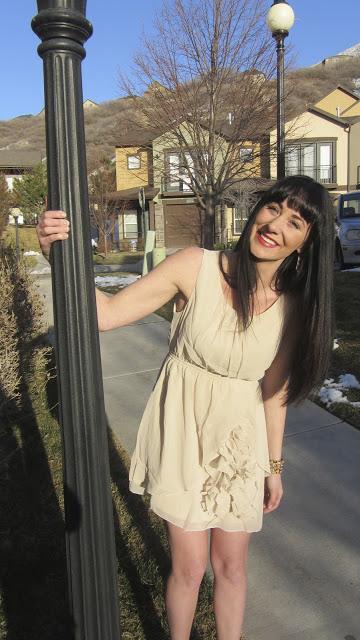 Jared and I were in one car, Kjerstin and Shane were in their truck in front of us and it was just past 11pm. I had the passenger mirror pulled down and I was doing my Halloween make up as we were driving and out of the corner of my eye I see a fur ball dart by, at the same time Jared slows down the car. I immediately asked, "cat or dog". Jared's first response was, "cat". Then he made a quick right turn and said, "it was a dog, lets go get him." Shane saw us change lanes behind him, and make a right hand turn. He knew exactly what we were doing. Dog rescue.
We were on a pretty busy road, so Shane and Kjerst took the inside lane and made sure no other cars were in the far right lane because the dog was darting back and forth from the street gutter to the sidewalk. Jared and I sped up and then slowed down ahead of where the dog was. I opened the door and was trying to get the dogs attention. I was using words that I knew my dogs would know such as; treat, home, dinner, water.. This dog was far too stressed to care about getting a treat or water. I could see that by his intensity and speed. I jumped out of the car. We may have still been moving a little bit and I was definitely still in my dress, tights and Steve Madden boots. I jumped out right into a long chain of sprinklers and I stirred up all my running abilities and tried to catch up with this dog. The dog was much quicker than I am... what a surprise!
I chased him for 3 blocks in a full sprint, while Shane, Kjerstin and Jared drove the cars ahead to keep up with the dog. By the time I caught up to the cars, I was drenched. Partially because of the sprinklers and partially because of the sweat. As you know, I don't run and I don't exercise so this was a killer for my body, but I was so focused on the dog that I didn't even noticed how sore I was until the next day.
When I met up with them Shane and Jared had stopped at a parking lot, where the dog was. The dog ran laps around the parking lot while Jared, Shane, Kjerstin and I took corners and tried to get down low and call him over to us so we could return him home. We stayed there for a long time, it felt like hours, but must have only been 20 minutes at the parking lot. We never could get him to come to us and when he did get close enough he'd growl and growl. After toying with us, he jetted off and we didn't see him come around again.
This dog was definitely smart, his momma taught him not to get in the car with strangers and he was sticking to his guns. I'm sure that he made it home safely and he made my Saturday night a bit more energetic and fun.
Remember the FRENCH BULLDOG I rescued, click HERE to read about him.


Have you ever done a dog rescue mission?