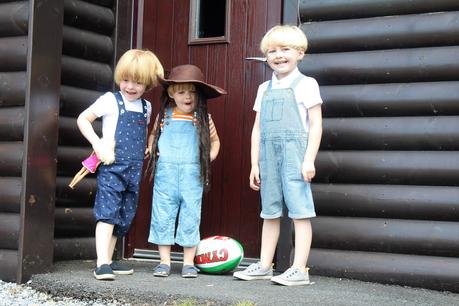 One of the biggest challenges that we've faced as a couple since the boys came along has undoubtedly been the lack of time to ourselves.
Having 3 children in the space of 3 years is a blessing in so many ways of course, but it's also extremely tiring and a lot of change to get used to in a short amount of time. As a result of that, my other half Jon and I can often feel as though our lives have been on fast forward for the past few years and that our minds are struggling to catch up! Life really does move at 100 miles per hour in this house, there is always so much going on and so much to do.
The fact that our boys are pretty terrible sleepers and are awake until 10pm pretty much every night doesn't help - we're exhausted most of the time!
And although we wouldn't change anything about our family life, if there is one thing we can't help but feel a pang of jealousy about when we look at our friends families...it's the outside support.
Most of the people we know who had children around the same time as us have family close by on both sides who are willing to help out -  to take the children for overnight stays, to take them on days out, in fact most of them even go on multi-generational family holidays with the grandparents which means they even get the chance for couples time on trips abroad too!
This is something that has never and will never happen for us, we know we won't have any couples time on holiday until the boys are grown up and of course we're fine with that - we love our children and we enjoy spending time with them, but sometimes you can't help but wonder how much more relaxed you'd be if you had the same luxuries your friends do!
Unfortunately, Jon's parents passed away years before the boys came along and my own family live 250 miles away and so they can't help out very often - which means that when there are events we'd love to go to together - we usually have to turn them down. Date nights are incredibly rare, and I can't even remember the last time we went away anywhere as a couple.
And we're not the only people in this situation. So what do couples do when there are no childcare options within the family?
Should they just accept that they won't get any couple time until the children are grown up?
What about occasions such as funerals, child-free weddings or situations where both parents need to work but can't afford nursery fees?
Well actually, there are some services at hand that could provide the perfect solution to all of these problems.



Childcare.co.uk is a website that allows you to search its vast database of 1.8 million users to find childcare providers in your local area.
You just pop in your postcode, and narrow down the sort of childcare you're looking for - with options ranging from Day nursery, nanny and childminder for full time childcare to casual babysitters and all sorts of other options in between.
I did a quick search within our postcode area and was amazed to find that even in our small town, there were almost 170 babysitters registered within a 5 mile radius from our postcode!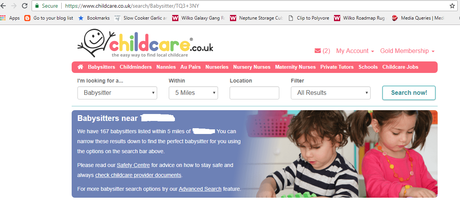 The site is so simple to use, too - you can view members profile with a quick click and be shown their introduction, a list of their relevant qualifications and experience and their photo if the user has uploaded them too.
You can then choose who you'd like to contact via the message service, and chat about your requirements.
You also have the option of posting your own Wanted ad so that suitable childcare providers can get in touch with you based on your needs.
Of course, using a childcare provider that you've never met can be concerning but there are ways to put your mind at ease.
Childcare.co.uk allows members to upload their DBS checks, relevant qualification certificates and proof of identity documents to verify that they are who they say they are and each profile is checked by a human member of staff too rather than relying on a computer system.
Members profiles will indicate if their documents are not up to date or have not been shared, so that you know to ask for proof of them yourself before leaving your children in their care - personally I'd always rather ask to see documentation for myself anyway but it's great to be able to see at a glance from a profile who has the sort of qualifications you're looking for.
You can arrange to meet with prospective childcare providers to discuss your requirements of course, Childcare.co.uk has a Safety centre page with advice for both parents and professionals on keeping things safe and secure.
If you're still apprehensive, a good approach could be to start small - perhaps hire the babysitter that appeals to you most for a short trial of just an hour or so to begin with while you go to the local shops, so you're not too far away. This should help to build trust and for you to get a feel for whether your children are going to gel with the babysitter too.
I'm really pleased to have found this website and can 100% appreciate what an invaluable resource it is to parents across the UK in positions like us.
To find out more or register for your free profile, just visit www.childcare.co.uk
If you enjoy my blog, please consider following me on Bloglovin'