I have made these cookies a couple of times now, and I have to tell you, they are without a doubt becoming my absolute favorite cookie. They are like eating a brownie with fudge in it…I am not even kidding you here!!!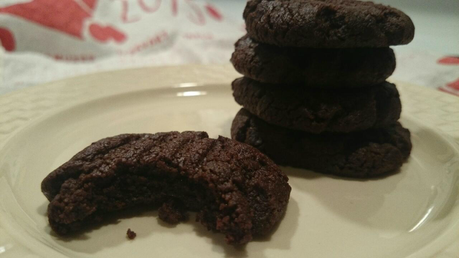 And there is a bonus…or three.
No butter, no flour and no white sugar!!! Yay!!
Before you stop reading, give these a chance…I promise that you will not miss anything with these amazing, satisfying and chocolaty cookies.
And they are SUPER easy to make. See four bonuses…you're welcome :)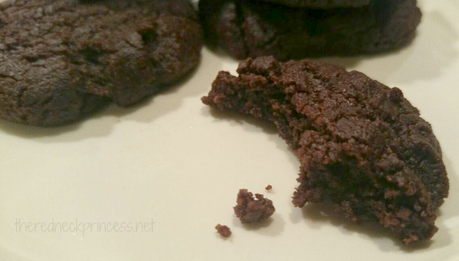 What you need:
1 cup and 2 tbsp creamy peanut (I used Kraft, but Jiffy or Skippy will work… don't use natural peanut butter as it will make the cookies really runny.)
1 cup packed brown sugar
1 large egg
1 tablespoon vanilla extract
1/2 cup unsweetened natural cocoa powder
1 teaspoon baking soda
What you do:
In the mixing bowl of your stand mixer combine peanut butter, brown sugar, egg, and vanilla…beat on medium-high speed until batter is well combined and the sugar is no longer granulated, I found that this took about 5 minutes. Scrape the bowl if you need too, the Kraft peanut butter is pretty oily so mine mixed itself fairly well.
Slowly add the cocoa powder, baking soda, and beat 1 to 2 minutes longer. Dough may be a bit crumbly in pieces, but pieces should all stick together when forming the cookies. If your dough seems to be too dry, you can add 1 to 2 additional tablespoons more peanut butter to help it combine. (I did NOT have this problem!!)
Using teaspoon, gather a good teaspoon sized ball of dough and roll dough into balls. You will have enough dough to make about 24 – 1″ cookies.
Place dough balls on a cookie sheet lined with parchment paper. Once you have all the balls made, flatten them with a fork, slightly flattening the cookies before baking ensures they don't stay too domed and puffed while baking because this dough doesn't spread very much; just don't over-flatten them. Now here I have an embellishment from the original recipe that I followed from Averie Cooks original recipe…she refrigerated hers for a minimum of two hours and a maximum of 5 days. I did not. I just baked them right away after making the dough…they are still seriously amazing, and one day if I ever have that much patience or time I will try it her way, but just so you know, if you are impatient like me…they will still be amazing.
Preheat oven to 350° and bake your little balls of deliciousness for 8 to 10 minutes, until edges are set and tops are barely set, even if slightly under baked in the center. I baked mine for 10 minutes as I prefer them a little more crunchy, but they still stayed moist in the center…don't do them any longer than 10 minutes, it is hard to tell if these cookies are done by looking at them, but ten minutes should definitely be the max.
Allow cookies to cool on the baking sheet for 5 to 10 minutes. Store cookies in an airtight container at room temperature for up to 1 week (hahahaha….you have no idea how funny this is until you taste them, they will NOT last for a week) or you can try hiding them in the freezer for up to 3 months.
And if you tell your kids they are gluten free, you will get to eat them all by yourself. I highly recommend this…
Happy Baking!!!