Hi Ladies,
Happy Christmas Eve!!! How excited are we?!
So, as you all know, December is THE month for Christmas Parties. So I thought I would do a quick post to share just a few photos with you all from a couple of events i've been to over the course of the month :)
The first row of pics are at my work xmas party, which was at Penthouse in Leicester Square, it had a terrific view across London and there was a free bar, need I say more?! Great night.  The Second and third Row, is me and a few of my friends, we decided to go for a mini Christmas getaway in our neighbouring town of Chelmsford. This was also such a great weekend, which involved too much wine as per usual! In the first two pics on the second row, we are opening our Secret Santa pressies :)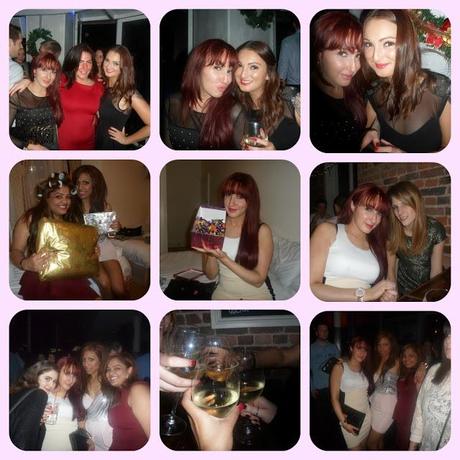 Needless to say I have had a very eventful month! Shopping is finally completely finished and I am stupidly excited for Christmas Day now, to relax with my family and a few glasses of sherry ;)  I hope you all have a great Christmas, and bring on the turkey!