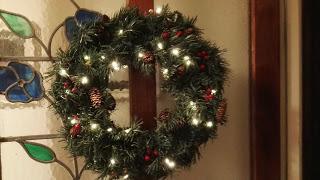 This weekend we've decided to get cracking on the Christmas decorations.  The tree took a great deal longer than expected, as I couldn't find the lights from last year - reasoning that we'd had them a number of years and was due some new ones, I headed down to our local supermarket, and bought two packs of white lights for a reasonable amount of money (£6), returned home, and set them up.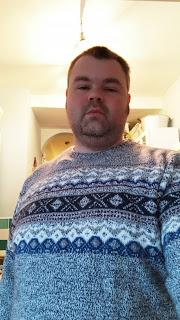 Ready to decorate.
They weren't particularly impressive.  True, with the aid of a microscope, you could indeed identify a faint luminescence from within them, but otherwise they were pretty rubbish.  Fortunately my wife was out shopping, so I sent her a text message requesting that if she happened to be in the vicinity of a shop selling lights that she get some.
She returned later with the lights, we put them on the tree, decorated it, and it looks very impressive.
Then I found the old lights.
Anyway, to my main experience of the day - every year, I state that I am going to bake a Christmas cake.  And every year, I don't.  I don't do a great deal of cooking, and I do even less baking, generally restricting myself to turning out a few cupcakes once or twice a year.
This year, I decided, would be different.
After soaking a kilo of fruit in alcohol last night, I made the cake mix.  All went reasonably well, until I put in the flour.  Using scales, I measured the right amount of flour, sieved it in, and mixed it up, but it seemed like a bit too much.
Then I weighed the remaining flour, and discovered that I had somehow managed to put twice the required amount in.
I endeavoured to resolve this by putting in more of the other ingredients (butter, sugar, and eggs) to balance out the flour.  This resulted in an increased amount of cake mix (batter?) for cooking.
At this point I discovered from my wife that I actually needed proper cake tins to cook in, I couldn't just use any old metal tin I found lying around, so went to the supermarket to get some (this was the same visit as for the underpowered lights)
After baking for about an hour and a quarter, the cakes came out like this: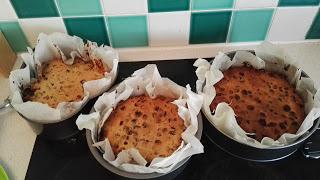 So, they appear edible, and, possibly with the exception of the one on the right, aren't overly burned.  They've had another douse of alcohol, and they're now wrapped in foil and resting in tins, awaiting further dousing over the forthcoming weeks, until they get iced a week or so before Christmas.  Whilst I'm clearly going to endeavour to eat all three of them myself, I should warn anyone who might be considering visiting our house over the festive period to think twice before accepting my offer of a slice of Christmas cake :)
Do let me know how your seasonal preparations are going, if you are indeed preparing for anything seasonal! And I should say that my wife has added some new lines to her selection of needleminders, do stop by 
www.denkaidesigns.com
and check her things out :)
And if you want more Christmas stuff, my last post was all about
Christmas cakes and puddings
:)