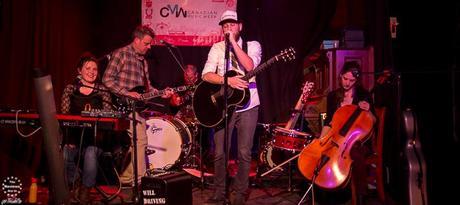 Awesome, Alexandria Maillot, Canadian Music Week, City and Colour, CMW 2016, Coldplay, Ed Sheeran, Mermaids Exist, The Cameron House, Toronto, Will Driving West Entertainment, Music
Monday night we kicked off Canadian Music Week 2016 in the back room at The Cameron House on Queen Street West and a three act showcase. It's a room we've been in before, and on night one of CMW we weren't alone.
As 7pm rolled around there was a respectable crowd gathered, many with after work drinks in their hands, some with CMW programs, and everyone ready for the music to begin.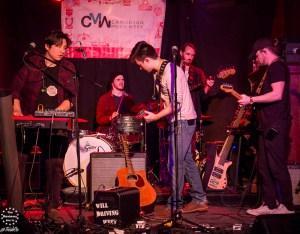 First on the Cameron House stage were Toronto's Mermaids Exist, a five piece ensemble bringing 2 guitars, a bass, keys, and drums to the their sound. Throughout their set we got a taste of slowed down and sensitive singer-songwriter tracks paired with bluesy guitar riffs and more alt rock tunes.
Having taken a look at their bio and heard the music, it's easy to see that the boys have been influenced by acts like John Mayer, The Fray, Coldplay, City and Colour, and Ed Sheeran. And it's great to see that they aren't doing any disrespect to those names with what they do on stage... at all.
The band started as a three piece before adding the final two pieces of the puzzle, and will release their first record with all members in fall 2016. And if Monday night was any indication, it should be a good listen. Mermaids Exist effortlessly filled the small back room with sound, they were tight, well rehearsed, and ready for their CMW 2016 moment. Stay ready for the new record and songs like Firing Squad, 16 Cigarettes, and More Than Medicine ... we're sure you won't be disappointed.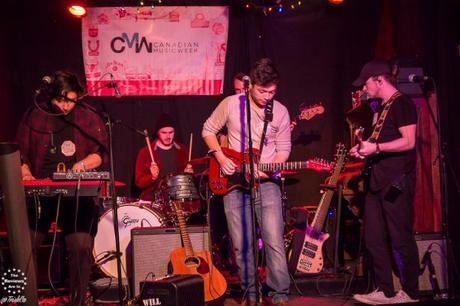 Well done boys!
Sandwiched in the middle of the Monday night showcase was Will Driving West, another five piece act, in town from Montreal, and packing the stage with sound and an assortment of instruments.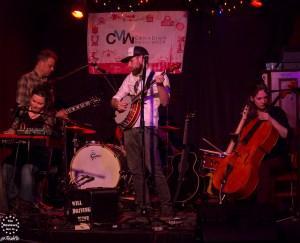 We saw an electric guitar, acoustic guitar, electric bass, keys, drums, cello, and banjo during the set... and we loved it. With that many moving pieces it would be easy for it to become distracting, but it wasn't. Will Driving West did a great job of navigating their arrangements and getting the right instruments into the right hands, and nailing down their music.
They also did a fantastic job of alternating the voice work, getting the most of both male and female leads, and capitalizing on the strength of 4 voices coming together at times as well. Add that to the drama that the cello brings to the stage, and we really were treated to something we didn't expect on the Monday.
Note: The combination of electric guitar riffs and cello is amazing. I'm not even sure I knew how amazing it was until I saw it live from Will Driving West.
Keep your ears out for tracks like Anchors, Ghost, The Watcher, and Cannon Balls as the Montrealers prep to release their upcoming fourth record.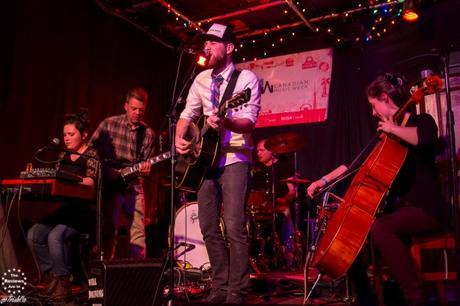 Merci beaucoup mes amis!
Our night was capped with Vancouver's Alexandria Maillot, a late edition to the CMW 2016 lineup, and a pleasant surprise.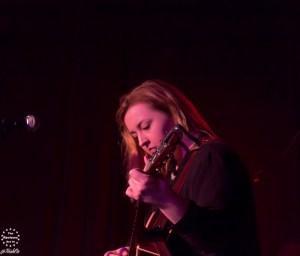 Alexandria took the stage solo with her electric guitar while her band stayed home in BC (we assume with jealousy), but she didn't leave us wishing they were there one little bit. In fact, after back-to-back 5 piece bands, it was a little mesmerizing to hear Alexandria fill the back room at the Cameron with just her voice and six strings. There's a wailing power in her voice that connects immediately, and makes you want to listen just a little bit closer and harder.
The BC native was also charming and funny between songs, and while she called herself out for being awkward, we saw an artist who was comfortable in her stocking feet in front of a room of strangers, playing the songs that she's crafted. Even with the aforementioned power in her voice, there's a peace and calm that came with Alexandria's music, but with that said, she also showed us that when the feeling hits - she can dig down and go a little bit harder to deliver that big impact moment that she's looking for.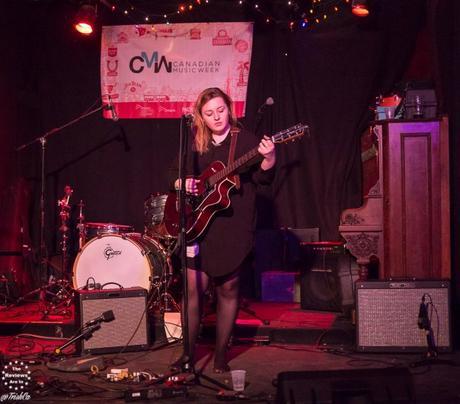 Be on the lookout for Alexandria Maillot's debut album, , coming June 10 - including the new single, Sunday Sara ...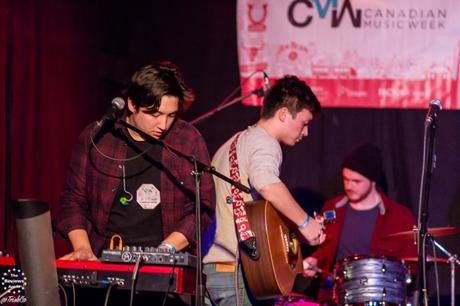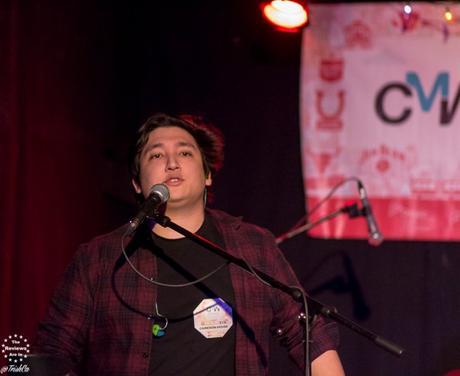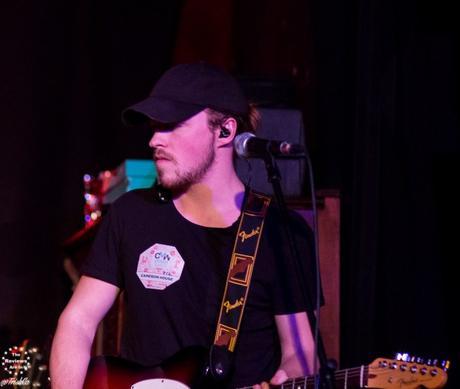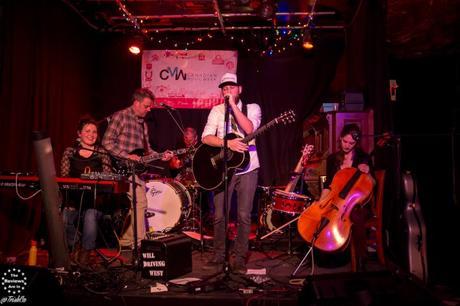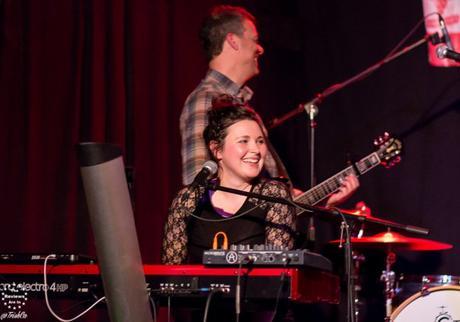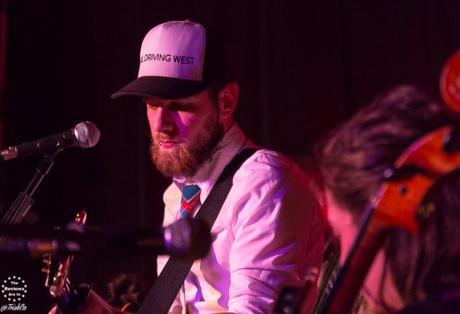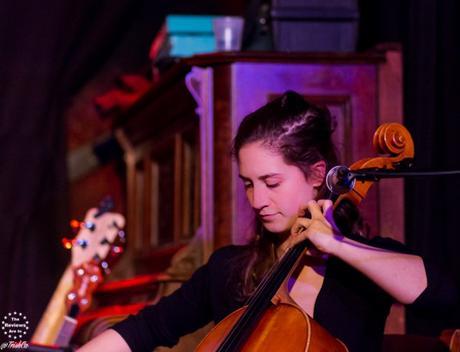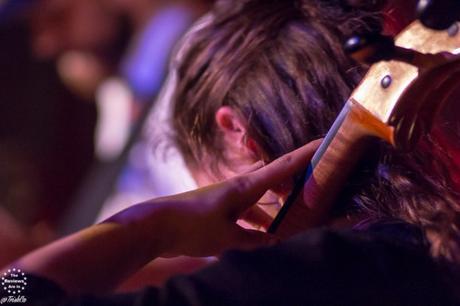 More photos from Monday, May 2 at The Cameron House: CMW 2016