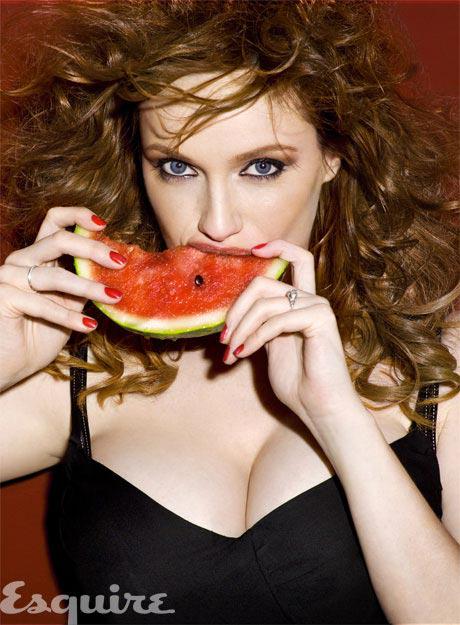 The gorgeous Christina Hendricks. She's a goddess. I love that she kept her wedding ring on for this photoshoot.
I know "Mad Men" is the darling of Televisionland right now, but I kinda hate it. Not even my love for all things Christina Hendricks could make me watch this show, and I dyed my hair red out of love for Ms. Hendricks. I know a lot of women are obsessed with the show's retro fashion and with John Hamm, and I do see the appeal, but it's not for me. I watched the first half of season one, then I turned off the tv and NEVER looked back.
"DEAR GOD, WHY?????" you ask.
Well, it made me uncomfortable. The blatant sexism and racism made me anxious and annoyed. Obviously, it's accurate to the time period, but it's still icky.
There's a scene where Peggy, Elisabeth Moss's character, goes to the doctor to get birth control pills (you can watch it here on Youtube) and the doctor smokes a cigarette while looking at her vagina and then basically tells her she's a slut for wanting the pill.
So my question to you, "Mad Men" fans is "HOW CAN YOU WATCH THAT WITHOUT CRINGING IN DISGUST AND WANTING TO PUNCH SOMEONE?????"
I don't doubt that women had to endure that kind of sexist bullshit but it makes me SO angry. I can't watch it.
Has the show gotten any better? Is it less cringe-worthy now? I heard that Peggy is going to become a feminist and the Women's Movement will be explored through her character. Is that true?
Let me know! I'd love to give "Mad Men" a second chance. Do any fans of the show find it uncomfortable to watch some of the scenes?