I never liked soups much, especially not creamy ones. But when you need something to warm you up and something that's prepared quickly, soup is the way to go.
I made corn soup today and it was surprisingly good.
You'll need:
a can of sweet corn
one small potato
two or three cups of broth or soup made from vegetable bouillon cube
a squirt of tomato concentrate or diced small tomato (I was lazy and used a concentrate)
spices like salt, pepper, chilli powder etc.
Prepare soup from a cube, throw in corn, tomato (or concentrate) and diced (cooked) potato and mix it with an immersion blender (or any other). Add spices, mix some more, put it on the stove for another minute and there you go.
Super quick and easy even if you're talentless like me!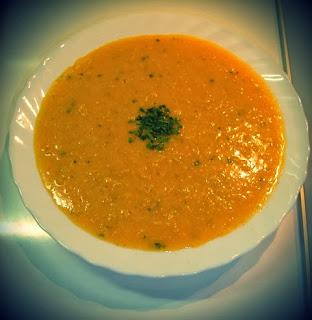 Yes I know, mine looks like vomit and it's not exactly food porn, but it was tasty! ;)
Have an awesome day!