For my much-awaited trip to Coron, 
I get to travel with a few relatives! We were so relieved to have arrived at the Francisco Reyes Busuanga airport after a bumpy plane 
ride in Cebu Pacific's 72-seater ATR 72-500
 jet. I was told that only small jets get to land in Busuanga because of its relatively short runway. These small jets are less stable than the bigger ones - thus, the bumpy ride. From the airport, we g
ot fetched by a van - owned by the travel agency which took charge of our package tour. After an hour of land travel, we arrived at Coron's town proper and headed straight to the port, where a motor boat from our chosen resort was waiting for us.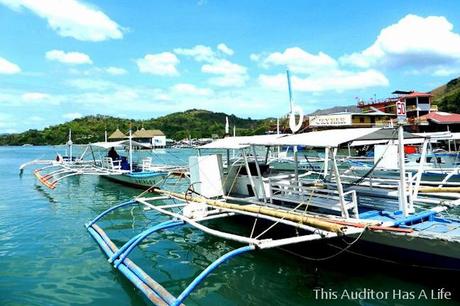 Coron port
The boat ride to
Dive Link Resort
 took about ten to fifteen minutes. We were greeted by the resort staff with cold welcome drinks before we checked in. We were quite hungry after the long travel from Manila to our destination so we went to the resort's Coconut Grove Restaurant and had our lunch.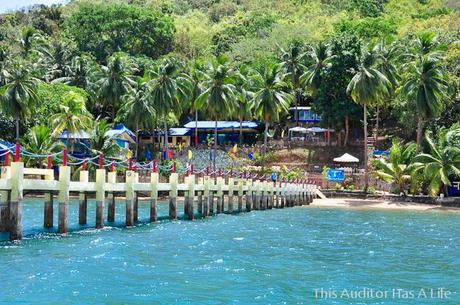 Dive Link Resort
The island hopping tour and the rest of our activities were scheduled on the second day so we have the whole afternoon of day 1 to ourselves. We decided to leave the resort and stroll around the town proper.
First on our list was Mt. Tapyas. Considering that we just had our lunch and it was still too hot to go hiking, we decided to skip this first and make a detour to Coron's famous cashew factory. Coron Harvest is the famous cashew factory owned by an old woman whom locals fondly call Nanay Lita. It appears that this factory has already been visited not just by tourists but also by local celebrities, politicians and other famous personalities. And as if the pictures on the walls were not enough proof, Nanay Lita eagerly told us stories about these famous people and her unforgettable encounters with them - while graciously allowing us to sample some newly roasted cashew nuts. Yum! I seldom eat nuts but the newly roasted cashew nuts were too good to pass up. Visitors get to try samples of the classic plain roasted cashew nuts, caramelized cashew nuts and garlic cashew nuts, among others.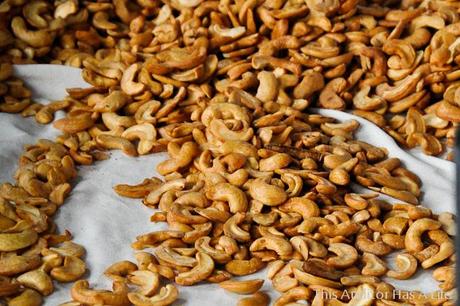 Coron Harvest's freshly roasted cashew nuts
After a delightful nut tasting session with Nanay Lita, we proceeded to Coron Souvenir & Gift Shop. It seemed to be biggest among the very few souvenir shops found in Coron. The shop has various colorful and interesting souvenirs on display - from keychains to lanterns to shirts to house furniture. We already bought some souvenirs - just in case we don't have enough time to go back to the shop again before we leave for Manila.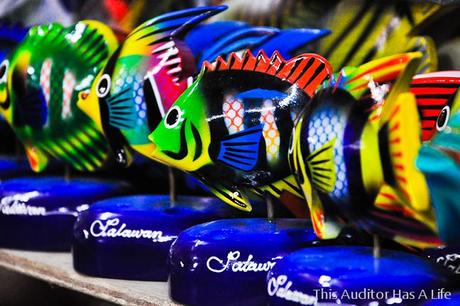 Pen holders on display at the Coron Souvenir & Gift Shop
After killing time at the souvenir shop, we hurriedly got on a tricycle which took us to the foot of Mt. Tapyas. 
One can only wish for a relaxing cold bottle of water after finishing the long flight of stairs to the peak of the mountain. 
It took us more than 700 steps to get to the top, only to be rewarded with a magnificant panoramic view of Coron Bay and the neighboring islands.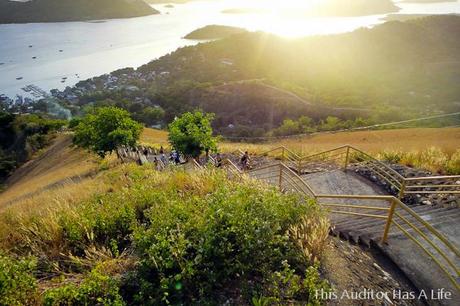 700+ steps to Mt. Tapyas
Going down the 700+ steps is not as hard climbing. We went down right after enjoying the beautiful sunset to catch our 7pm curfew - 
The resort staff warned us beforehand that we need to get back to Coron port in time for the last trip to 
Dive Link Resort 
which is located in Uson Island. 
We had our dinner at the 
Coconut Grove Restaurant and spent the rest of the evening by lounging by the pool and hanging out by the resort's bar. Overall, it was a tiring but satisfying first day in Coron! :)