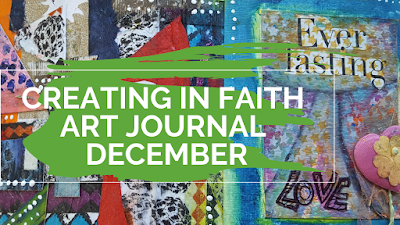 Art Journal Creating for December - with Amanda Trought
I decided to step it up a bit and create more Art Journals.  I love creating them and have so much paper, and other materials that it makes sense to bring them together and start using them for the work that I want to do in them. 
Part 1 of the Art Journal Process
Creating an Art Journal page is something I do as part of my morning routine and I wondered if others did the same.  I decided to use up the materials and try not to purchase them as you can customize them to your own suiting and use the Art Journals you want to use.  You might be one of those people who want to purchase them but I guarantee that once you have really got into making your own journals, choosing your paper, binding them in a particular way then you won't be the same.
The video this month is far longer than I had anticipated but it gives you over two hours of tutorial that you can watch at your leisure, see what tips you can get from the videos and pull them together in the Art Journal of your own creating.  You can use all the tips or just a few, the main thing is that you have fun along the way.  Let me know how you get on, if you need additional information do not hesitate to let me know.
Part 2 of the Art Journal Process
Each month you will get to see a new art journal in the making.  I use simple techniques and have fun in the process.  You can also join me on my Patreon Blog where I give a few behind the scene tips to my process.