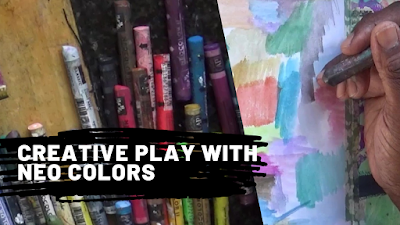 Do you have art supplies that are just sitting there waiting for you to use them but you said they were for 'best'?  You were waiting for that time to come when you would use them, but when you eventually did go to use them you found that they had either dried up or disintegrated.
That has happened on a number of occasions and I should have learnt by now, but from time to time I still use the cheaper products on myself and the more expensive ones for the 'professional work'
I know Neocolors are not the most expensive water-soluble wax pastels you can get but they did cost quite a lot back in the day and they were definitely not going to be used in my art journals but I had to wait for a canvas before I used them.  Well - No more!!  
I decided that all my supplies were fair game and that if there was anyone that I should be using them for it should be me and my creative growth.  This would mean that to value myself I needed to use supplies which I value on myself rather than wait!  It is not a nice feeling to go to use your supplies and find after years of putting them on a pedestal they are not useable.  
The video shows you my creative play with the Neocolors, and when you are playing it doesn't have to have a specific outcome, just spend time with the supply and this will also help you to get to know them.
Neo  Colors come in tins of 10, 15, 30, 40 If you would like to try working with Neo Colors you can check them out on Amazon HERE