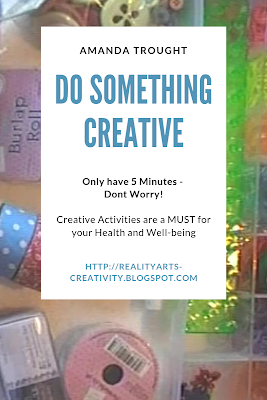 Is Being Creative Every Day achievable?
When you look at the time that you have to be creative, what is it that you constantly find yourself saying.  My words would be I don't have enough time, or I want to create for a whole day, but I will never get a whole day so what is the point!.  When I started Caring for my mother who is living with Dementia I didn't think there was any chance of me finding the time to be creative, but I was wrong.  I realized that I needed to see my creativity from a different perspective. 
 It is important to keep creating every day, especially if you have limited time.  When you say 'oh I will do something tomorrow', it never comes  so you need to find ways to  create some quick activities that are your 'go to' ones, that enable you to spend some valuable creative time on yourself.
Those 5/10 minute slots that come up need to be looked at as valuable resources that can add to your health and well-being, and over time make up those hour slots that you want so badly - just broken up.  Think - if you took two 10 minute slots a day to be creative over 7 days that is 2.5 hours of creating!!  Think about the other things that you do with that time say when you are flicking the channels to find something to watch, why not have a art journal beside you to do some sketching, papers to create a collage - or sort through your collage papers - that's being creative, and you can do longer activities when you have more time.
What I have found is useful is to have a selection of activities that I can do, don't think about activities that you have to finish but ones that you can dip into when you get the chance.
Here are some of my 'go to' activities that I can do when time is limited.
You can also check out some of the videos below that may help spark your creativity and give you some ideas for what you can do with your limited time.
Creating with your Non-Dominant Hand
I always have an art journal handy, and I do a range of activities depending on the time - A great exercise is also to create with your non-dominant hand, doing everything with your non dominant hand gets you to just focus on play and will take your mind off things if only for a moment.  
If you need to break it down you might decide to create the background with the time just laying down colours, another activity might be creating a figure, finding words or encouraging phrases to add to the journal, and just spend 10 minutes at a time.

Creating a Mini Art Journal

Having a mini art journal means that you don't have to worry about filling a large page, but you can do a series of mini pages in 10 minutes, these really do lend themselves to working with limited time.
Doodling
Who doesn't like doodling, OK I guess there are a few, but this is also another great way to spend some time being creative.  In this Video I broke this activity down, I had spent the initial time creating the bird and using the bird to add some journalling.  I then added some paint and colours in my session of the video, and I still left room to be able to come back and do some more work.


I hope that you will have found some ideas to get you going on your creative journey, remember treat those minutes as precious and see how you can take a creative activity to fill them for nurturing yourself.

Check out some of the classes on CreativeLive they have a series of Free online and on air classes that will spark your creativity and give you even more tips to get going!  Let me know how you get on with your time

Stay blessed and be a blessing.