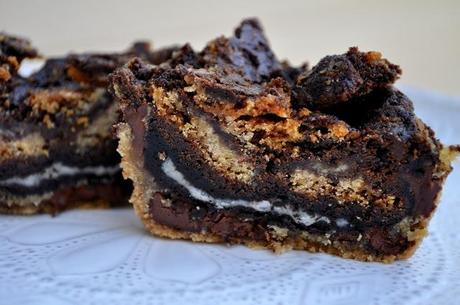 When I was in college I began baking a lot. One day I decided to take a huge pan of brownies and drop spoonfuls of chocolate chip cookie dough in it. What came out of the oven was something I named "crownies". Cookies + Brownies = Crownies. I honestly had no idea that other people have used this term before, up until about a week ago. My friend's husband was talking about the exact same dessert, but he called them "Brookies". After a long debate about which name was better, I decided to whip up a batch since Ryan had never had them.
Last year around this time I created my Oreo Pumpkin Cheesecakes. I decided that I have shoved oreos inside of things before, so why not put an extra layer of yumminess into these crownies. These remind me of desserts I have seen floating around Pinterest. What I love about these Crownies on Crack is that they are individually wrapped, which made sharing with other very easy. Ryan took them to work and his soldiers loved them.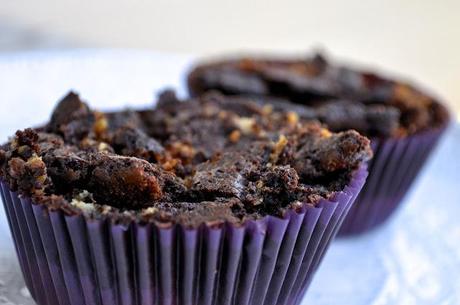 I personally took mine after it came out of the oven and scooped vanilla bean ice cream on top with chocolate syrup. It was amazing.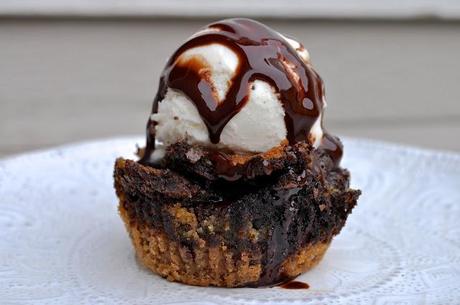 Now don't worry! When I made these they "exploded" a little bit. It was because of the oreos. If you don't add in oreos they will be fine. But when they "explode",  just take a fork and bend the exploding edges back onto the top of the crownie. You have to do this first thing out of the oven so they bend back easily and stick to the rest of the crownie. If you look at the second picture you can see what I mean. It just makes them look like they have a crumbled top. I still recommend adding the oreos (:
Crownies On Crack
12 crownies
Ingredients:
Chocolate Chip Cookie Part
1/2 cup butter, softened (not melted!)
3/4 cup white sugar
1/4 cup packed brown sugar
1 egg
1 1/2 tsp vanilla extract
1 1/4 cups flour
1/2 tsp baking soda
1/2 tsp baking powder
1/2 tsp salt
1 cup chocolate chips
Brownie Part
1/2 box (13x9 pan size) of fudge brownie mix, prepared according to instructions
12 oreos
Instructions:
1. Preheat oven to 350 degrees.
2. Prepare 1/2 a box of fudge brownie mix. I do this all the time so Ryan and I don't have a huge amount of brownies at home. If you want to use a whole box, double the chocolate chip cookie dough part as well and you will have 24 crownies.
3. In a separate bowl, beat the butter and sugars together. Once mixed, add in the egg and vanilla. Beat with a mixer until smooth. Add in the flour, baking soda, baking powder and salt until fully mixed. Stir in the chocolate chips.
4. Place 12 muffin liners in a muffin pan. Scoop 3 TB of cookie dough into the bottom of each liner. Press down to flatten the dough evenly. You may have extra cookie dough. Just roll it into balls and freeze it to have cookie dough on hand! Or just eat it...
5. Place an oreo on top of each cookie dough and slightly push down. Evenly divide brownie batter over the top of each oreo (a little over a tablespoon and a half).
6. Bake the crownies for 20-25 minutes, until the tops look set. You do not want to over bake these or they will get hard. 30 minutes was too long for one of my batches. After you remove them from the oven, fold over any "explosions" like I described above. Place in air tight container while they are still warm to keep them soft (:
Check out one of the sweetest ladies I know: