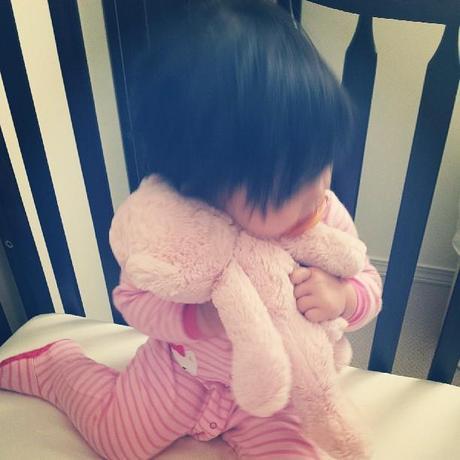 Morning cuddles with her bear.
Time // 9:31 a.m.
Place // Home, sweet home.
Eating // Fresh, local produce. Zucchini, onions, peaches, peas, green beans … this is why I love living in BC.
Drinking // Homemade iced tea. Four tea bags, boiled for 10 minutes. Sweetened with sugar, flavoured with lemon juice. And, when I'm feeling rebellious, a shot of Grey Goose.
Watching // Season 3 of Grey's Anatomy on Netflix. Soooo much wasted time, but since I didn't start religiously watching it until the 4th or 5th season, I'm getting caught up. On the actual TV I'm watching Rookie Blue, ANTM (shame on me, I know), Breaking Amish, and Masterchef.
Reading // I'm in between books right now. I just finished The Birth House by Ami McKay (review here) and I have World War Z waiting for me on the nightstand.

Wanting // More summer. It's starting to get darker earlier, and I'm having a hard time believing that we're already well into August.
Thinking // About how big Isla is getting. She's taken her first steps, and while she still knows that crawling is faster, it's only going to be a matter of time before she's walking 24/7. I loaned a friend a couple of her newborn sleepers and onesies for a gender reveal project she's working on, and I can't believe that only one year ago she was THAT tiny.
Creating // Freelance words. After a year "hiatus," I have some freelance work to do and I'm really looking forward to "stretching" my fingers and doing some actual work-related writing.
Hoping // That the stars align and Kyle and I can put together a trip to Las Vegas in the fall. There's a lot of factors to figure out, so my fingers are crossed that everything works out.
Needing // A pedicure in a bad way. I stubbed my toe and part of my toenail ripped off, so my one toe looks all snaggly. Nice.
Anticipating // An upcoming day at the lake, a trip to visit friends, fresh corn on the cob.