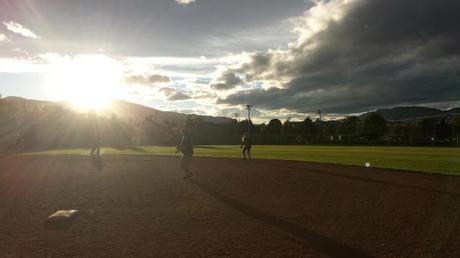 Field of dreams
Time // 8:46 p.m., Monday
Place // Home
Eating // Salt & lime microwave popcorn, but I'm really craving butter chicken or won ton soup.
Drinking // Water! With all these sports I've been playing lately, I need to stay hydrated. Plus, with the cool weather coming in quickly, I've turned on the furnace and it has dried out the house. Yuck.
Watching // I'm still watching old episodes of Grey's Anatomy on Netflix, but I'm super excited for the season premier on Thursday! I'm also looking forward to the premier of the Big Bang Theory, and in just a couple more weeks, The Walking Dead. Ah, fall programming, how I've missed you!
Reading // I'm almost finished World War Z. Let me just say that wow – the book is intense and so realistic! Kyle and I are going to watch the movie when I've finished reading the book, because I really don't see how it could've been adapted at all.

Wanting // Layers, cozy, long-sleeved shirts, and boots. I love getting bundled up much more than wearing shorts and tanks in the summer.
Thinking // About how much I missed playing slo-pitch after taking nearly two years off. My body hates me for it (two pulled quads and a pulled groin) but I love it. Nothing is more satisfying than hearing that crack of the bat against the ball.
Anticipating // A shopping trip to Kelowna with my mom, getting better at my yoga poses, more slo-pitch next weekend, and so many more amazing moments with Isla.