I went on a date last night...so I took him to The Greek and his name is not Russell Brand. I'm an 80's baby so I pretty much grew up with one of the greatest music eras evvaahhhh. Male artists used to be very comfortable with their feminine side (eyeliners, long locks), music lyrics used to woo women and not consist of words like butt, bootycall, twerk or up in da club. Damn, I miss the good ol' days.
To kick off a pre-celebration of the beloved boyfriend's birthday, I took him to see one of the iconic groups that have shaped my childhood, even until now--- HALL AND OATES!
I was supposed to cancel out on this, but thanks to my family, we made it!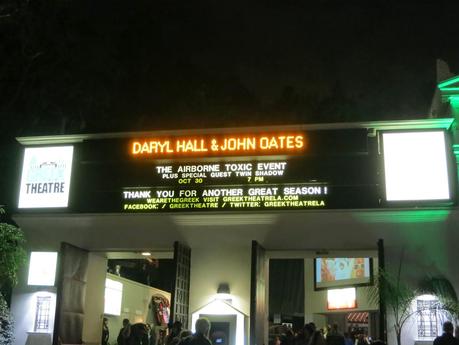 Getting there...
The Greek Theatre is an amphitheater with mostly stacked parking lots, so I opted to purchase an off-site parking pass that includes free shuttle to and from the concert without the hassle of dealing with heavily congested roads and the crazy parking situation. The parking area is actually just located at Griffith Park so it's pretty close to The Greek. The best part? They only charge $7 per vehicle, not per person!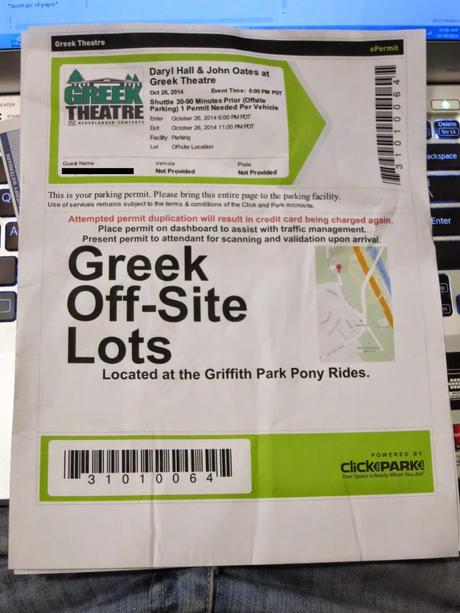 The Greek is perched up on the mountains...so the roads are sloped and walking around, even from the closest parking lot, in sky high heels is just not worth it---PLUS it's an amphitheater, which means you're gonna be climbin' up and down those steps.
We got there about an hour and a half before the show started so we decided to check out their concession stands. They served alcoholic and non-alcoholic drinks, and different kinds of food like pulled pork, beef brisket, hotdogs, burgers, kettle popcorn, etc.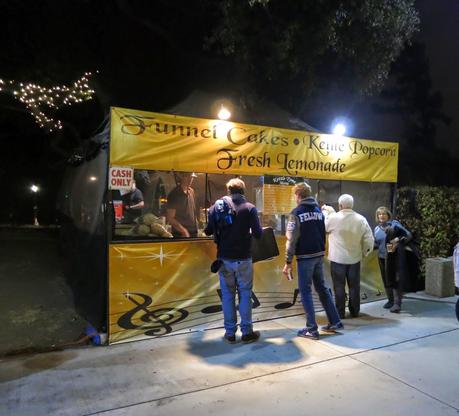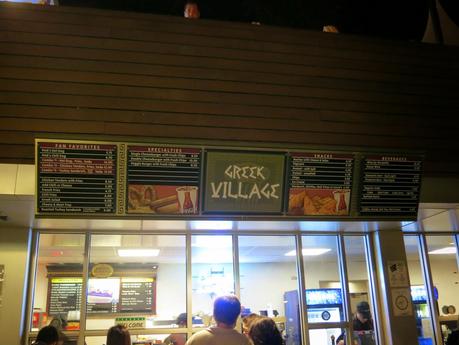 There were some benches and even a grass area where people can just hang around, enjoy a quick bite or a full meal and of course, people-watch.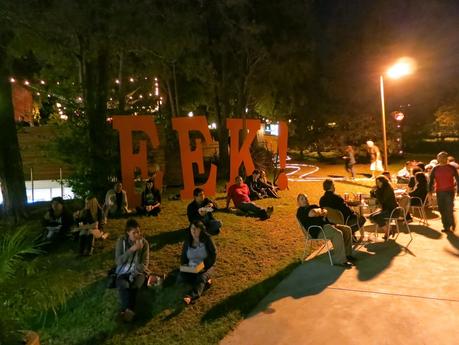 Mercedes Benz was one of the sponsors for the concert so they had some new models on display.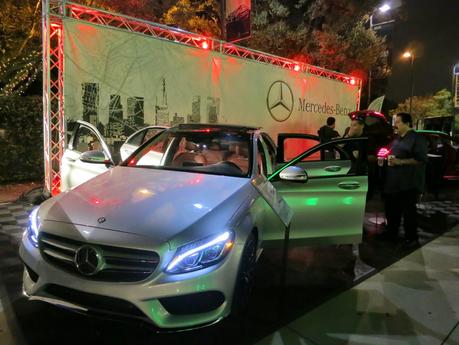 We just grabbed some food from the Greek Village so we could get that out of the way before the show started. The boyfriend got a double cheeseburger (why am I not surprised) and I had a Pink's regular hotdog. Very no-fuss.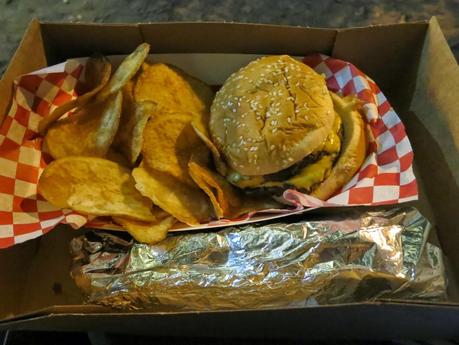 I tried the fresh lemonade from that "Fresh Lemonade Stand" but uh...it was totally NOT worth it. It was $5 dollars worth of watered down grocery lemonade.
Nothing better than thick-cut fries to save the day!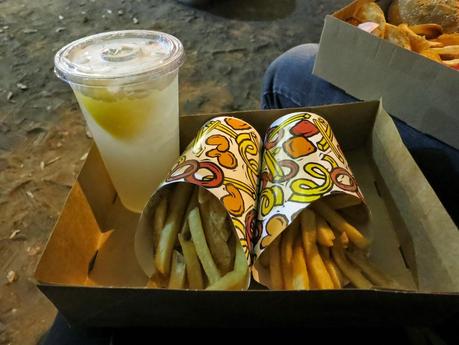 The boyfriend found our own little spot where we could enjoy our food and eat in peace. Romantic, ey?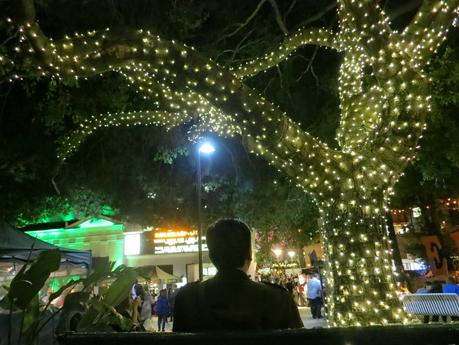 We started heading up to the amphitheater to figure out our seats, but I did so with a heavy heart. You see, this is the first time that I grabbed really crappy seats---at least in my standards. I don't have to be in V.I.P. but at least be at the center, or the seats after the V.I.P would be awesome. My theory is, if you're going to a live concert and shell out some cash for it, you might as well get your money's worth. What's the point of going to a concert if you can't SEE the band or artist from the nosebleed seats, right? I got the tickets a little too late and it was either I swallow my pride and take the side terrace seating or not be able to see them at all. At this point, I was desperate. I just can't pass off Hall and Oates.
Our seats were not categorically nosebleed seats though, so you know I'm just whining. Still, I wanted better seats. And still, I'm whining.
I love the fact that the amphitheater is surrounded by big, leafy trees. It was a bit chilly when we got there but the temperature dropped further later at night so if you're planning to see a show here, make sure to pack a light jacket or sweater, even if it's not winter yet.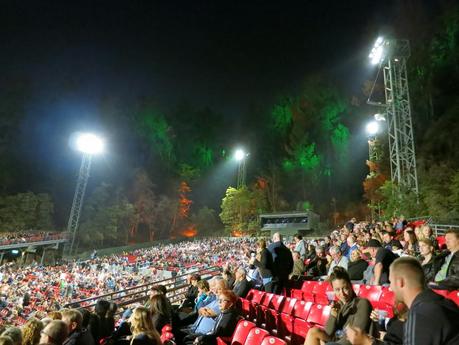 The opening act was Mutlu, I haven't heard of him but he was pretty good with his acoustic guitar. A few moments after, the dynamic duo came out to start the show with "Man Eater". The crowd was definitely a little bit more mellow, as the demographics consisted more of senior citizens. I felt like a teenager who needed to behave in front of my grandparents. Of course, there were still people around my age group, whom I totally sympathized with because they were always SCOLDED by granma and grampa, for standing and dancing and enjoying the music....at a concert. Luckily, the peeps behind me were in their late 30's so they didn't mind standing up too and they were tinier than me so I can just drop kick their asses if they told me to sit back down.
Overall, the concert was pretty good. I always enjoy real music---with real instruments and very few synthesizers. I think they did their best but of course, both Hall and Oates are already in their mid-late 60's so I understand sometimes they can't hit the high notes anymore. Oh, and I hope they get a better sound engineer 'coz there was bad feedback about thrice in the middle of a song! Nevertheless, it was fun, nostalgic and I got to sing along with the songs AND I was holding hands with this hot, tall dude.
That long-haired dude on the keyboard? He's really awesome with a saxophone.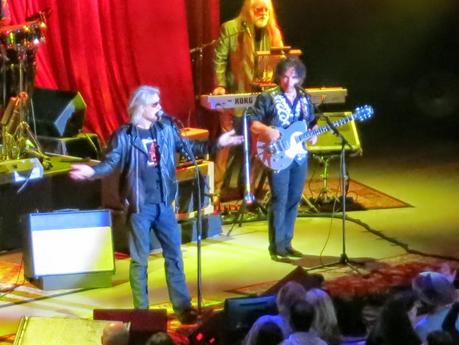 Maneater
She's Gone
Rich Girl
You Make My Dreams