Road Trip!!!! If your kids are like mine your anxiety level is up at the mere thought of being in the car with your kids for an extended period of time. I really wish I had seen this pin prior to our trip last year to Buttermilk falls NY. The trip itself was a lot of fun but the 8+ hour drive not so much. They where whiny, sleepy, grumpy, fighting, complaining etc. We don't do a lot of road trips but I expected them to just be excited and content with their travel items. I don't know what I was thinking. One thing that was really taxing was every time we stopped they expected a treat.. I was like "um... yeah right your acting like the Manson family on a road trip..I'm not rewarding that type of behavior"
 I saw this pinned
blog post
 and I was like WHY WHY WHY did I not see this before our trip.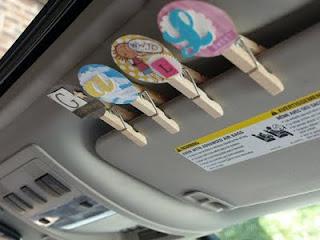 *photo from http://lessthanperfectlifeofbliss.blogspot.com/2011/07/kid-clips-for-road-trips.html
This mom gets the Genius award for sure. Not only does she give great detail  on how this works. Its a very frugal and adorable mini craft. I would even let the kiddos decorate their own. Clothes pins are usually $1 at the dollar tree, and if your like me the other supplies you already have on hand. If you don't want to be fancy you could even just write names on the pins. I actually think I could use these almost every time we get into the car.