Well, I'm getting closer. Can't believe I've been doing this for 40 days already.


And honestly, I can't say I'm pleased with my progress. It's getting harder to see the light at the end of the tunnel. My writings and notes are still so disjointed, scattered, and always lack that 'something' needed to push it forward.
However, with all that said, I'm still progressing, and that's what this is all about - progress.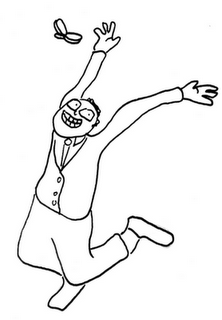 (I have no idea what this is but it's creepy)

Regardless, I feel I should push myself a little more. I really want to see this thing through.
I have been constantly thinking about my story, though. In fact, right now I'm drawing a picture of one of the characters, Evandrus. In my head it was really epic/sad/sexy, but it turned out looking freakishly similar to the picture above. T.T Art fail.
Still gonna finish it, though. I plan on drawing all the characters eventually. 
Oy vey.
Wish me luck!


"...Look only for things that are possible..."

                                                                                            - Leonardo da Vinci

Book Working Title: 

Knights of Kethyria


Day in Progress: 

40


Words Achieved: 

5,887

Follow me on Twitter: https://twitter.com/AvocadoPolymath

--