The first half of this letter I had written two weeks ago, and meant to finish and schedule it for Wednesday May 16th, and well Pip had other plans :)
Dear Pip,
Today is your due date! Mama has had some rather strong contractions as of late, so I'm hopeful we will get to meet you soon :) Your baby nook, crib, and car seat are all in place and ready to go. And all of your clothes and blankets have been washed and are waiting for your arrival! I even made you a little oatmeal/herbal mix to
use in the bath
. And, our bags our packed and ready for the hospital! I thought perhaps I would share with some of our lovely readers what we are taking to hospital, and that way I will always remember the outfits we took with us :)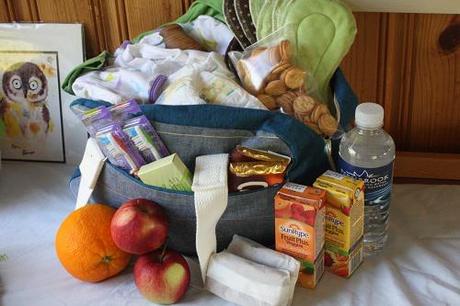 I figured it wasn't so interesting to share the clothes I took for myself, but as you can see I took lots of snacks. I had many people warn me it was a long time between dinner and breakfast and having snacks would be a good plan. As well as some juice and water, just in case. And wrapped in the white parchment paper are some homemade granola bars, which will be shared this coming week :). I also packed a few cute outfits for you Pip, some diapers (as extra, just in case) and toiletries for me and daddy.
Now it's funny because I finished packing our bags on Monday (May 14th) in the evening. I had been having contractions at work in the afternoon, but not strong or really regular. Then daddy and I went to sleep Monday night, thinking we still had lots of time. On Tuesday morning daddy got up early to try and get a turkey before work, and almost two hours later at 4:45am I woke up with rather strong contractions. After about an hour I sent daddy a text message and said that I thought I might be in labour, and after a little bit he called me back and headed home. In the meantime I used an online site to keep track of my contractions and realized they were getting longer, stronger and closer together. When daddy got home, I decided we should head to the hospital and once there they hooked me up to a monitor to measure the contractions as well as your heart rate. A little while later one nurse did an internal check and found that I was 5-6cm dilated - more than halfway there - and things started to move very quickly.
Daddy and I both found it hard to believe that you would arrive on that day, we so expected you would take your time. Mama got an epidural to help with the pain, and rested and waited. Around 1pm the doctor came to check on me and since I was fully dilated at this point she broke my water. Then things moved very quickly, I could feel the contractions coming quickly and  they were very strong and after about an hour the nurse told me I could start pushing. I pushed for about 1 1/2 hours until the doctor arrived and with an episotomy and vacuum assistance the baby was on my chest before I knew it!
It was a pretty amazing experience, even the scary and painful parts, but I think I'll wait a little while before doing that again. So Pip, after a slightly traumatic delivery for you, and a few extra days in the hospital to help your jaundice go down you're home, and we couldn't be happier!
A few of your first photos, lots more to come!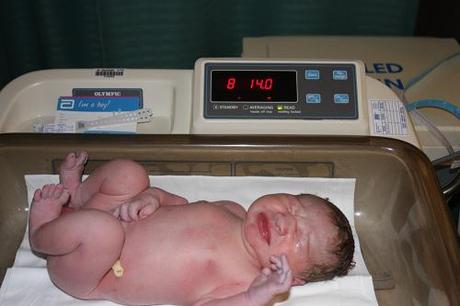 8lbs14oz, no wonder you had trouble getting out!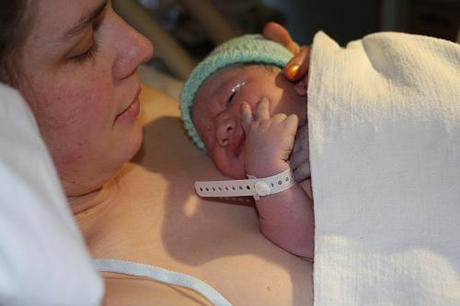 First snuggle with mama.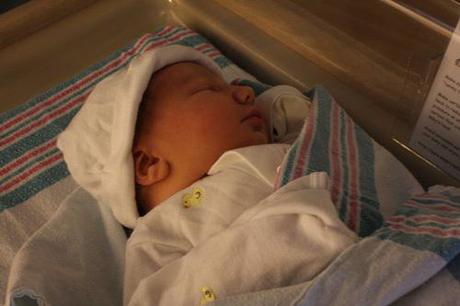 Sleeping peacefully :)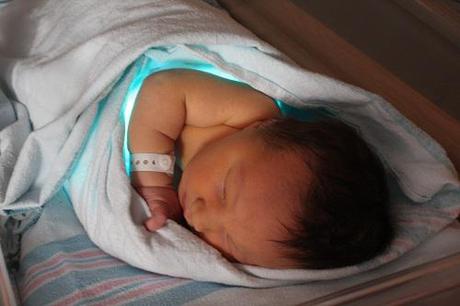 Wearing your UV blanket (aka 'glow bug suit') to reduce your jaundice.
You are perfect Pip, and we love you!Love always, Mama