So, 25th March is the deadline for a couple of airlines to move more than 100 flights to Terminal 2 that we know as T2 of GMR-led Delhi Airport. 29th October was the inauguration of operations at Terminal 2. Soon after that, GoAir was the first to come to action and relocate its complete operations to this new state-of-the-art terminal. It is supreme court's order that binds the other two airlines, IndiGo and SpiceJet to shift their operations from T1 to T2 by March 25, 2018. Though this will be a partial shift for these two airlines but is substantial in terms of sectors and number of flights. Basically, it is 10 sectors of Indigo and 7 sectors of SpiceJet that are part of this partial movement. If you go a little deeper, it is Indigo's flights 6E 2000 to 6E 2999 that will henceforth operate from T2.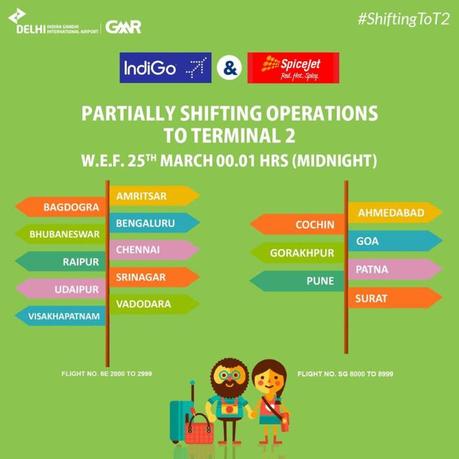 Similarly, SpiceJet flights ranging from SG 8000 to SG 8999 will be facing the same. This will have a two-fold impact on customer experience, in my opinion. Firstly, with Delhi AirportTerminal 2 exceeding operations, passenger area capacity will increase. For all the three airlines IndiGo, SpiceJet, and GoAir. In fact, it will enhance by 135% as of its current state. Secondly, it will enable these airlines to increase their business by increasing sectors and flights. That is, as a matter of fact, a clear win-win situation for all stakeholders. It might become a situation of chaos for a while for passengers. But then it is the prompt assistance from these airlines that can mitigate this risk and avoid confusion among passengers. IndiGo is shifting 10 sectors to T2. These sectors include flights to Amritsar, Bengaluru, Bhubaneshwar, Bagdogra, Chennai, Vadodara, Vishakhapatnam, Srinagar, Raipur, and Udaipur.
Delhi Airport Touching New Heights
On the same note, SpiceJet is to shift 7 sectors. Those are destinations including Cochin, Gorakhpur, Ahmedabad, Patna, Pune, Goa, and Surat. Overall, at Delhi Airport, it is a matter of advancement and making life better for passengers and airlines.