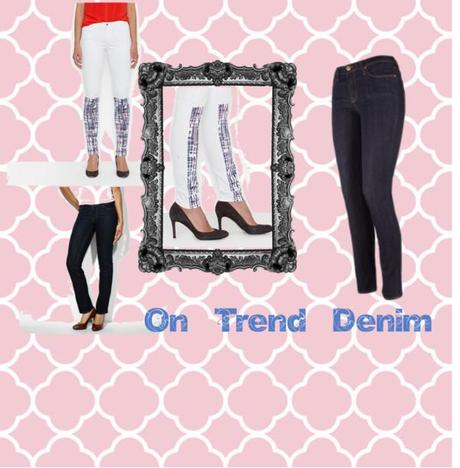 2013 was an important year for the denim fashion industry; the focus of high street retailers returned to backing denim women's and men's wear. Many of 2014's key style motifs return with a greater range of shades, washes and cuts. The main styles are: leggings, skinny, slim or slim or straight cut, bootleg, flared leg and slouch/boyfriend. 
As ever the best advice is to consider your shape and go for the most flattering cut that looks best on you. Also rotating your jeans cut can provide your wardrobe greater flexibility to suit your desired mode. 
Broader, wider more relaxed leg cuts are trending at the moment. Such a cut can be both teamed with other garments for a smart casual look or a more relaxed casual style. 2014 has seen a revival of 90s-inspired grunge. Statement jeans worn baggy and bold accessorised with bright logos rips and paint splatters.
Another popular trend emerging is decorated and printed denim. This can range from subtle decoration to full garment embellishment with tiny studs, diamantes or bold patterns printed directly on to the fabric, like Levi's® Shoreline legging, whose white rise and upper leg contrasts with the bold cross hatched design printed on the lower leg, available from PREM Clothing.
New for 2014 is Levi's women's wear range Curve ID. The specular Curve ID aims for fit for shape not size, heralding revolutionary fit and comfort. Levi's® were not content to stop there however.
Chip Bergh
, Levi's® President, and Levi's® 17,000 worldwide workers have succeeded in launching another, much anticipated women's wear denim range in 2014, Levi's® Revel, with liquid shaping technology for the perfect fit. 
For Levi's® fans worldwide these further denim ranges and new styleshave provided fantastic news, however Levi's® other classic and currently trending women's wear cuts are still available, such as Levi's® Slim fit Jeans, Levi's® skinny jeans, Levi's® bootcut jeans at, along with the ubiquitous women's wear denim staple, Levi's® 501 straight leg jeans.
As with 2013, the slimmer leg cuts, skinny, slim and straight will dominate women's jeans wear, not least for the ability to flatter leg shape whilst proving adaptable across smart chic to casual tops. These easy to dress up jeans cut have endured recent seasons for a good reason; however 2014 sees a greater number of cuts looking to establish themselves. 
The Boyfriend/Slouch jean
cut may have begun as androgyny anti-fashion crossover statement that harked back to hip-hop styles of the 90s and early 2000s. Looser at the waist whilst more fitted at the leg, this cut is the ideal relaxed option, especially when teamed with a Levi's® monoblue suede baseball jacket and scarf for a Varsity look, available from PREM.
Bootcut and straight leg cuts are easy to wear, simple, comfortable and stylish. Levi's® 527 bootcut jeans cut work really effectively to balance out the figure and flatter your curves. Alternatively classic straight jeans, like Levi's® 501 straight leg jeans, are great for women who want classic jeans with the perfect fit (not too lose and not too baggy). The cut of Levi's® 501 straight leg jeans flatters the shorter leg, providing an elongated and more elegant look.
If you enjoy my blog, please consider following me on Bloglovin'
Have you checked out my Super Sparkler Advertiser Box Of Hugs?
Thank you for reading and If you enjoyed this post, please consider following me via Bloglovin