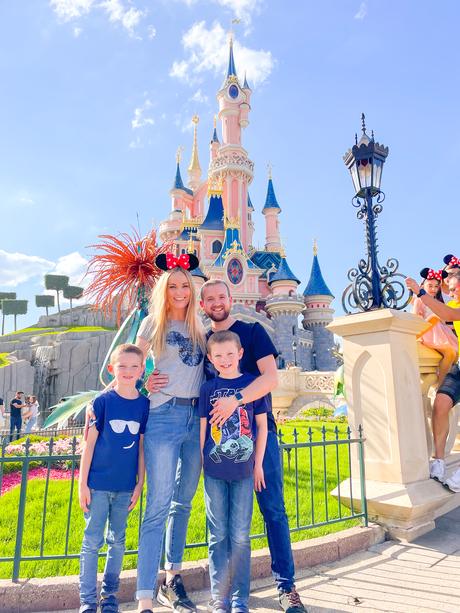 I think even if you don't class yourself as a huge Disney-fan, you can't deny the magic of Disneyland and Walt Disney World in Florida. As soon as you step through the gates of Disney, you are thrown into another world. A world of fun, story book characters, enchanting parades, music, magic, and endless joy. At Disney, you can become a child again for the day- it's normal to hug characters and to want their autographs. It's normal to eat Mickey-shaped food and wear mouse ears on your head. It's normal to take a million photos in front of absolutely everything because it's all so magical. It's normal to dress up as your favorite film character and plan out each and every moment of your day. And that's why I love Disney so much, it truly is like stepping into another world for the time you are there, almost all real-life worries can be left at the gates!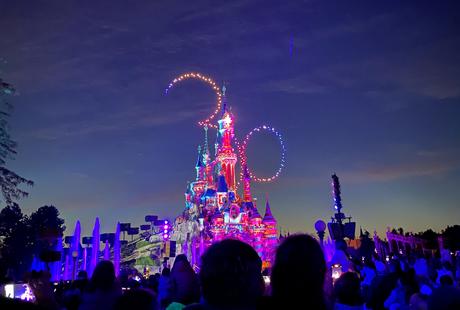 Arriving from Villages Nature Paris 
During
our stay at Les Villages Nature Paris
during May half term, we were incredibly lucky enough to have a day at Disneyland Paris as part of our press trip. Disneyland Paris is
 just a 6 minute drive
 from Villages Nature Paris in the car, so it's super close! There's also a 
bus service that runs from Villages Nature to Disneyland which costs 2 Euros per person and takes about 20 minutes. We took the bus there in the morning and then a taxi back (which was 20 Euros) as we didn't leave the park until around 11.30pm as we stayed for the fireworks.
As Villages Nature Paris is a Disney owned resort, you get Extra Magic Hours at Disneyland Paris which means you are able to access the park an hour earlier than those who aren't staying at a Disney hotel, which was fantastic for us as the more time there, the absolute better!
Disneyland Paris is split into two parks (Walt Disney Studios Park and and Disneyland Park) and there is also the Disney Village (which is where you can find things like some restaurants, shopping and the all important LEGO store (more on that later!).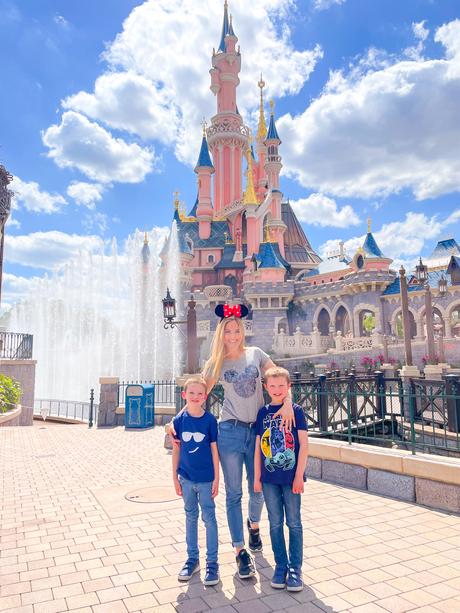 Walt Disney Studios Park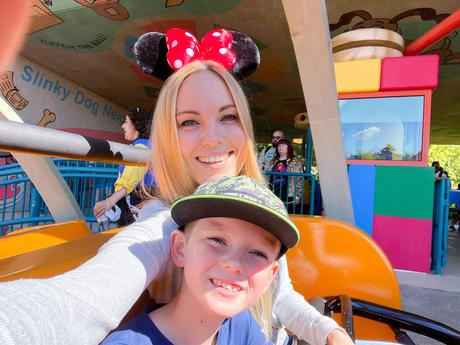 On arrival at Disneyland Paris, we chose to head to the
Walt Disney Studios Park
first. We went straight to Crush's Coaster (which is a spinning rollercoaster ride), then to Ratatouille which is a 4D experience ride which we absolutely love! (These two rides along with the Tower of Terror ride are the most popular in in  Walt Disney Studios and so generally seem to have the longest queues and so are in my opinion best to do first). 
I'd not been on Tower of Terror before and it's safe to say my first time was also my last time, haha! I'm a bit of a screamer when it comes to rides and I definitely lost my voice on that ride. My 9 year old Son Ethan, however, absolutely LOVED it and went on it twice!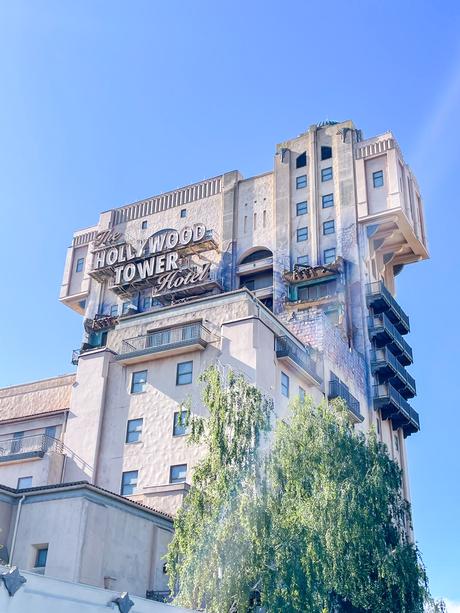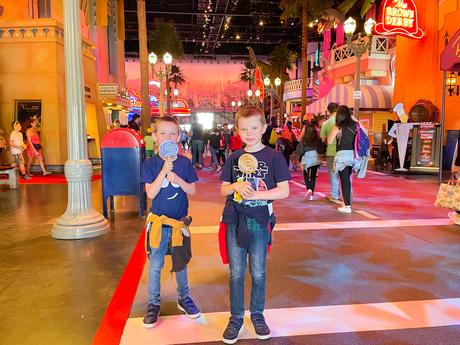 The other rides on our list were all themed around Toy Story - RC Racer, Toy Soldiers Parachute Drop and Slinky Dog ZigZag Spin (Logan 's favourite). We never got to go on RC Racer or Toy Solders Parachute Drop as because we were only there for the day we had to really prioritise our choices. But my Husband has been on them before and loved them! There is also the new Cars Road Trip attraction in the Walt Disney Studios Park and though we never went on it, it's worth adding to your list if you're little one is a Cars fan!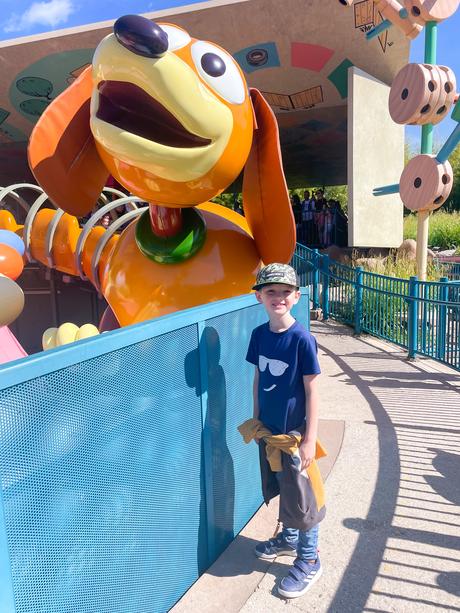 Because we only had one day at Disneyland, we decided to skip on meeting the characters in the parks, especially so as we had been before and met the characters when the boys were little. We were also lucky in that as we entered the Studios Park Mickey Mouse was out waving at people passing by, so that was really lovely! We also didn't do any of the shows on as we wanted to maximise our ride time. Though of course we did stay for Illuminations and the fireworks in the main Disneyland Park at the end of the day, because that's an absolute MUST DO!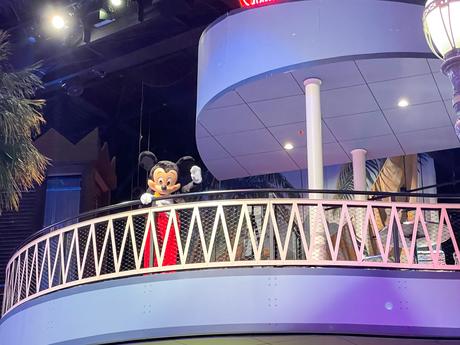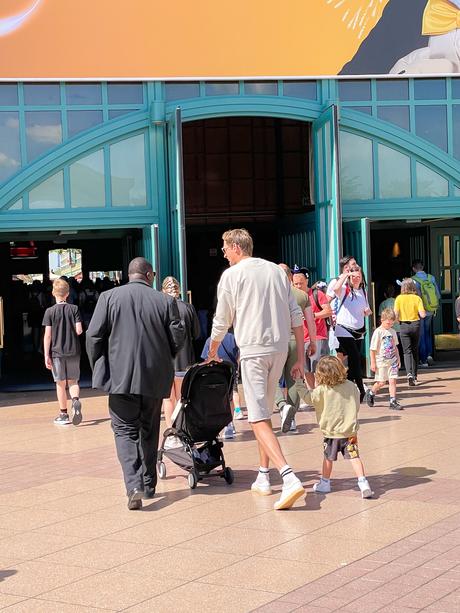 We spotted Footballer Peter Crouch at Disneyland, there the same day as us!
Disneyland Park
After a browse in the shop and a 30th anniversary sparkle cookie we headed out of the Studios Park and headed over to the main
Disneyland Park
where we spent the rest of our day. We decided to the parks this way round as we knew that we wanted to be at the Disneyland Park for things like the 30th anniversary parade and also for the fireworks in the evening. Plus the majority of the rides are in the Disneyland Park and so it made sense to do the few rides that we'd selected in the Studios park first and not waste any precious time park-hopping after that.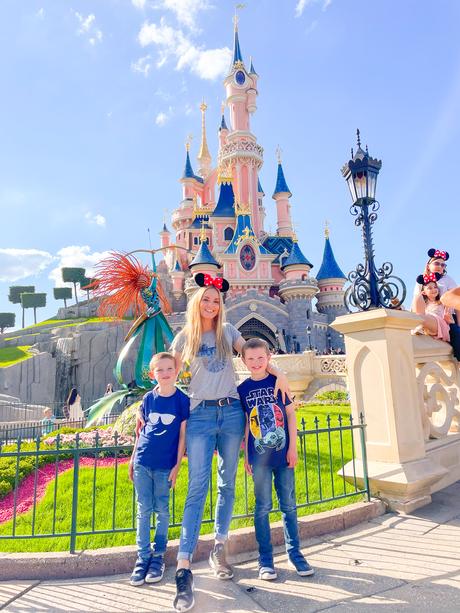 Buggy hire
On arrival to the Disneyland Park, our first stop was to go and hire a buggy. Our boys are 9 and 6 and only have little legs and so it was absolute savour for them and the best 25 euros that we spent! I don't think we would have made it to the end of the day if we hadn't of had the buggy. It's not like a pushchair, more like a seat that they can sit on (you can also hang your jumpers/bags on it too which is handy) and it really helps as there is of course A LOT of walking as the park is huge! My boys kept swapping with each other so they could rest and it was great. 
Lunch 
After that we headed to get some lunch from the Market House Deli on Main Street, we're vegetarians and I had already looked up where we could get a veggie takeaway lunch from before our trip. We had a cheese and salad Mickey-shaped sandwich in Pretzel bread which was 9 Euros each. Our boys are fussy with food and so we took a packed lunch in to the parks for them and then got them some Disney-themed treats like a cookie, lolly and an ice cream during the day. 
Straight after lunch we realised that there was a special 30th anniversary parade on and so we had a great time watching the parade go past up Main Street and towards the castle!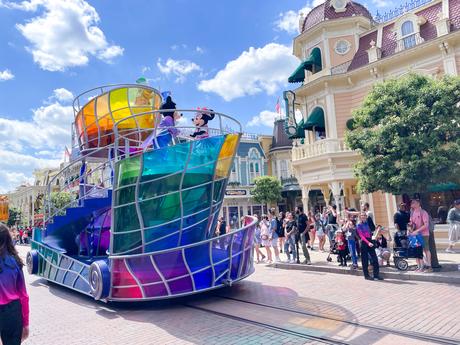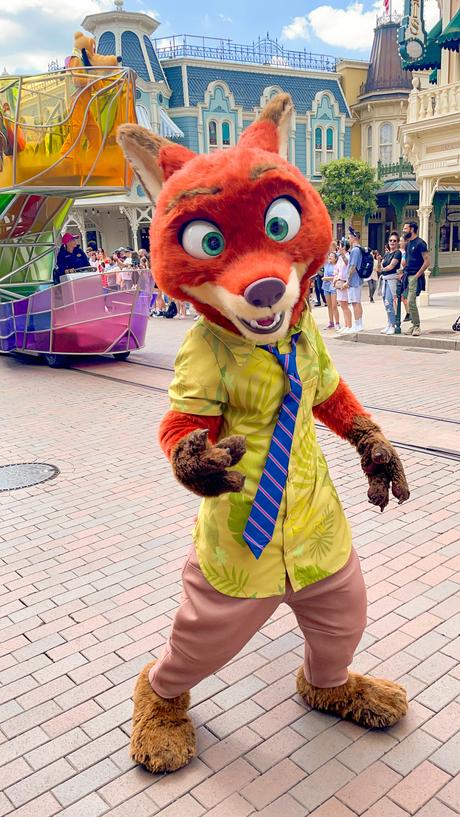 Disneyland Park Rides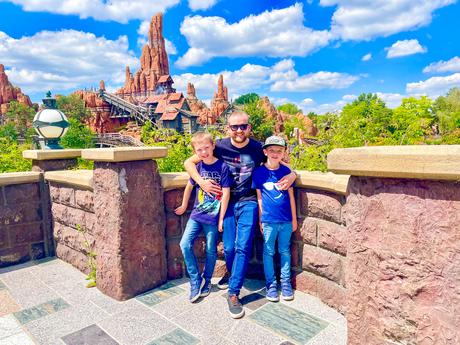 Before our visit I'd made a list of rides that we knew that we wanted to go on and I'd organised them into the zones that they were in so that we weren't running around the park. Our list for Disneyland Park was:
Frontierland 
Big thunder mountain
Phantom manor 
Adventureland 
Pirates of the Caribbean 
Indiana Jones for Adam 
Peter pans flight
Discovery land 
Star Wars hyperspace mountain 
Star Tours 
Orbitron
Autopia 
Buzz Lightyear Laser Blast
Castle 
See the dragon under the castle

Photos in front of the castle
Obviously this is just a small list, compared to all of the many attractions there, but of course with just the one day we prioritised our 'must do' attractions.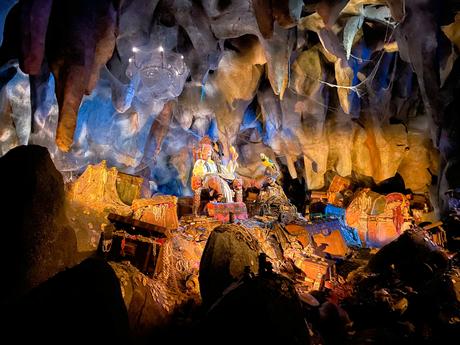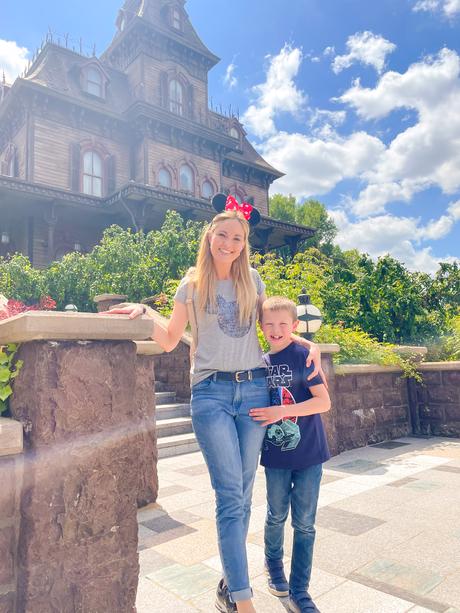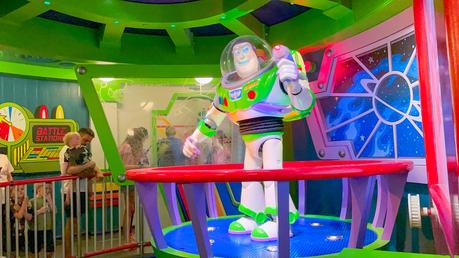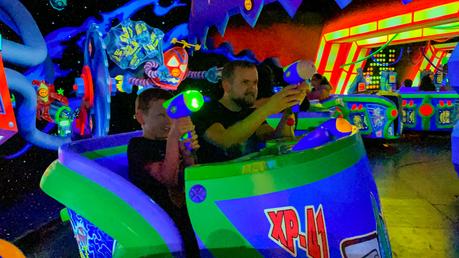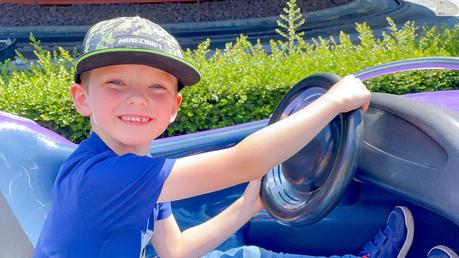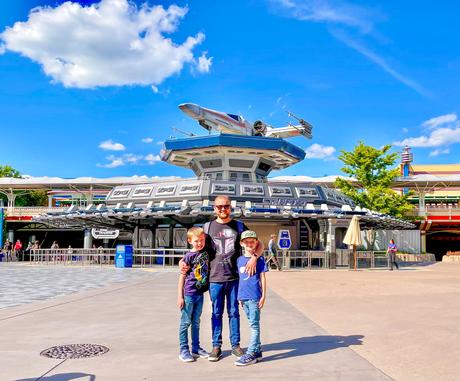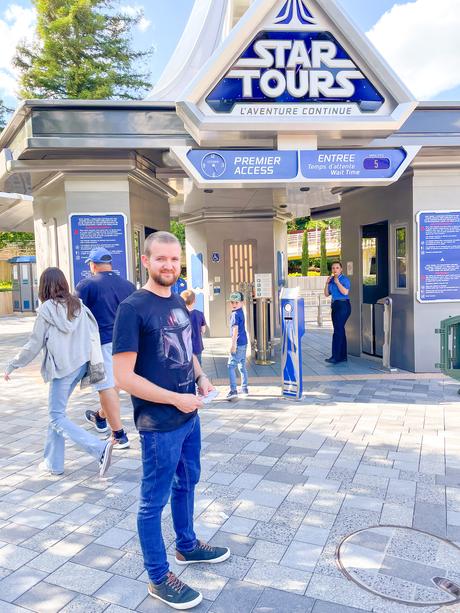 We managed to tick off everything except for the Peter Pan's Flight and also Star Wars Hyperspace Mountain as it was closed for maintenance. Although we did go on Star Tours maybe 3 times as we all LOVE that one! I think Big Thunder Mountain and Pirates of the Caribbean were two of our favorite rides - I love the theming on Pirates and I love that Big Thunder Mountain feels like it lasts for quite a while and it's also super fun, but not too intense!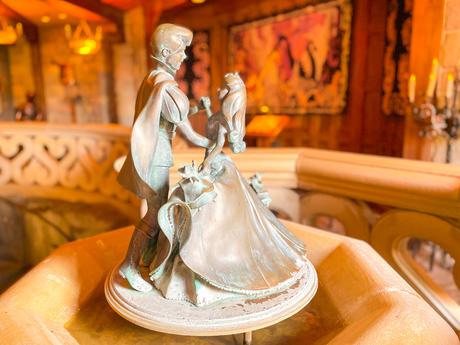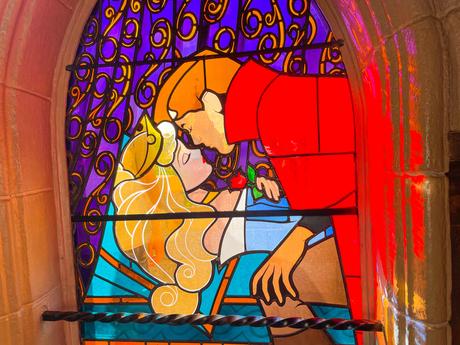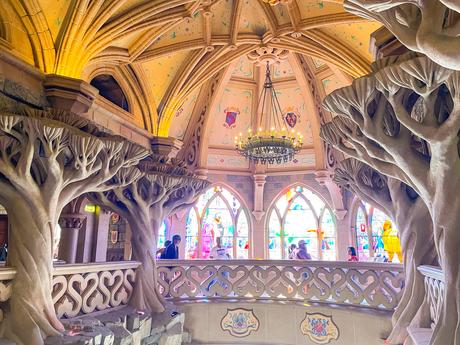 Dinner at Cafe Hyperion
For dinner, we decided to get a veggie burger and chips from Cafe Hyperion in Discoveryland. I love that they offer a plant-based burger option and it was really tasty! For 16 euros you can get a burger, fries, mini ice cream and a cold drink. There's also tons of seating available and we were lucky in that when we went to eat there there was a live dance show on on the stage. Sometimes they also have movies on. It was great for a quick and easy dinner and we didn't need to pre-book! 
Disney Village 
The Disney Village is so worth visiting, there's a great atmosphere there and it's nice for a break from the parks even if it's just for 30 minutes or an hour which is what we did during our day at DLP. We are a family of LEGO-fans so we simply couldn't miss the LEGO store there! The Lego models inside the store are incredible, it's mind-blowing to think they are made from thousands of tiny Lego bricks!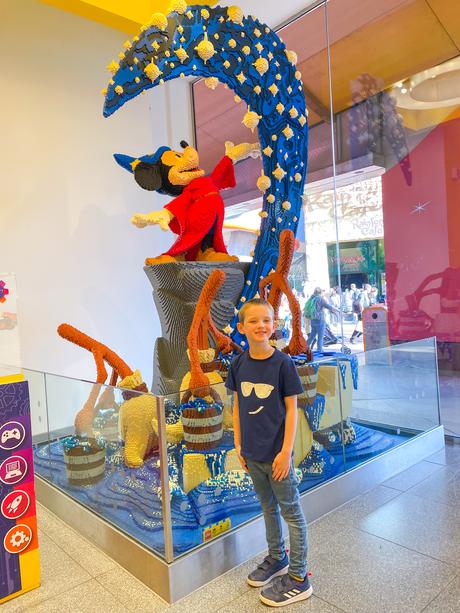 We decided that since Adam had had a row of good work events just before and that because it's not everyday that we are in Disneyland Paris, that we would treat ourselves to a Lego set each! I got the mini Disney castle, Logan went for a Luigi's Castle set, Ethan went for a Mandalorian set (and some other bits from across the shops in the park) and Adam got the new Optimus prime Lego set which actually transforms! I'm very glad we bought the Lego sets towards the end of our day because we couldn't have left them whilst we went on rides together as a family.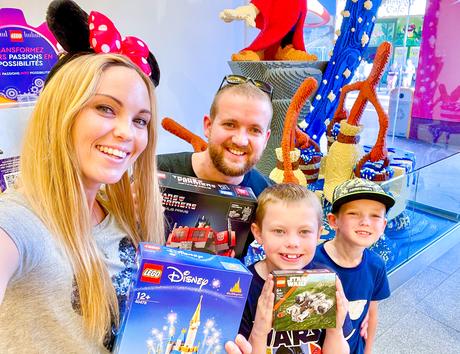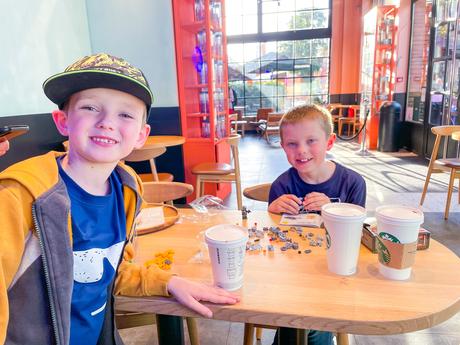 After the LEGO store, we went and had a 30 minute sit down in Starbucks with a drink and a cake. The boys also started building their lego sets as they couldn't wait! 
There are many dining options at Disney Village such as Planet Hollywood, Vapiano, Rainforest cafe, McDonald's, Annette's Diner, Five Guys and many more, as well as places for a drink and a relax like Starbucks. Earl of Sandwich is great for lunch! There is also a number of Disney Village shops to visit there too. 
Disney D-Light and Illuminations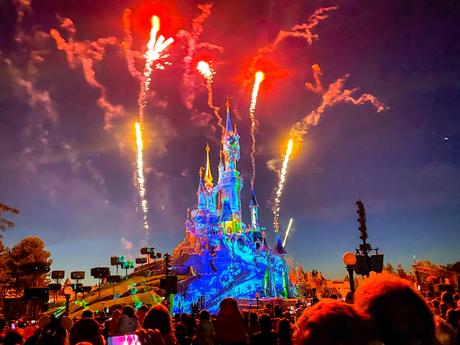 By around 10:00pm we headed back to the castle to get a spot to watch the new magic show Disney D-Light which involves drones and is just so incredible and magical! Straight after that was Disney Illuminations which are the spectacular fireworks which for me, just complete a day at Disney perfectly. They are so breathtakingly beautiful and dazzling that all around you you can hear people gasping and saying 'Wow!'. Illumination's make for the cherry on top of a truly wonderful day at Disney and is not to be missed!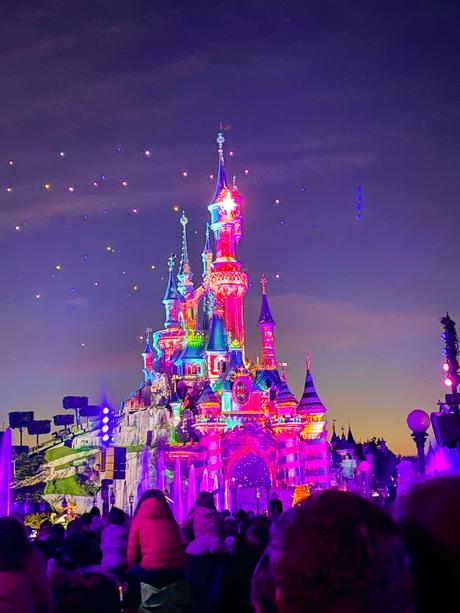 We had the MOST amazing, magical day at Disneyland Paris and definitely fell into bed and slept like babies back at our cottage at Village Nature Paris after making the absolute most of our day! We can't wait to go back one day!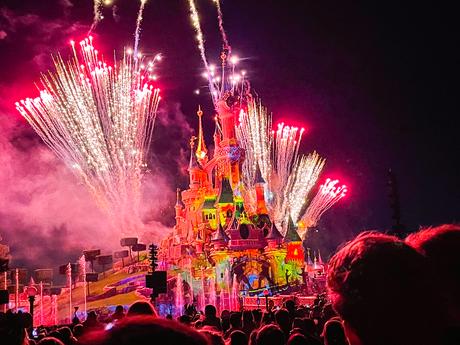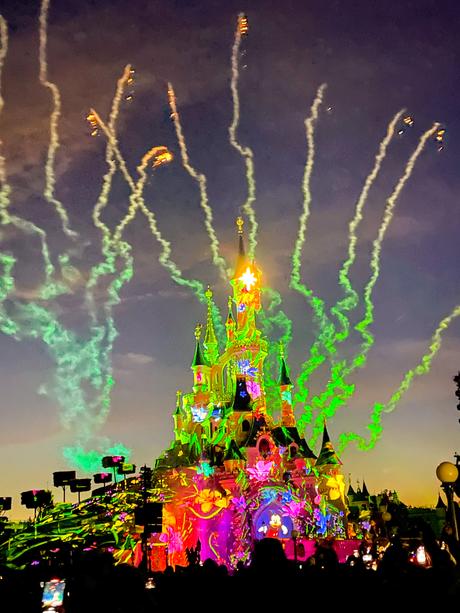 Further Disneyland Paris reading
Read about out first trip to 

Disneyland

Paris back in 2018 when our children were 3 and 5: 

First-timers in Disneyland - Our Disneyland Paris Trip Highlights.
If you're wondering about veggie options at DLP read this post: Where To Eat As A Vegetarian At Disneyland Paris.
Going to DLP with kids? Read this first: Top Tips For Visiting Disneyland Paris With Kids: What You Need To Think About And Take.
Watch our vlog: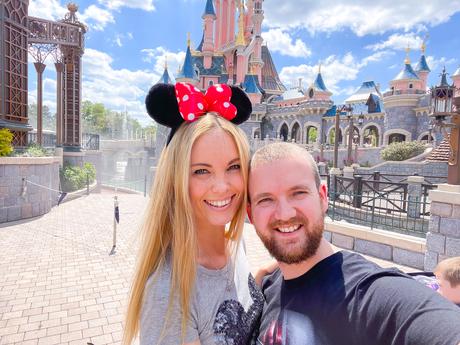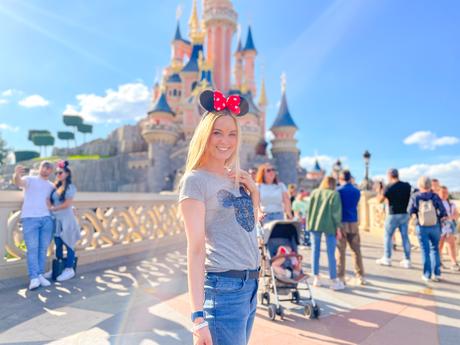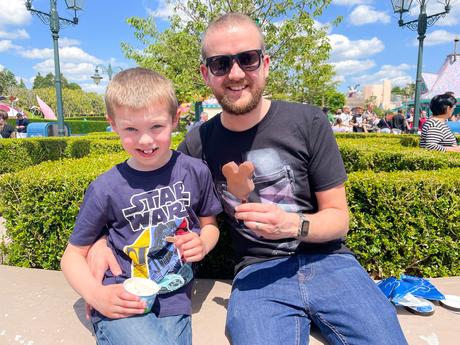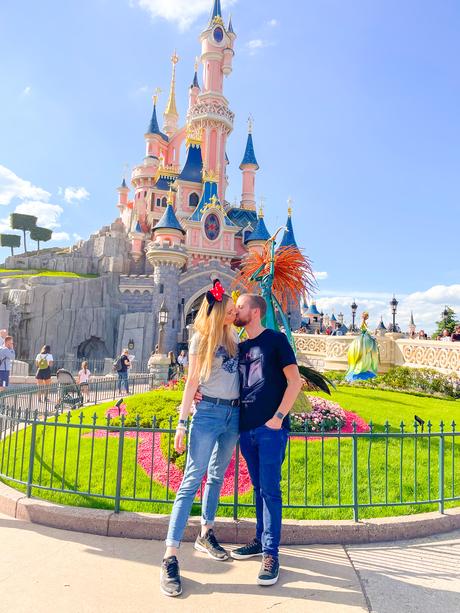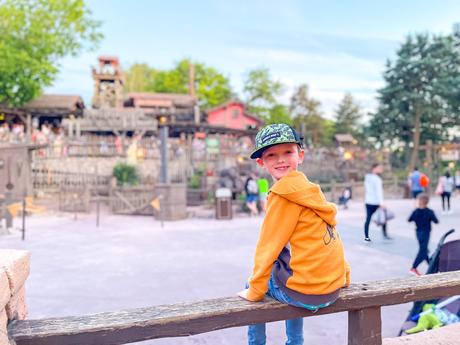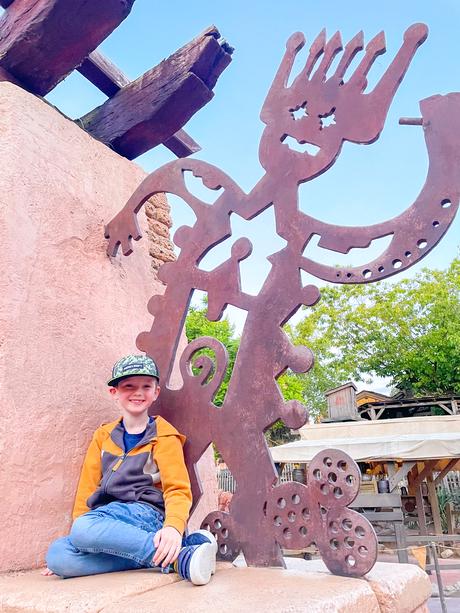 Thank you for reading.  
Alex xo

*We were invited to Disneyland Paris as part of a press trip, but all thoughts shared are entirely my own.