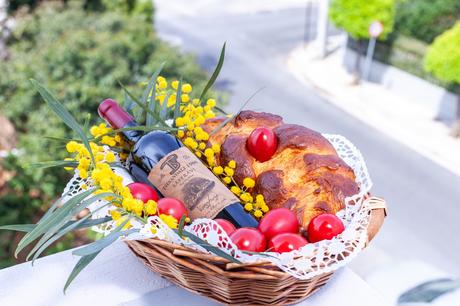 It's time to be creative! If you are looking for the best ideas for DIY wine gift baskets, you are on the right track. In this guide, you will find the most popular wine gift basket ideas that you can make at home. It will save you extra money and will allow you to add some personal touch to your gift for the special person/occasion. 
Why DIY Wine Gift Baskets?
Handmade gifts are now much more praised and well-received than ever. Here are 5 reasons why you should make your own gift basket:
For a more personal and emotional impression

Cost-friendly

Creativity and good vibes

Hearty present

A gift to remember
How to Choose the Best Wine Gift Basket?
There are some classic "rules" when it comes to choosing the vino gift crate. For instance, cheese and enriched with delicious appetisers and sweet treats are fair companions of the occasion. However, the choice you will make depends completely on the gift-receiver`s taste and your wallet of course.
Below you will find a list of the most popular wine gift baskets according to best sellers and customer reviews.
Chilled Bubbly with Nutty Treats
Refreshing sparkling wines are the favorite pleasures for the hot summer days. The delightful bubbly feeling in the mouth is truly addictive and it can make a classy gift with baked almonds or other nuts, crunchy crackers and aged Cheddar. You can also add some wine chiller to make an extra impression. 
Special Cheese and Wine Combo
Wine and cheese are like a pot and a lid, just the perfect match for each other. Therefore, cheese is almost an indispensable guest in every wine gift crate. For an extra rich and impressive wine gift basket, you should choose some French cheese like Blue cheese or Gouda. Combine with a super good Pinot Noir to give extra grace and style to the present. You can try the best-selling Californian Bread & Butter Pinot Noir which offers excellent quality for the price. Also, you can add delicious crackers or some baked nuts. As previously mentioned, it all depends on the occasion and allowance.
Pop Up Champagne with Chocolate Truffles
Who can say no to a bottle of good Champagne? Delicious fizziness with an amazing fountain of flavors is a perfect match with a good box of chocolate truffles and buttery popcorn. You can try the super elegant Cuvee Champagne Jacquesson with an excellent tradition and high ranking in the world of Champagne. The delicate bubbly mousse will clean the palate after the silky chocolate treat. Also, you can round it up with some fruits or a non-foodie personal detail. 
Youthful Rose with Sugary Treats
The seductive and elegant pink color of Rose wine is a symbol of joy, youth, and life. It is an excellent choice for a girlfriend gift basket or a jolly occasion. The fruity flavors and clean taste of this wine are greatly combined with some sugary treats, including some cinnamon pop-tarts or crunchy lemon bites. You can also add some delicious garlic cheese like cheese crisps, or garlic cheese snacks. For the best quality and attractive appearance, choose Provencal Rose like Mirabeau Etoile Provence Rose. Lively freshness, with vibrant fruit flavors and a delightfully clean finish. 
Rich Red Wine with a Multi-Course Meal
If you are looking for a gift basket for a perfect date night, you can create one with a bottle of rich Italian Primitivo with juicy dark fruit flavors and elegant, seductive taste. This basket can be ornamented with some artisan cheese like Cheddar, goat cheese, or Bermondsey hard-pressed cheese. 
Hearty Wine Gift Basket with a Tasty Chard
What do you say about a super-rich wine gift basked with a pair of the classy Cabernet Sauvignon and Chardonnay? This is an outstanding way to show gratitude and appreciation, especially with some hard cheese like Cheddar or Parmigiano. Your gift receiver will be honoured to receive this hand-crafted present.
Chocolate Indulgence with Wine
Most wine enthusiasts enjoy the melting chocolate taste in their mouth being washed by a sip of rich and delicious red wine. You can choose a high-class Spanish red like Rioja Alta with full-flavored chocolate bars, cocoa pretzels, velvety truffles, or other chocolate bars. This is a top hit for wine connoisseurs and chocolate lovers as well. With a little hint of imagination, your perfect wine gift basket is ready. 
What Else Do You Need?
Great enthusiasm, inspiration, and just a hint of creativity will do the thing. You can add some "Thank You" or "I Love You" cards, a piece of non-foodie personal ornament, and a beautiful bow, and there you are! For the best wines at the best prices visit 8wines.com. Enjoy!