5:10pm - Gather clothes scattered around the room that need to be washed and put them into the basket.
5:14pm - Enter the elevator to head to the basement laundry room, all the while thinking, "It's 5:15 on a gorgeous Thursday night so I'm sure no one will be doing laundry."
5:15pm - Walk towards the laundry room and see that the automatic light (that only goes on when someone is in the room) is on and think, "Shit."
5:16pm - See 4 maids folding dry laundry and see that all of the machine lids are down, which usually always means they are running.
5:17pm - Notice that two of the machines are not running but that the person has not come down to move her stuff into the dryers.
5:17pm - Contemplate taking whoever's stuff it is out of the washer and put it on top of another one so I can use it, I mean who knows how long it's been sitting there!
5:18pm - Decide to wait for the maids to leave. It's always better to violate someone's privacy without an audience.
5:20pm - Maids exit.
5:20pm - Enter laundry room. Open and close the lids on the two washers that contain stuff I need to move. Open and close them again, still contemplating what I would say should this person walk in and catch me moving her stuff, "I'm sorry I know this is so rude but I need these clothes for work tonight!" Total lie but whatever.
5:21pm - Doing it. Move her stuff to the top of another washer. Put my stuff in the washers very quickly and get my bag for my laundry card.
5:22pm - "You a$shole. After all of this, YOU FORGOT YOUR CARD UPSTAIRS?!?!" I thought to myself. THE WORST.
5:23pm - Head towards the elevators, very pissed off. As I approach the door, people exit the elevator. I notice they seem to be doing laundry and am now certain that it is the girl whose stuff I moved. I attempt to turn my body and fold up my basket, hoping she won't notice that I'm doing laundry because she will then see her stuff and know that I moved it. Yikes.
5:25pm - Decide to wait at least 10 mins before going back downstairs to start my machine. I do not want to run into her.
5:40pm - Go back downstairs to start my washers.
5:43pm - Start machine 1. Attempt to start machine 2...."LOW FUNDS," it tells me.
5:45pm - Even more pissed off, head back upstairs for cash.
5:47pm - Add money to my card and start machine 2.
There is nothing I hate more than having to trek back and forth to the laundry room, especially when I have to make extra trips because I forgot my card or do not realize the card is out of money! Later in the laundry excursion, I made sure to put two articles of clothing in two different dryers in order to save them because someone else was doing laundry on the same schedule that I was. It's just ridiculous....a building with 8 floors should have more than 6 washers and dryers!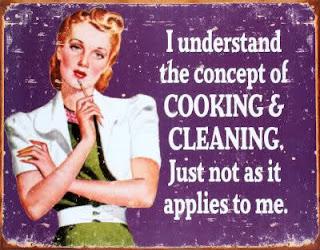 Anyway, in between trips to the laundry room I decided to really clean my apartment. Usually when I "clean up my apartment" what I really mean is that I'm tidying up because I just pick up the clothes off the floor, re-organize the bathroom, and maybe dust a bit here and there. However, since I bought a Swifter Wet Jet (that is absolutely addicting) and actual cleaning supplies for the bathroom, I was anxious to use them. I cleaned the bathroom better than I have since I've lived here and at first it was satisfying but I was quickly over it. Not to mention the fact that I have a boy here half the time which leaves an apartment with different dirtinesses than I'm used to having (no offense, babeeee). Give me spray tan stains, I can handle it but boy stuff was just like, "wtf, I ain't in Kansas no mo'." By the time I got mid-way through cleaning the shower I started to think about how many more years I have of cleaning a bathroom and I didn't like that much at all, "Yeahhhh so I'll eventually pay someone to do this sh!t for me, fingers crossed."
I was pissed off at the laundry debacle and coughing from the fumes in the cleaning products but hey, at least I made a good playlist....
"Part of Me" - Katy Perry (Raffael De Luca & Joel Jungell bootleg)
"Can't Stop Prutataaa" - Afrojack & Dada Life ft. Alesso
"B#tch City" - R3hab vs. 3LAU
"Lost in the World" (Tiesto Remix) - Kanye West
"Donald Trump" (dubstep remix) - Neon Hitch
"Party Shot" - Major Lazor, Popcaan
"Domino in My Mind" - Ivan Gough, Feenixpawl, Axwell, Jessie J
"Call Me Greyhound" - Swedish House Mafia & Carly Ray Jepsen
"Sing My Ass Back Home" - Thomas Gold ft. Neon Hitch, Steve Aoki
"Spaceman I Used to Know" - Hardwell ft. Gotye, Adele, Lady Gaga
"Danza Kuduro" (REMIX) - Don Omar ft. Akon
"Bon, Bon" - Pitbull
"Rebels in the Light" - Manicanparty
Sassarella Says....where's Mr. Clean when ya need him?