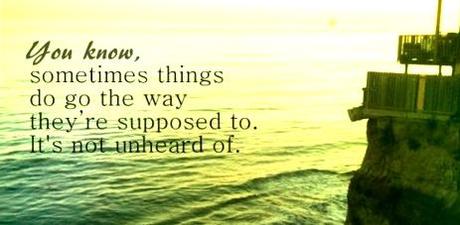 I live my life under the impression that everything happens for a reason. All of the events of the summer whether in my travels, my love life, or my friendships have brought me to where I am sitting today...at Starbucks in Washington, DC. Not only am I sitting at Starbucks in Washington, DC but I'm sitting here grinning from ear to ear because I know that things are going the way they are supposed to for what feels like the first time in awhile. My one concern aka the big girl J-O-B is still an issue but I just can't believe that the universe would make me this happy to only come crashing down on me in a couple of weeks when another rent check is due and I'm still jobless. Something is around the corner, it has to be. With that being said, everything else is aligning just as it should. I have a job on the weekends that I adore, mainly because of the people I get to work with for about 48 hours straight. I have friends here who have done nothing but make sure that I'm having the time of my life. I live in a city that feels like home. It's getting to the point where there are few places I can go without running into someone I know. I know it sounds really cliche and very "oooo aren't you just soooo cool" to say this but the people who make up the crowd of "industry workers" from the various bars and restaurants in the city, is by far the most fun, beneficial, "it" crowd, welcoming, and protective group to be apart of in a city.
Because of all of this, I'm that girl that I used to hate seeing walking down the street - the girl who has a little pep in her step, the girl who looks like she had a great night with a great guy, the girl who has it figured out, the girl who feels good about herself, the girl who is so happy to be going wherever it is she's going and it effing rocks. Now, like I said, talk to me in a few weeks and see how things are going if the whole J-O-B thing isn't working out and I'm FREAKING OUT but wahhhhh I just can't believe that I will have to go through that. So anyway, here are some songs that describe how I'm feeling this week. I hope that they either enhance your current happiness or pull you outta the dark place you might find yourself in today.
"We Found Love" by Rihanna ft. Calvin Harris  (LOVE LOVE LOVE!)
"Without You" (R3hab Remix) by David Guetta ft. Usher
"Shake It Out" (Remix) by Florence & the Machine ft. The Weekend
"Dancing in a Starship" by Yoni and DiBella
"Vamos A Los Levels" by Loona and Avicii
"Crank It Up" by David Guetta ft. Akon
"Hangover" by Flo Rida and Taio Cruz
"Good Love Control" (3LAU Bootleg) by Alesso and Afrojack
"Cracked Promises" by 5 & A Dime
"Paper Towels!" (Deadmau5 x Lazy Rich x Britney Spears) by Kap Slap
"That We Loved" (Sex Ray Vision Remix) by De-Lor
And if you're not a fan of this kinda musica, here is one of my favorite country songs at the moment...
"Run" by Matt Nathanson ft. Jennifer Nettles and Kristian Bush
Sassarella Says...sometimes things do go they way they're supposed to, it's not unheard of. I've learned that it is absolutely necessary to capitalize on the periods of time that are above and beyond awesome because ya never know when a test is coming. What I'm hoping is that despite the fact that my life will get a bit more serious and responsibility driven the older I get, after football season ends, and when I get a 9-5er type job that I can maintain the youthful spirit I currently float around on. My life should only get better and better and my 9-5er job should only make me feel like I've completed the puzzle. I'm not naïve enough to think that I won't go through rough patches but right now, those thoughts are far, far away. Enjoy la musica, dolls!