This Friday, the 18th of November is a very special day as it is none other than Mickey and Minnie Mouse's Birthday. The famous duo premiered in
Steamboat Willie
, their first cartoon back on November 18th in 1928 and have been going strong ever since. I love the fact that Mickey and Minnie have been around for generations and are as much a part of my childhood as they are of my son's now - there definitely is a special magic about these two characters that has truly stood the test of time.
The big news I want to share with you is that to mark this occasion
Disney Junior
will be launching Minnie Mouse's new show, Minnie's Bow-Toons at 10:50 am this Friday. This is part of a month long programming dedicated to Mickey and Minnie Mouse which includes a special featuring Mickey, Minnie and pals each day at midday and is sure to make lots of little fans like my two year old, Ben very happy.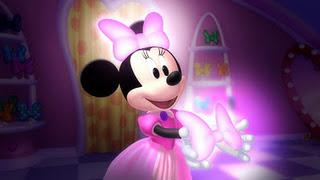 Minnie in her new show Bow-Toons
I have to admit, being a Minnie Mouse fan from childhood, I love the sound of Minnie's Bow-Toons where Minnie will get her chance to take the limelight in her own series of shorts which features her and Daisy Duck running Bow-Tique, a speciality shop which stocks Bows and Bow-Ties for any situation whatever the occasion. I get the feeling this will be another of Disney's clever kids shows which encourages imaginative thinking in a fun way and sees Minnie and Daisy's creative thinking solving problems in many situations such as using a rubber bow to fix some leaky pipes or shredded bows to make pom poms for a cheerleader.
Minnie has always been a bit of a style icon in her own right with her big bows and 'too big for her' high heeled shoes which she clip clops about on but she didn't always look that way. When she first appeared in 1928 her main outfit included a feminine bowler hat with a daisy sticking out of it, white gloves and a short dress. It wasn't until the 1940s when both her and Mickey were redesigned that her bowler hat was replaced with her trademark big bow which is now synonymous with her and what better thing to focus on for her own show than her bows. Ben and I are definitely looking forward to seeing more of Minnie in Minnie's Bow-Toons.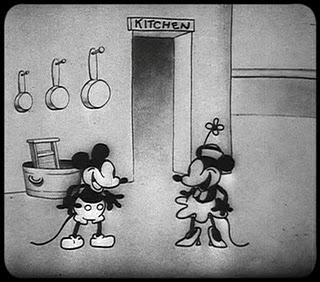 Minnie & Mickey in their first cartoon Steamboat Willie