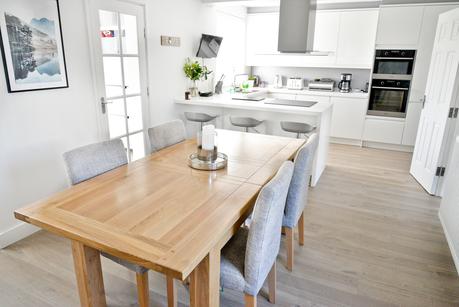 If you've followed me for a while then you'll know how much we enjoy doing home improvements and something that Adam and I had been talking about for a while was replacing our downstairs flooring and skirting. We'd had the same wood flooring in our living room from when we'd moved in, it was scratched up, faded and not our style at all. And in our kitchen, we had vinyl which was laid when we had our kitchen done. The vinyl was fine, but unfortunately, the flooring was uneven underneath due to a bad job being done and you could feel all of the lumps and bumps when walking on it. We also disliked that our living room and kitchen were totally different flooring types and colours flowing opposite ways. We wanted the rooms to flow into each other. 
In terms of the skirting, the skirting in our kitchen was actually door architrave and it looked pretty terrible! We weren't given an option at the time this was put in and we had no idea at the time how much poor skirting could affect the feel of the room as a whole. 
And so we decided to have all of these things changed and replaced and we spent so long searching for the right flooring. We finally found the most perfect laminate called 
Soft Oak Light Brown Impressive Ultra 
from our favorite flooring brand - 
Quick Step
. We have Quick Step laminate throughout our entire upstairs and in our loft conversion too and we've always loved the quality of it and have never had any issues with it at all. What's also so fantastic about Quick Step is that they have a tool on their website so that you can see what their different floorings will look like in your own room, you simply upload a photo and it's super easy and smooth to use. You can of course order samples too and we did this to find our perfect color.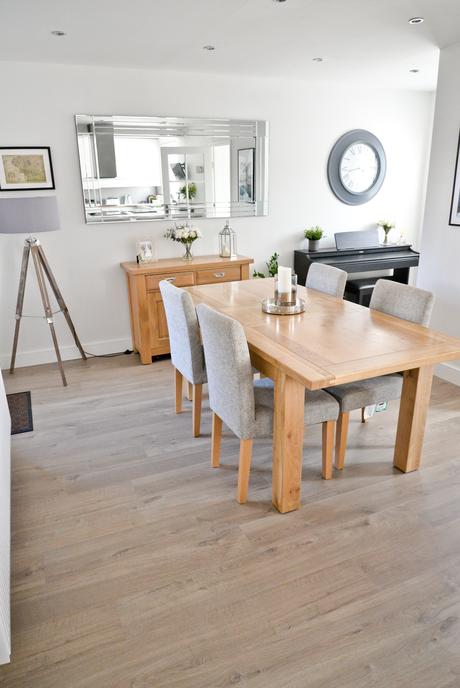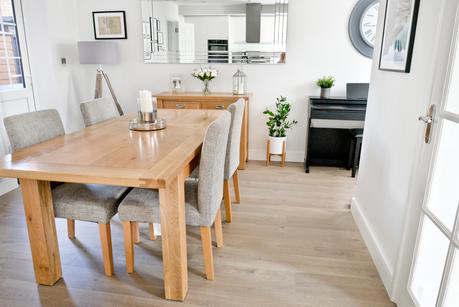 I always knew the flooring would look great, but I honestly didn't realize just HOW much of a difference it would make. Since we've had it laid we've noticed how much cosier our entire downstairs feels. We now spend more time downstairs and we finally feel that we have the quality feel that we always wanted when we had our extension added on and our kitchen redone. We've realised how important it is to get the flooring and the skirting in rooms right because it really does make all of the difference to the quality and the feel.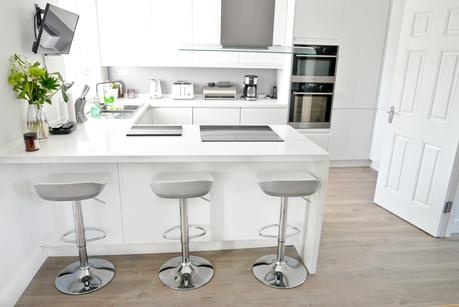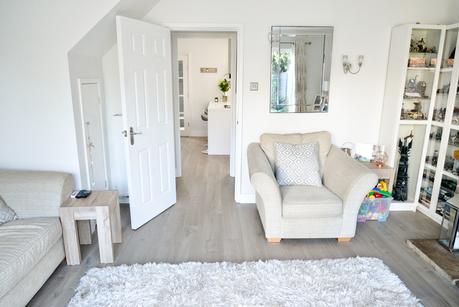 The fact that the flooring now flows through from our porch, through to the kitchen and then into the living room is one of my favorite changes. I also couldn't be anymore happier with the color of the laminate that we've chosen, it's the perfect shade of brown, with a hint of gray and whitewash in. It's EXACTLY what we'd been looking for and I think it looks so nice with our room decor.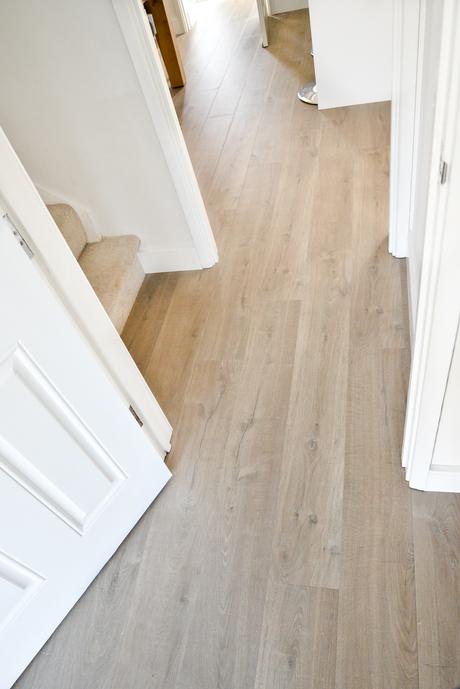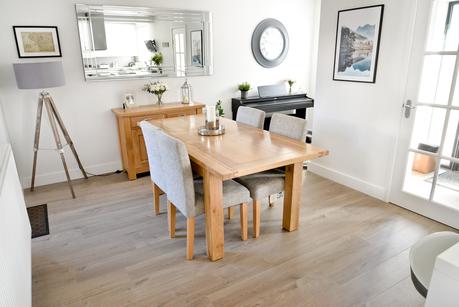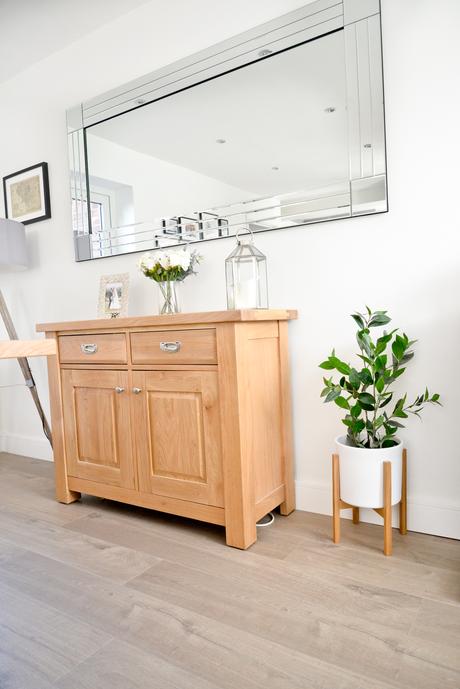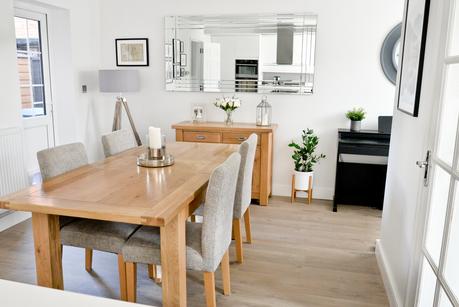 I've also noticed how nice the laminate is to walk on - we went for Quick Step's Impressive Ultra, their thickest laminate and it's such a nice quality and very solid. It looks like real wood too and comes with a 25-year warranty!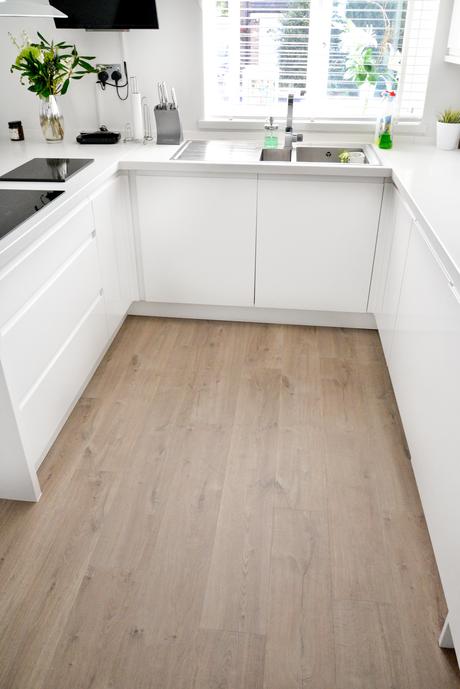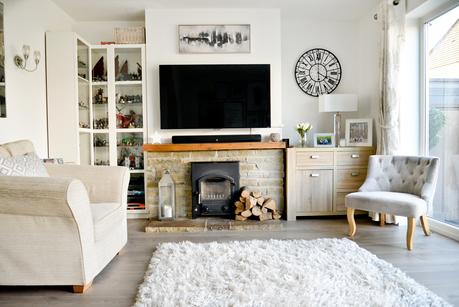 Underneath the laminate, we've got Quick Steps Thermolevel underlay and this has helped to make the laminate feel even nicer and thicker to walk on and we can no longer feel the lumps and bumps of a badly screeded floor in our kitchen! And whilst we were changing the floor we also bought some underfloor heating from Amazon so during the colder months of the year the rooms will stay even warmer!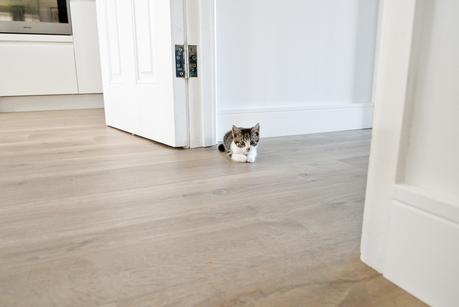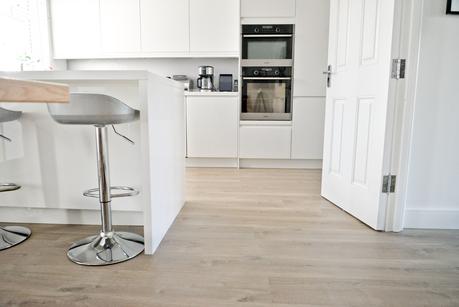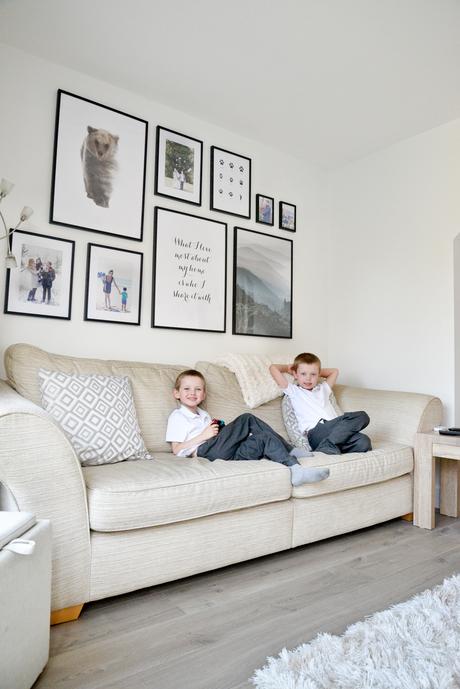 We are absolutely over the moon with our new flooring, it's even better than we had hoped and we couldn't have made a better choice than choosing Quick Step's Soft Oak Light Brown Impressive Ultra.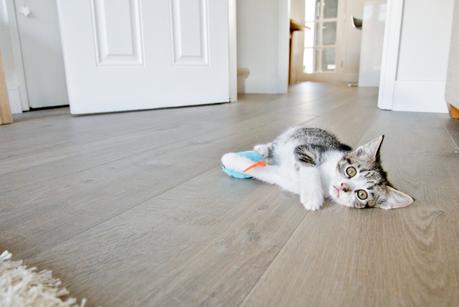 *This post is in collaboration with Quick Step, who kindly gifted us the flooring and underlay for our project. 
Take a look at my video to see what it looked like BEFORE:
And here's a video to show you the AFTER: 
 Thank you for reading.  
Alex xo