Once again, I start off withapologies for my recent silence!

 

I'mstill trying to get this employment issue sorted, which is taxing my somewhatreduced brainpower of late and leaving me mentally exhausted.

 

The words really don't come so easily when I'mdrained and I find it counter-productive to try and force it.

 

The local Citizens Advice Bureau have beenfantastic, but at the end of the day, I have to gather the paperwork andfigures myself, and make some long-winded phone calls, which is all a bit of astrain.

 

I'm currently sat here waitingfor a call back from a local employment rights advice service, who will call meback on my landline, "within 72 hours" (I called them on Tuesday afternoon).

 

I would love to be out and about appreciatingsome of the signs of Spring that have started appearing, but no, I'm tied to myhouse.

 

Oh well, it's given me theopportunity and inclination to do some blogging, at least!
I'd say I'm in a weird middle-phaseat the moment.

 

The good days havestarted to become more frequent – it's probably about a 50:50 split.

 

Even the bad days aren't so bad, as I'mlearning to take a step back and try to put a positive spin on things before Iallow myself to be engulfed by despair.I've actually now finished my course of CBT that I was referred to by myGP, and feel it's really helped me start to change my attitude toward myself.

 

The next few weeks will be the acid test ofwhether I can keep it up without that weekly appointment to help push itforward in my mind.

 

I've had a few "littlewins", as I call them, that have helped to encourage me.

 

Getting down the Citizens Advice Bureau inthe first place was definitely one.

 

Idecided that visiting in person would be a lot less daunting for me, as I getvery nervous on the phone, plus my chances of getting through were remote withhow busy they are.

 

A reason to get outof the house is always good, anyway.

 

Iarrived, filled in my details on their little form, then steeled myself for thewait.

 

There were only three people therebefore me, but they only had one volunteer in that afternoon, so it was goingto be about an hour.

 

I find that kind ofhanging around, with no real idea of how long it will be, to be a real dangertime for me, as I start to overthink things and drift into the darker parts ofmy mind.

 

I managed to hold it togetheruntil I was seen, and only got a little emotional when pouring out my problemsto the adviser.

 

When I got back out tomy car I had a good old cry with the sheer relief that there was some light atthe end of the tunnel!

 

I drove thescenic route back home as my reward for getting it done.
I find the act of driving quiteempowering, still – I passed my test about a year and a half ago, but thememory of how dependent and powerless I felt before I could drive is verystrong.

 

I think my choice of car has alot to do with it... for those not in the know, I'm the very proud owner of a1970 Morris Minor 4-door saloon.

 

My husbandand I always say that the real thrill of driving a classic car is that everyjourney feels like an adventure – it is not simply a vehicle to get you from Ato B.

 

I can't help but smile when I getbehind the wheel.

 

I feel so damn cooland classy in that car.

 

It's theultimate conversation-starter when I first meet new people, which is a massivehelp to me as I can find social situations like that quite intimidating.

 

I had a great driving-related victory a fewweekends ago – my husband was providing the wedding car for a friend's wedding,and I tailed him as a back up car, in case of any major problems with the mainone, his mother's utterly gorgeous Triumph Renown.

 

It was 35 miles of A roads through Surrey,with the wedding and reception taking place in Horsham, a place I had neverbeen before.

 

We left a good two and ahalf hours to make the journey in, with me following him on the way there, bothbecause the Renown is slower, plus he had a vague idea of where we were going andwas able to run our sat nav as that car has a cigarette lighter, whereas minedoesn't at the moment. I've beendreading following that car somewhere, as it pulls away at junctions so slowly,I was terrified of accidentally going up the back of it, so I gave him plentyof space.

 

Lo and behold we did have somemechanical problems en route, but with assistance over the phone from his father,who is something of a mechanical god, we got going again in time to get to thechurch in order to take the bride & groom to the reception.

 

For those who don't know Horsham, it's one ofthose places with a pain in the backside one way system, so thankfully I hadnavigational assistance for that leg of the journey from our friend Nick, thegroom's brother.

 

The reception wasprobably the bit I was most nervous about, as I only knew a couple of people there,but I managed to make some polite conversation, aided by an excellent spread offood – I do love to talk about food!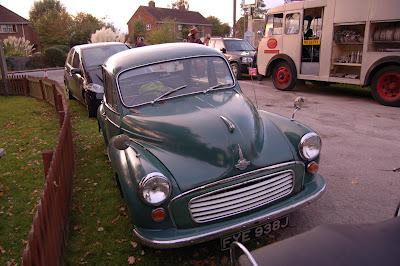 My Morris Minor, "Faye"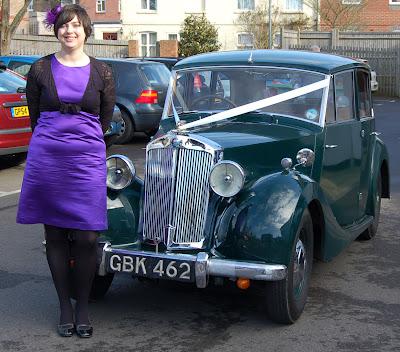 Me with my mother-in-law's Triumph Renown at the wedding
What actually turned out to bethe most nervy bit for me was the journey home again.

 

My husband was driving the bride and groomonto their hotel just out of town.

 

Ileft the reception slightly before him, as I'd had to park a little way away ina multi-storey car park.

 

I then had tofind my way out of the multi-storey, back to the road we'd come into town on,then follow that in the opposite direction until I saw signs for thehotel.

 

Being a Saturday night, ofcourse, the minute I came out of the multi-storey in my car, a group ofpissheads run up to me and start banging on the car, so I panicked a little andhot-footed it out of there, and ended up taking the wrong exit at a roundaboutin my haste to get away.

 

Fortunately,even in the dark my error was soon pretty obvious, so I backtracked andeventually found my way onto the right road.I met up with my husband at the hotel, where he was good enough tosignal me in with a torch from the roadside.The plan from there was for me to lead us back home, as my car'sheadlights are a bit brighter than the Renown's.

 

Me, without sat nav assistance, in the dark,leading us through some unlit twisty A roads, trying not to leave my husbandbehind – phew, it still makes my stomach tense thinking about it!

 

Despite me thinking "I don't recogniseanything, we're hopelessly lost, oh crap!" in 15-minute cycles, we did,somehow, make it home in one piece.

 

Iwas so tense for the whole drive that I ached more than I ever have before as Ipulled up into our driveway.

 

It was hardwork, but I am so pleased with myself for managing to cope with that!
As I'm currently not drinkingalcohol due to my medication, I've found that being designated driver on nightsout makes it a little easier not to be tempted.I've never been a heavy drinker or anything, but I appreciate a good aleor a bit of a quality dark rum or whiskey, so I've found not drinking to bevery difficult, especially when everyone else around me is.

 

Fortunately, the self-sacrifice of beingdesignated driver usually earns a fair amount of kudos amongst my friends.

 

In particular, I like being able to give myhusband a bit of a reward after the years of ferrying me around he's done, allthe extra hard work he's been putting in over the last few months to keep usgoing financially, and all of his efforts to help me to feel better, by lettinghim have a night off to let his hair down and not have to worry so much aboutme for a few hours.

 

It was mybrother-in-law's birthday last week and we all went out together on the Friday,so I took that opportunity to do my wifely duty and play chauffeur for the evening.

 

I've found pubs are a difficult place to befor me at the moment, but thankfully there were enough of us in the group thatwe took over the room with the pool table, and it felt a bit more like a houseparty to me.
There were a couple more things Iwanted to fit in this week, but I think I've rambled on enough already!

 

I do just want to say that if anyone has anysuggestions for topics they'd like me to try and cover in this blog, please dolet me know.

 

I sometimes worry that I'mrepeating the same points too much, but they tend to be the areas I have mostdifficulty with myself – the stuff that comes more easily doesn't tend to be atthe forefront of my thoughts.

 

My mainreason for writing this is to help other people with similar problems, so inputon how I can better achieve my aim is always welcome.