This time in 7 days I shall be arriving in the city of Dublin with my dad for 2 nights of fun and enjoyment with my dad.  I haven't been to Dublin for about 12 years, when I may have undergone
various Chinese health treatments whilst inebriated
, but I do have very happy (albeit fuzzy) of the place.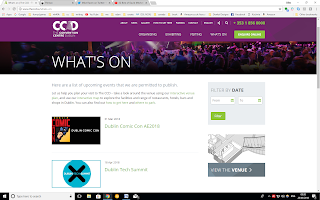 Click on the photo, but the Conference Centre Dublin has on their website a "list of upcoming events that we are permitted to publish"... I suddenly want nothing more find out what the events are between these ones, even though it's probably just a convention for dental hygiene products or something.
I've booked the Guinness Storehouse tour (last time I went there was a HUGE queue of people that hadn't booked, while I was able to go to the pre-booked stand and go straight in, so hoping this is still the case!) and also a musical pub crawl, where you go round 3 pubs and learn about the history of Irish music - whilst enjoying a pint or two, of course!
I've nearly sorted everything, although I do need to measure my backpacks to ensure that they comply with the maximum flight sizes - maximum bag size is 48cm high, 33cm wide, and 20cm deep, I'm totally unable to imagine what that equates to, but every time I think "oh yeah, I must measure the backpacks" I'm busy doing something at the computer, and the backpacks and the measuring tape are never in the same place as me thinking "must measure the backpacks"!
We're currently 3 days into the 4 day UK Easter weekend break, with today, Easter Sunday, being the big one where almost everywhere is closed - even the supermarkets don't dare open on Easter Sunday - so I'm currently demolishing an easter egg ahead of going to the cinema (which is open despite being Easter Sunday) to watch some Peter Rabbit.
So I hope you're having a good weekend wherever you are, happy Easter!