Last weekend I had the girls over.  We were all running low on our Neal's Yard supplies, so I threw a party, sent Steve to play football, invited Stella to be our consultant and filled the house with feminine voices, soft music and the scent of geranium and frankincense muddled with cups of steaming tea and the aroma of freshly baked earl gray cupcakes.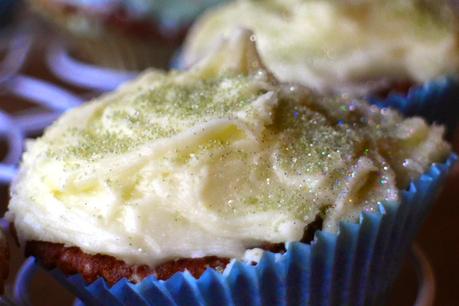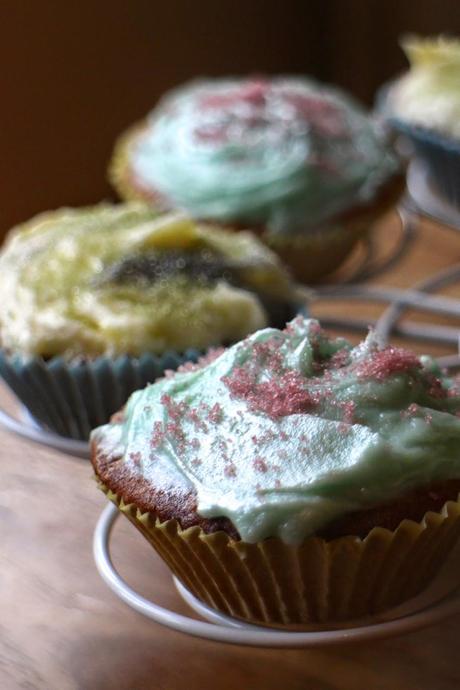 The rain pounded down outside, but inside my small living room we were perfectly content, hands cradled around our mugs of tea and coffee as we pampered and preened ourselves until our skin could not cope with any more creams and unguents.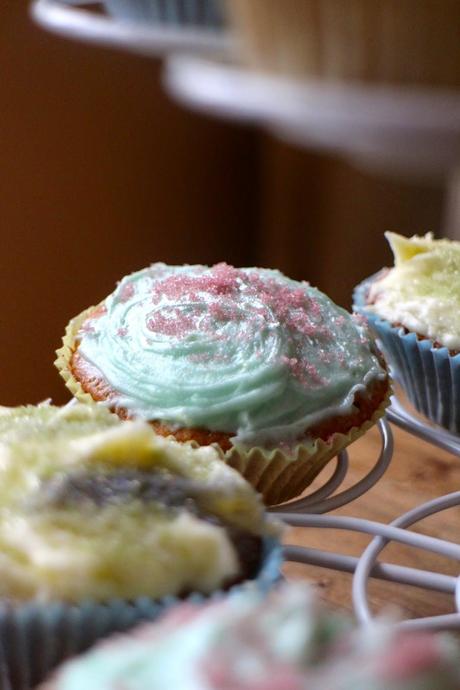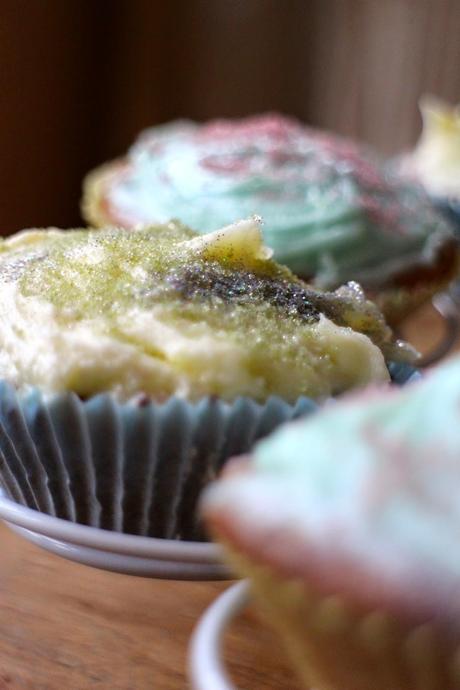 To match such a gentle afternoon, I wanted a gentle cupcake.  I didn't want gaudy colours or gauche flavor combinations - no peanut butter and caramel this week.  I wanted something that was sophisticated, that could have been enjoyed whilst taking the waters of Bath with Catherine Morland.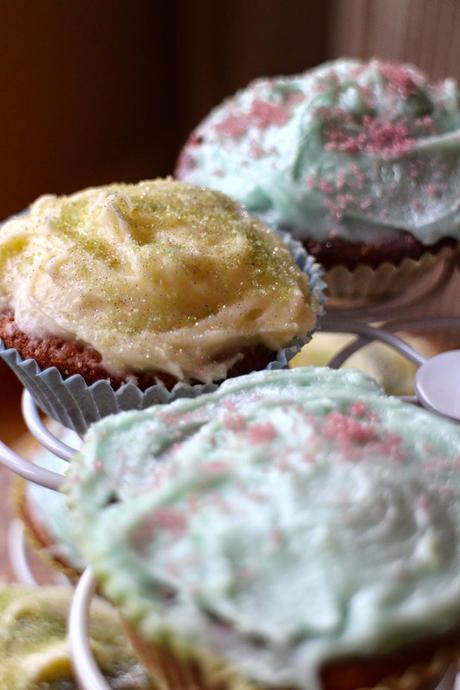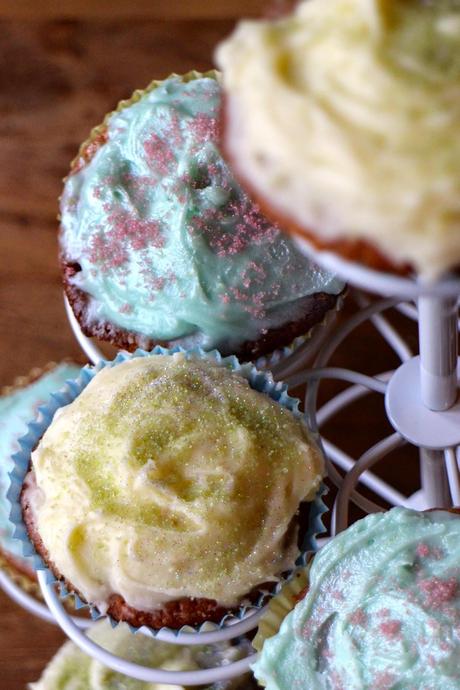 Admittedly my decoration isn't the most sophisticated in the world.  I sometimes think that my cakes would look better if I just handed over the icing bowl to Steve's 2 year old godson, but it is the flavor combination that was important here!
Earl Grey and lemon is such a classic afternoon tea combination, and it translates so well into cupcake form.  The cupcake is lightly scented and the lemon icing is sharp and cool and combines perfectly with the earl gray.  The cake itself is light, moist and crumbly; it is a famous recipe I've appropriated so it should be really!  It was the Primrose Bakery cookbook that came up trumps for the cupcake (although they suggest combining it with the plain vanilla icing - I think the lemon goes one better).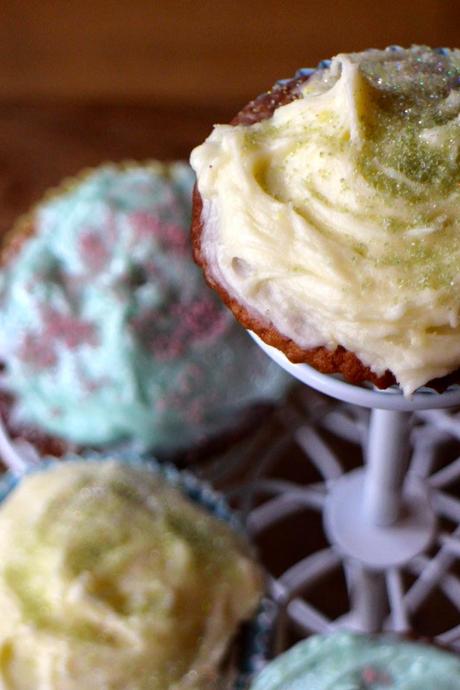 Ingredients: 
125 ml semi skimmed milk
4 Earl Grey tea bags (or you could sub with your favorite variety)
110g unsalted butter
225g granulated sugar
2 large eggs
125g self-rising flour
120g plain flourIcing:


Dash semi skimmed milk


Juice and zest of 1 lemon


500g icing sugar




Few drops of food colouring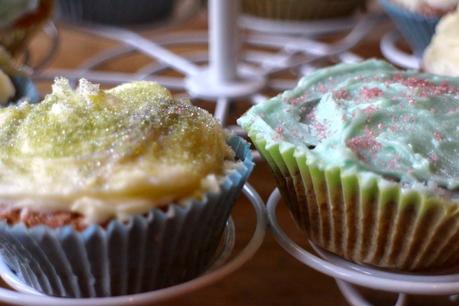 Method:
Preheat oven to 180c/ gas mark 4.  Line a 12 hole tray with cupcake cases.  This will make enough for about 20 small cupcakes or 12 large ones.
Heat milk in a saucepan over a medium heat until it begins to boil. Remove from the heat and add teabags. Cover with a lid for about 30 minutes and allow the milk to infuse and turn a dark coffee color.
Cream the butter with sugar in a bowl with an electric mixer until the mixture is pale and smooth.
Add the eggs one at a time, mixing after each addition.  Scrape the bowl down with a spatula to make sure that the mixture is well combined.
Combine the flours in a separate bowl. Add a third of the flour to the butter and sugar mixture and beat well. Pour in a third of the milk/tea mixture and beat. Repeat until all the flour and milk has been added.
Carefully spoon mixture into cupcake cases, filling each one two-thirds full.  Bake in the oven for about 25 minutes. Test to see if they are cooked. Leave in tins for 10 minutes, then place on wire rack to cool.
To make the icing, beat the milk, lemon juice and zest and half the icing sugar until smooth.
Gradually add the rest of icing sugar to produce a creamy and smooth consistency. Add a drop of colouring (sepearating the mixture into bowls if required for separate colours) and beat thoroughly.
Decorate any way you see fit!  I used pearlescent food spray and some edible sprinkles I didn't even know I owned.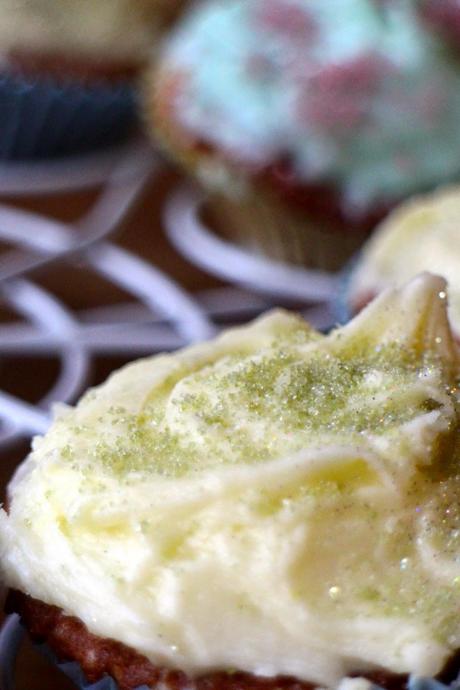 Tuck in!  Best served on the same day as you make them, although they will keep for a day or so in an air tight container if you have leftovers to bring into the office!
If you like (or hate!) what you have read, please do let me know in the comments below or slap me with a cheeky follow, or say Hi to me on my Facebook group or Twitter or Instagram!