I'm guessing everyone's pretty busy now that the semester is ending. My desk is cluttered with papers to finish and I need to get my clearance signed in order for me to take my final exam.

Wahh too much stress! Sem Break come to me!!

)
I need to destresssss -___- Good thing I still have another facial mask~ It actually helps me take a breather and just relax for a moment. What's great about it is that after using it, you'll feel better and (obviously) have a smooth face.

So it's a great pick-me-upper item that everyone should try!
Today I'll tell you about my experience after using Etude House Moistfull Aloe Mask Sheet.
Description : Enriched with Baobab Tree Extracts and Organic Alie, this essence mask sheet provides refreshing and comforting hydration to dry, irritated face.
It's actually a GWP for this month

So go head to Etude House right naooo. Yes, buying korean cosmetics is my current addiction

) I'm even following the korean five step to skin care(double cleanse-massage/mask-tone-essense/serum-emulsion/moisturizer)! I've never been this kikay. hahaha.
Remember that you must only use a facial mask every 2-3 days! It's not cheap nor it's that expensive. You can only use it once so I suggest you use around 2 facial masks per week for visible results!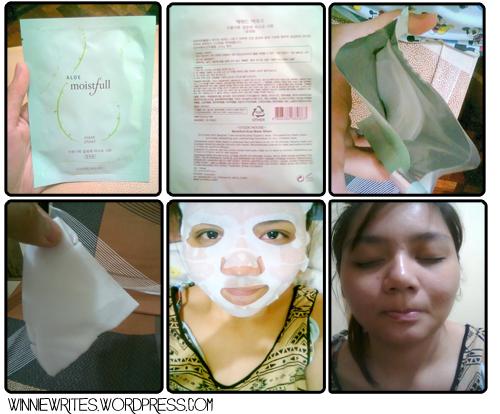 (scary face! Sorry!! XDDD Really stressed face.)
Before using this facial mask, I had to wash my face twice using my daily cleanser to take out all of the make-up and grime on my face. It's very important and it's a basic skin care rule! Never-ever sleep with a dirty face! Imagine all of the dirt ick! 
The package contained of course the facial mask itself. It's beautifully wrapped meticulously and was soaked with so much essence. It wasn't that hard to unwrap but the cloth was thinner than Tony Moly's mask which didn't really became a problem since it did not tear up.
I had no trouble in putting it on my face as well because it kinda sticked to my face so it didn't fall off.

 It was a breeze~
I left it for like 40 minutes, waiting for the mask to dry up. After that, my skin became supple and fresher!

I kept on touching my face to feel the smoothness. Again, I waited for my face to be completely dry so that I can move on to applying toner,cream etc.
After all this, I concluded that I have this love for facial masks.

nyahahaha
So to cut things short:
PRO
+ Although this is just a freebie, you can still buy facial masks from Etude House/Tony Moly/etc. for Php 58.00
+Relaxing
+Supple Skin
+Smells good.
+No allergic reaction, whatsoever
CONS
- after taking off the mask, I waited for it to dry but my face became a bit oily. Hmm. :/
- you must keep on using the product to attain visible results
So there you have it! Thanks for reading!

Ciao x
my thoughts right now: i need tickets for dfkc ;___;