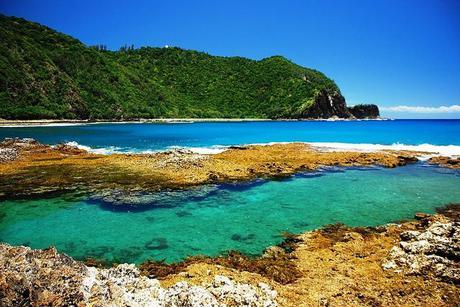 Baler is one of the best place we visited last year. Getting there may be a pain in the ass but we enjoy our thrills and spills in this quaint little town. I also happened to surf here for the first time so that's make it even more memorable for me.  Surfing season is present all year but it is more enjoyable in the months of  September – February, this is the time when the northeast monsoon  blows down from China. 
Baler being the capital of Aurora province dominates in terms of number of resorts, public institutions, facilities and business establishments. If you just want to surf and chill then Baler is the place you might want to check it out on a weekend . Aside from numerous attractions in Baler, there are still municipalities  in Aurora that might interest you like Maria Aurora, Dipaculao, Casiguran, Dingalan and San Luis to name a few.
BALER
   AMCO Beach Resort
   Contact No: 63 (44) 552-4209.
   Angara's Beach House
   Contact No: 63 (42) 209-422.
   Bay's Inn
   Contact No: 63 (2) 410-0643.
ALIYA SURF & DIVE RESORT
   Contact person: Roy Angara
   Contact number: 09297586005
   Email add: [email protected]
   Facebook: aliya surf camp
   AMIHAN APLAYA LODGE
   103 Bgy Sabang Baler, Aurora
   Contact person: Lina Ferreras
   Contact #: 0918-693-5904 / 0918-426-3268 / 0918-632-8566
   AMCO BEACH RESORT
   Bgy. Sabang Baler, Aurora
   Contact person: Adelaida Miemban
   Contact #: 0920-9190590 / 0918-238-3977 / 0909-406-8278
   BAHIA DE BALER II
   Brgy. Sabang, baler, Aurora
   Contact person: Camille Pedreno
   Contact Number: 0916-770-1980 / 0928-687-5424
   e-mail : [email protected]
   BAHIA DE BALER GARDEN RESORT & RESTAURANT I
   Bgy. Sabang Baler, Aurora
   Contact person: Meryl Kate Almarez
   Contact #: 0921-576-5655
   BAY'S INN
   Bgy. Sabang Baler, Aurora
   Contact Person: Rhoda / Ledda
   Contact#: 0908-982-3509 / 0915-607-7391
   CARLITO'S INN
   P. T. Ong St., Brgy. Suklayin, Baler, Aurora
   Contact Person: Aida Viron
   Contact # 0908-872-0816
   CLEMENTE'S RESORT
   Sitio Virrey, Bgy.Pingit Baler, Aurora
   Contact person: Didith Clemente / My-my Tolecina
   Contact #: 0908-558-2470
   ISLA VIRGINIA RESORT
   Brgy. Sabang, Baler, Aurora
   Contact person: Vida Lungalong
   Contact #:0920-755-0467
   Manila Line: (02) 994-7157
   Email: [email protected]
   KAHEA'S LODGE
   Bgy. Sabang Baler, Aurora
   Contact Person: Edwin Namoro
   Contact #: 0920-710-2634
   LITTLE GIRL'S SURFER LODGE
   Buton St., Brgy, Sabang, Baler, Aurora
   Contact Person: Chona Cope
   Contact #: 0918-685-9449
   MM LODGE
   Bgy. Sabang Baler, Aurora
   Contact person: Engr. Andres Marmol
   Contact #: 0919-537-9405
   MORENO LODGE & RESTAURANT
   Near New Public Market
   Bgy. Suklayin Baler, Aurora
   Contact Person: Myrna Moreno
   Contact #: 0918 4514124/0928 5059354
   Email: [email protected]
   NOEL CARL'S GARDEN AND RESORT
   Bgy. Suklayin Baler, Aurora
   Contact person: Rasy Amatorio
   Contact #: 0918-539-3870
   OASIS OF BALER RESORT
   Bgy. Sabang Baler, Aurora
   Contact Person: Robin Licad / Marvin Licad
   Contact #: 0908-567-3537 / 0928-322-2894
   SANCHEZ RESORT
   Munting Gasang, Cemento, Baler
   Contact Person: Malou Sanchez
   Contact #: 0920-812-9998
   SEA BREEZE LODGE
   Bgy. Sabang Baler, Aurora
   Contact Person: Liwliwa Sanchez
   XTJR TRAVELLER'S INN
   Near Old Public Market
   Bgy Buhangin Baler, Aurora
   Contact Person: Belen Velasco
   Contact#: 0919-879-7447


MARIA AURORA

   LORENTESS RESORT
   Brgy. Ramada, Ma. Aurora, Aurora
   Contact person: Teresita delos Trinos
   Contact #: 0919-847-9496
   Radio Frequency: 159.72
   EL CADJI RESORT
   Maria Aurora, Aurora
   Contact Person: Meng Dimaandal
   Contact #: 0915-703-8920 / 0918-625-0900 / 0920 8302454
DIPACULAO
  
   DINADIAWAN BEACH RESORT
   Brgy. Dinadiawan, Dipaculao
   Contact Person: Elpidio "PEDZ" Colobong Jr. / Patricia Avenido
   Contact #: 0918-925-1542 / 0921-630-9107
   GREENLAND RESORT
   Brgy. Lobbot, Dipaculao, Aurora
   Contact Person: Catalino Obillo
   Contact #: 0939-288-3261
   LEDAN RESORT
   Brgy. Lobbot, Dipaculao, Aurora
   Contact person: Marlon / Precy Tolentino
   Contact #: 0919-808-9118 / 0920-866-8485
   Bay View Blue Beach Resort
   Brgy. Dinadiawan, Dipaculao Aurora
   Contact Person: Glendora David Esquivel
   Contact # 0908-422-5358 / 0929-526-8589
   Rock Sand Beach Resort
   Brgy.Dinadiawan,Dipaculao Aurora
   Contact Person: Flordeliza Rapisuna
   Contact # 0918-515-4907
   Vic - Ann Resort
   Brgy. Dinadiawan, Dipaculao, Aurora
   Contact Person: Noel Miranda
   Contact Person: 0939-619-8450


CASIGURAN


  
   BULO LODGING HOUSE
   Brgy. Calangcuasan, Casiguran, Aurora
   Contact Persons: Baby Esteves / Leo Chavez
   Contact #: 0921-538-8018 / 0929-364-8358
   ZAK'S SLEEP AVENUE 24/7
   Mabini Extn., Brgy. Lual, Casiguran, Aurora
   Contact Person: Dr. Merill Danay
   Contact #: 0918-917-7781 / 09209571640
   PEÑA'S LODGING HOUSE
   Liwayway st., Casiguran, Aurora
   Contact person: Irene
   Contact #: 0921-584-0044
   RIVERVIEW LODGING HOUSE
   Casiguran, Aurora
   Contact Person: Kris
   Contact #: 09084123578
   CASAPSAPAN BEACH RESORT
   Casapsapan, Casiguran, Aurora
   Contact person: Richard Tan
   Contact #: 0910-648-6906
   RN AGABAO LODGING HOUSE
   Sitio Dangcalan, Brgy. Calangcuasan
   Contact person: Richard Agabao
   Contact number: 0918-650-7702
DINGALAN

   DINGALAN BAY RESORT
   Brgy Paltic, Dingalan, Aurora
   Contact Person: Eddie Cruz
   Contact #: 0920-818-3160
   FIL DANE INN
   Gomez St., Poblacion, Dingalan, Aurora
   Owner: Evelyn B. Hoffman
   Contact #: 0918-418-8483
   Contact Person: Raymond Bugarin / Baying Alday
   Contact #: 0920-866-2635
   JONATHAN'S PLACE
   Brgy. Butas na Bato, Dingalan,
   Contact person: Pinky Pascual / Juanito Aguilar
   Contact #: 0921-570-5414 / 0921-350-1709
   SAN DIEGO FARMS
   Brgy. Matawe, Dingalan
   Contact person: John Marquez
   Contact #: 0919-525-8431
DILASAG
   RJ'S TRAVELLERS INN
   Public Market, Dilasag, Aurora
   Contact person: Jaina May Valiente
   Contact #: 0919-558-2071
Photo Credits:  Chad