Dear Ethan, 
Holy smoke! Only 1 month to go until you are one! Until I have a one year old! I can't quite believe it. Being pregnant with you feels like such a close memory, almost as if it was just yesterday in fact. I bet I'll be saying the same when you go to turn eighteen.. In fact, lets just not think about that right now, it's too much of a scary thought. I'm still getting over reminding myself of my age earlier today, realising that I am in fact now twenty-five years old and not twenty-four which I somehow had got stuck in to my head.. It seems that I appear to have lost a year somewhere. 
But anyway less about that and more about you. Here's how you're getting on..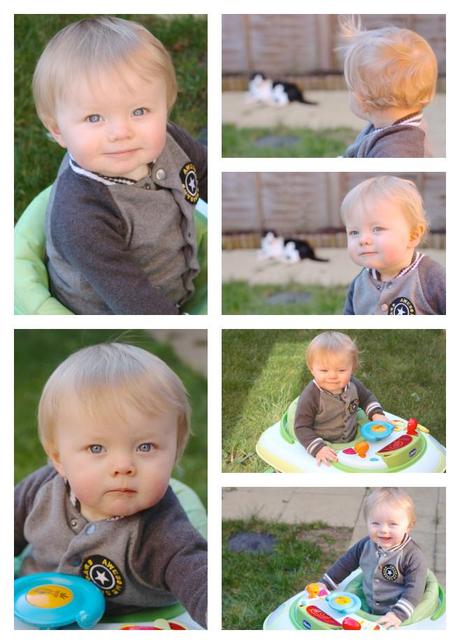 As you can see, you're beautiful. Yeah, Mummy's biased, but you are. You're perfect and more in my eyes. 
Your favorite things at 11 months..

- The great outdoors. You get so excited by the prospect of going outdoors. Outside you are in your element. You love to go in your walker in the garden at the moment. As the weather warms up and we move in to an area where we can hopefully spend more time in the garden you've got lots of fun to look forward to. Not to mention a trike coming for your first birthday and even a paddling pool with a sand pit! 
- Peppa Pig and Nick Jr cartoons in general. You are a TV addict, you will push me out of the way to see the tv! When I show you anything that has Peppa Pig on you laugh and smile. 
- Bath time. Yep, you still love it. It's one of your favorite parts of the day!
- Anything with wheels. You are obsessed with wheels, so any toy wheels, desk chair wheels, your walkers wheels.. 
- Mummys hair - STILL. The harder you pull it the more you laugh.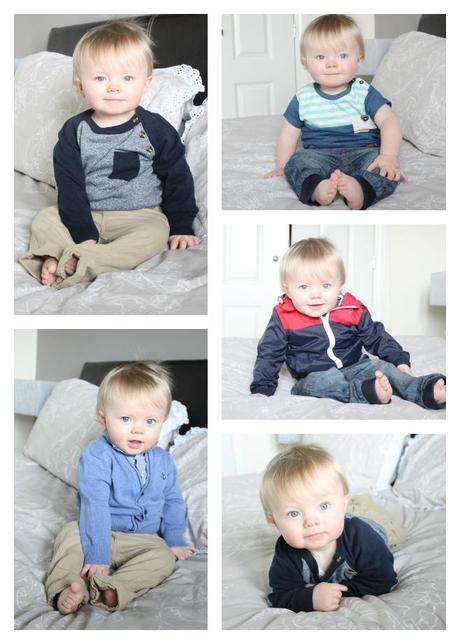 Life at 11 months for you..

You're a lot happier now that you can get about so well. You now crawl properly and are getting excellent at standing up with aid. Tonight you took lots of steps by yourself holding on to your walk-a-long and you were so proud of yourself (as was Daddy and I). I'm trying to teach you to clap your hands which you think is pretty funny. You're at a fabulous age where I really feel like your personality is coming out. We have lots of playtime together now, where we'll tickle you and let you jump all over us! You love it when we sit down and play with your toys with you, you watch us closely, learning every second. You're so nearly pulling yourself up, in fact you've pretty much mastered it but you sometimes get annoyed that you haven't quite got it and expect Mummy to pick you up to help you stand. You are very good at telling us exactly what you want through your own little different ways. 
A new home..
This is your last update at our current address, Ethan. We are moving house in 4 days, moving out of Aylesbury in fact. We won't be too far though so we will still see the family just as much, as we know how much you love to spend time with them and they love it too. You'll never remember our current house, which seems kind of strange since it's been your home for, right now, all of your life. It's where I spent the whole of my pregnancy and it's where we lived when I married your Dad. But we have so much to look forward to with this house move. Hopefully it'll mean a lovely little village nursery and school for you. We've worked so hard to ensure that you have the very best start to life and your education (even if we are still a few years away) and I really hope we can be as happy as we believe we can be in our new home. 
Ethan I love you more than you'll ever know. 
Love Mummy. xxxxx